Hello again dear readers! I bet you thought you were done with me, but that was incorrect!
After an absolutely magical weekend at the Wizarding World of Harry Potter, Universal Studios Hollywood I wanted to check back in with everyone who came to our Rogues Portal Meet Up and say, thank you! It was so lovely seeing everyone and hearing people's enthusiasm for my journey through the Potterverse!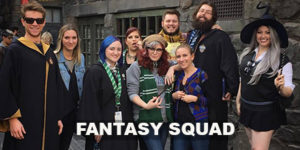 It was quite the day! We went through the John Hurt Locker and watched two adorable sisters have their wands find them! John Hurt himself was unavailable for my intense questioning.
Speaking of questions, as we sat around enjoying our Butterbeer, maybe of the attendees asked me what other things I might still be wondering based on what I had seen in the films, before going into the books! I hope I was able to answer most of them.
It's always such a treat to see such an open and inclusive fandom, and where I was once met with the slings and arrows of aggression towards the fact that I had never taken the time to become involved in the franchise, it was amazing to be around a group of people who were genuinely curious! Way to set a great example for other fans you guys!
Of course, the highlight of the trip was getting to see my favorite school in action. The men of Durmstrang are apparently quite friendly to Slytherins.
Yeah he did.
Also, fun discovery that was left out of these films, apparently Hufflepuffs are the catalog models of this universe. Stick that in your fanfic, why don't ya!  You guys are everywhere and shockingly photogenic and always super fun! Yay for Puff-Pride!
That being said, it was amazing to have my Slytherin sisters come out to help assure me that my house placement is amazing!
Once again, thank you all for attending! Hopefully we here at Rogues Portal will be able to do more stuff like this in the future! Stay Magical, my newly found wizarding brethren!