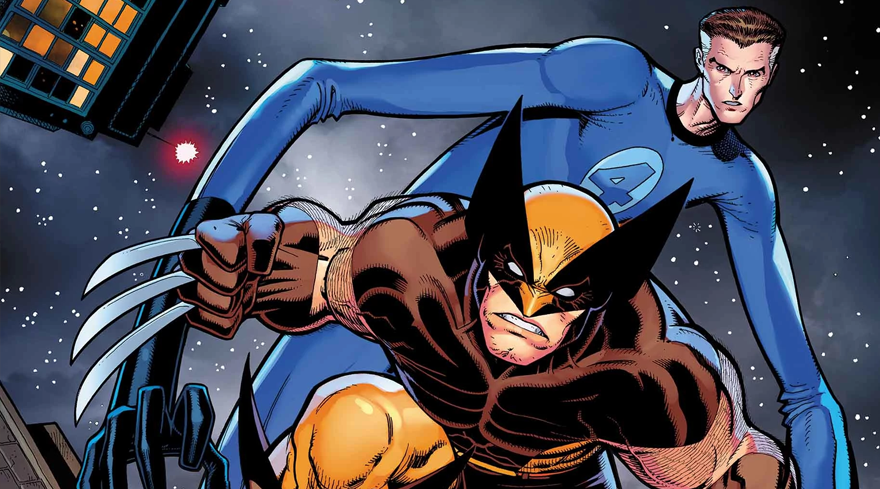 Marvel Comics Presents #2
Writers: Charles Soule ("Wolverine: The Vigil — Part Two"), Mark Waid ("Liftoff"), David and Maria Lapham ("This Man, This Gorilla")
Artists: Paulo Siqueria & Oren Junior ("Wolverine: The Vigil — Part Two"), Djibril Morissette-Phan ("Liftoff"), David Lapham ("This Man, This Gorilla")
Colorists: Frank D'Armata ("Wolverine: The Vigil — Part One" & "First Ride"), Dan Brown ("Liftoff"), Lee Loughridge ("This Man, This Gorilla")
Letterer: VC's Joe Caramanga
Cover Artists: Arthur Adams, Federico Blee
Publisher: Marvel Comics
Review by Nico Sprezzatura
Marvel's 80th milestone celebration continues this week with Marvel Comics Presents #2,the second installment of the relaunched anthology title boasting top-tier characters and creators. The first was a pretty good package; does this one measure up?
As I previously explained while reviewing the first issue last month, this new run of Marvel Comics Presents tells three stories that fall under three categories:
An ongoing Wolverine story titled "The Vigil" (hearkening back to Wolverine's omnipresence in the title back in the day) which follows Logan through the decades

Marvel Age

(untold stories of Marvel characters tying into real-life history)

Marvel Spotlight

(exactly what it says on the tin)
The first of them is "Wolverine: The Vigil — Part Two," and it's basically more of the same, following up on Wolverine during an unseen era in his long-spanning history. Writer Charles Soule is very familiar with his subject —having both killed and later resurrected him — and it shows in his script, but if I'm being honest, I'm just not finding this saga compelling enough as an ongoing serial. It's interesting to see Logan placed in a zombie/ghost story, of sorts, but I do think I'd prefer to see Wolverine one-offs placed in each decade instead of a continuing story. Paulo Siqueria and Oren Junior's art is nice and suits the mood of Soule's script well, but I don't find it incredibly exciting either.
In contrast, the Marvel Age story "Liftoff" is fascinating. Written by current Fantastic Four scribe Mark Waid, it focuses on Reed Richards (Mr. Fantastic) pre-powers as he tries to help the United States beat the Soviet Union in the Space Race of the late 50s and 60s. Despite his occupation as a scientist being very established in Marvel lore, it's rare we get to see his life before becoming one of Marvel's First Family, particularly in a non-superheroic context like this. "Liftoff" features art by Djibril Morissette-Phan, whose work I've generally enjoyed in the past, especially on Image's Glitterbomb with Jim Zub. Even if his work here isn't my favorite that I've seen of his, it still surpasses Siqueria and Junior's "Vigil."
Lastly, the Marvel Spotlight features none other than Gorilla-Man, an obscure Sixties creation who is — you guessed it — a literal Gorilla-Man. Anthologies like these are the perfect place for lesser-known characters like him. In "This Man, This Gorilla," writers David nd Maria Lapham (the former of which also provides the art) team the man formerly known as Kenneth Hale with none other than newly-minted A-Lister Black Panther during the early days of his Gorilla-ing. There's action, humor, and some great art from Lapham throughout; if there's one reason to pick up this issue, it's for Gorilla-Man.
The Verdict: Buy it.
Marvel Comics Presents #2 is another handsome collection of stories spotlighting some classic (and not-so-classic) characters from Marvel's deep lore.