Just in time for the movie, Marvel Collector Corp decided to get a little strange… Doctor Strange that is! They mystical journey begins with their October box!
For those of you who do not know who they are, Marvel Collector Corps describes themselves as:
"…a subscription box service designed in partnership by Marvel and Funko. Created especially for the avid Marvel fan, each box delivers 100% exclusive premium collectibles, apparel, and accessories created by Funko, shipped directly from the Marvel Universe to your doorstep. Each box is themed specifically around a major Marvel event, Marvel characters and Marvel stories with collectors in mind. Marvel Collector Corps celebrates the dedicated Marvel fan and the Marvel Collector elite in ways no other box can."
The box is about $35 dollars every other month.
The art on these boxes are always pretty good, but I have to say I think this is the best box art so far
As always we get a patch and a pin. The pin is the Eye of Agamotto, while the patch is the Benjamin Cumberbatch version of Doctor strange from the movie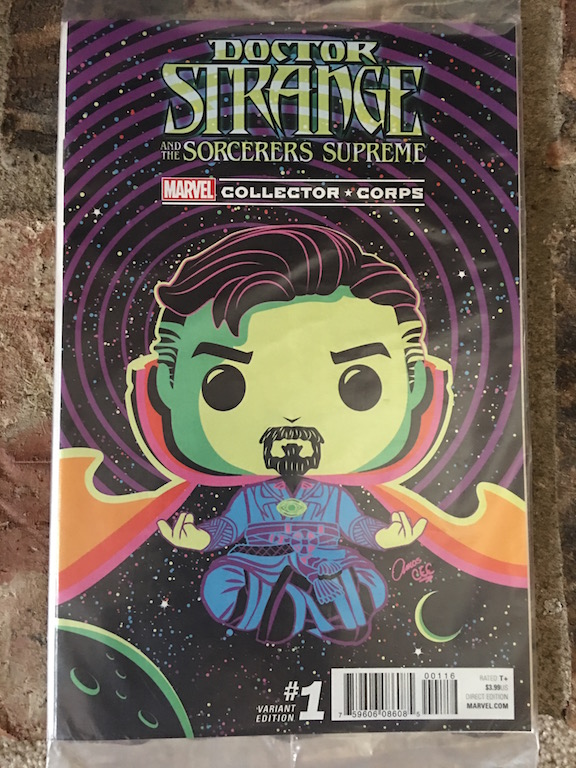 This month the comic that came is Doctor Strange and the Sorcerers Supreme #1 with the Funko variant cover. I believe people who got the box closer to the 20th actually got this comic before it was available in shops. I always like that they include comics but I wish they did not always have to do a Pop! variant. It would be nice to see them use some of the other products that Funko owns.
Next up is the exclusive Pop! Home Doctor Strange mug. The mug is very detailed and painted perfectly. While I will never drink out of it, it will gain a place on my desk or bookshelf at work to show off. Very nice change of pace from the normal products in the box
The color of the shirt doesn't show up well here but it is more of a blueish purple color. Once again I would like to see them do more non-Pop! style shirts, like the Spider-Gwen one a few months ago. That being said, I think these color and the design of this shirt is really cool.
The Pop! this month is very cool. The Pop levitates! (With help from his cape.) The color was originally suppose to be blue, like he is in the astral plane in the comic books, but they changed it to a yellow to match the movie (spoiler?)
So there you go. For Me, the Marvel Collector Corp is one of the best boxes out there and is a must have if you are a collector of the Pop! line or a fan of Marvel!