Lucifer #1

Writer: Dan Watters
Artists: Max Fiumara, Sebastian Fuimara
Colorist: Dave McCaig
Letterer: Steve Wands
Publisher: DC Vertigo
Review by Michael Farris, Jr.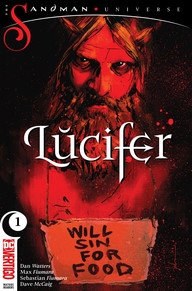 Lucifer, the fallen angel and once Lord of Hell, is trapped. He's in a mysterious village with a half-baked escape plan, no apparent lucid thoughts, and no idea why he's here. As events unfold, it becomes clear that Lucifer's current troubles are a family affair. Meanwhile, Detective John Decker is dealing with his wife's sudden growth of a tumor, a tragic accident, and his brother-in-law's stay at an ominous sober living facility. So, how exactly are these two storylines connected?
Well, if you're looking to the answer to that question above, it's not immediately obvious, and that's a good thing. I feel like one of the strengths of Neil Gaiman's original Sandman series and Mike Carey's Lucifer spin-off are the stories that are told around different, everyday people that end up being affected by the actions of the titular characters. This new Lucifer series takes on that spirit and does so much more to make it feel like a natural fit in the Sandman Universe.
I'd argue that this book, more so than others we've seen so far, in the SMU (are we calling it that now?) is the closest to the originals thus far. Watters's writing style is superb in that its tone is fairly philosophical and weighty and not just run-of-the-mill dialogue. In Lucifer's storyline, it feels downright Shakespearean seeing a crazy, bedraggled Lucifer stumbling through his own comedy of errors. John Decker's storyline is hard and tragic but also enticingly haunting with all the occultish undertones that are sure to connect the two storylines at some point.
This is all joined by the brilliant art of the Fiumaras—some of my favorite artists out there—whose style matches this series flawlessly. There's a great amount of eye-catching detail throughout the whole book, and the weird, creepy, and gothic moments are equal parts disturbing and mesmerizing. I particularly enjoyed the moment Lucifer is being stuffed into a bucket. The colors are bright but at the same time they have kind of a sickly, hospital-light tone that works perfectly for a story about the Devil.
Verdict: Buy it.
One of the better installments of the Sandman Universe expansion so far, Lucifer #1 is a great blend of dark comedy and horror–which makes it right at home with Gaiman's and Carey's original runs.