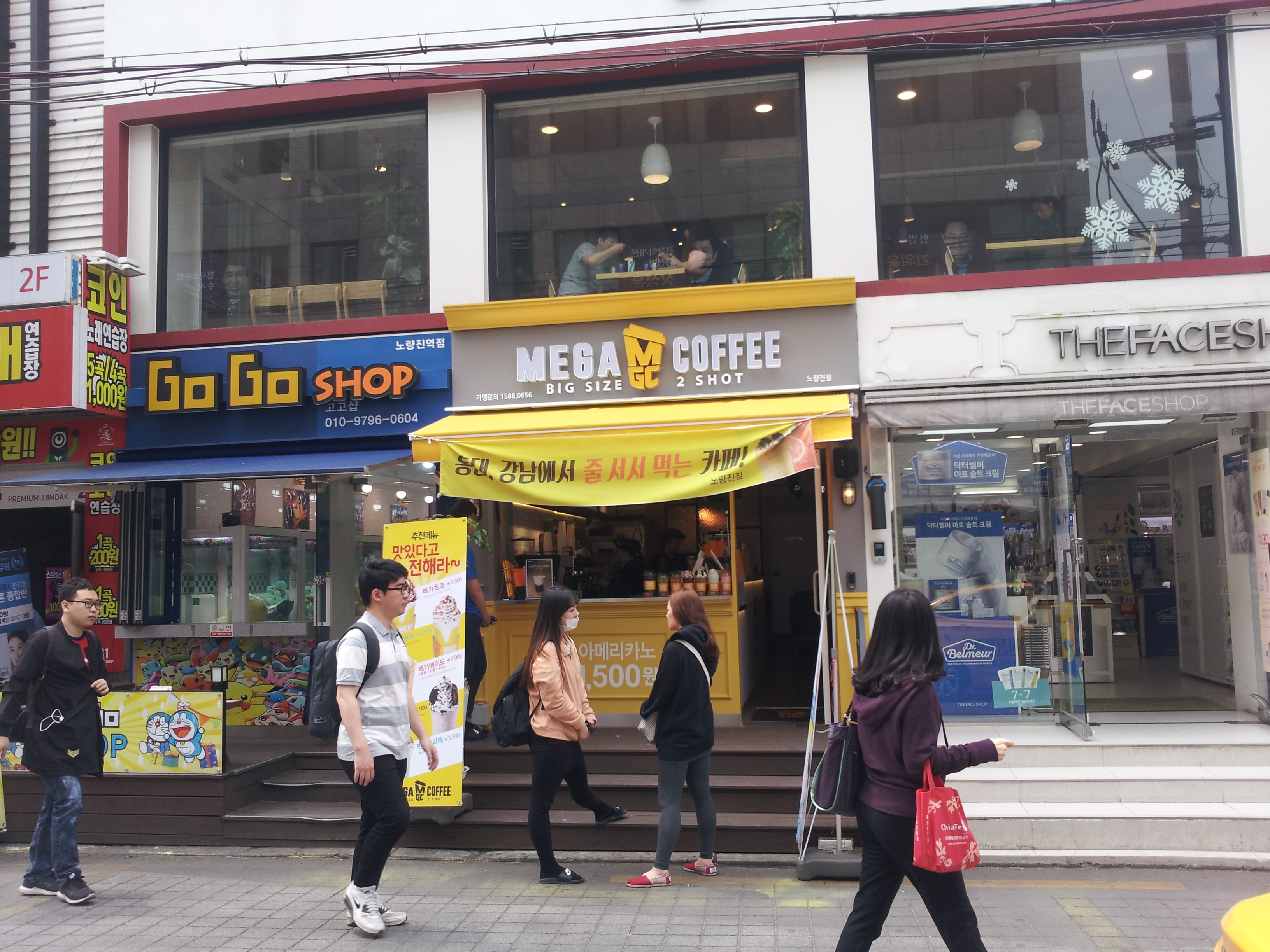 The Koreans love coffee and dessert.  You can go down any street and find a café, which usually includes a small bakery.  Due to the European and American influence after the Korean War, many dessert cafés are dedicated to Parisian-style baked goods, particularly macarons.  Just about every bakery will have some, either single-wrapped or boxed.  For this column, we take a look at some of the more popular places.  Traveling tip:  almost all cafés have free Wi-Fi.  Just ask the barista and they'll give you the access code, plus let you charge up.
The Cat Café:  located in Meyoung-dong, the Cat Café has about ten resident cats for patrons to pet and feed.  It's a ₩9,000 KRW ($8 USD/10$ CAD) entrance fee (includes a drink) and you can stay for as long as you like.  Due to the urban environment in Seoul and strict pet laws, many apartment owners do not have pets, so a café where you can pet and play with animals is a way to have a pet for a day.  Lint rollers are provided at the end, free of charge.
Paris Baguette:  as stated, the Koreans love European baked goods, especially French.  That's where Paris Baguette comes in, serving as a café-cum-bakery where you can find everything from traditional macarons to red bean cream buns.  There's plenty of savory stuff as well, such as vegetable croquettes and sausage rolls.  A Korean-based chain, it does have some locations in the United States, but mostly in the European and Asian markets.  Slightly pricey, it's about ₩15,000 KRW ($13 USD/17$ CAD) for a drink and snack.
Café Nodeul Sue:  located aboveground near the Nodeul Station (Line 9), this little shop is a cute place to grab a drink and snack.  They usually have seasonal lattes (in Korea, lattes are often a cold mixed drink with little to no caffeine, similar to a milkshake) and local baked cookies.  Just to show how welcoming they are, there's green turf grass outside, making it look like coming home. Prices are ₩7,000 KRW ($6 USD/8$ CAD).
Big Straw:  situated along Bukchon-ro in the Bukchon Hanok Village, it's a nice little place to escape the heat of the day.  Bubble tea is a big draw, especially the Oreo-Taro Iced Bubble Tea.  It's not too far from other restaurants and shopping in the Village, and being located at a major crossroads in the area makes for a good landmark.  The food is standard cakes and cookies, although you can buy whole cream loafs here, but the drinks are very refreshing.  Prices are under ₩10,000 KRW ($8 USD/11$ CAD).
Ddong Café:  located on the top floor of Ssamziegil Mall in the Insa-dong shopping district, this is a poop-themed (yep, that's right) café.  A Korean who worked with my buddy took me here, insisting it had some of the best drinks, and he wasn't wrong.  The elderberry flower ade is a good choice, with edible flowers included (ade is a fizzy sweet drink, usually fruit-flavored, that is popular among young people, found in almost any café you enter).  There is food as well, served in toilet-bowl dishes and themed foods such as the poop-shaped chocolate cookies.  It's a novelty café with a weird vibe, but the food and drinks are delicious.  Prices are around ₩15,000 KRW.
Mansion 5:  this is actually located outside of Seoul in Daegu, a two hour drive south, where I went on a weekend trip.  This is a traditional hanok teahouse, internally renovated into a modern café.  Unlike the usual grab-n-go culture of Korea, Mansion 5 serves food and drink in ceramic dishes and cups, lending elegance to the experience.  The royal milk tea with matcha cake was heavenly, but heartier brunch items are available, and they serve beer as well.  The address is 28 Jungang-daero 79-gil, Jung-gu, Daegu, and prices are usually around ₩20,000 KRW ($17 USD/23$ CAD).
Last word:  there are too many coffee shops, tea houses, and cafés to mention.  There are Western chains, such as the ubiquitous Starbucks, but why go there when you have all of Korea to choose from?
Check out VisitKorea for more information.