Logan Lucky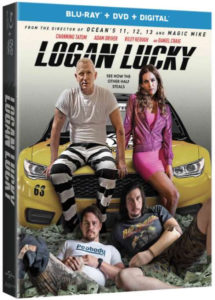 Starring: Channing Tatum, Adam Driver, Riley Keough, Daniel Craig
Directed by: Steven Soderbergh
Written by: Rebecca Blunt
If you ask me what my favorite movie is of 2017, I can easily and without a doubt say Logan Lucky. That might come as a surprise when there were a million other enjoyable movies that came out throughout this year. Logan Lucky stands out, mostly because it does so much with so little. It's a simple heist premise that bears a lot within. This relates to characters, relationships, dynamics and the heist itself. It's a movie that I can understand why Steven Soderbergh came out of retirement to make.
Logan Lucky tells the story of Jimmy Logan (Channing Tatum), a hard working day laborer that is not trying his damnedest to take care of his daughter. After being let go from his job at the racetrack, he devises a plan to loot the money going into the track from the concession. With the help of his brother Clyde (Adam Driver), sister Mellie (Riley Keough), con Joe Bang (Daniel Craig) and his brothers (Jack Quaid & Brian Gleeson), Jimmy can either pull the heist of the century or sink lower than before.
You may still be wondering why I love this movie so much? Again, it's so damn simple. It's not simple in a negative way, but simple in the form of it doesn't go over the top. It's not your typical heist movie like Baby Driver (another excellent but different heist movie), but almost resembles a tighter Ocean's Eleven with a homely and comfortable setting.
The premise is uncomplicated. Get the money dumped during the races from concession stands vent tubes. The characters are family, friends or cons (or acquaintances) who they know resemble people that you might know. The relationships are already, or continue to be, established. You catch up to the lives of these people quickly, but there's some connection that you place. There's no bells and whistles. No fancy cars (except for Mellie's cause hot damn). No one dressed in fancy clothes. Logan Lucky feels like a homegrown movie. The writing by Rebecca Blunt gives you a warm feeling of southern hospitality. It's unrefined, domestic and relaxed. It's a movie that makes you cozy, doesn't make you overthink, but blows your mind in its finale. It feels like you're watching it, but can be friends with any of these people (even ones you don't want to.)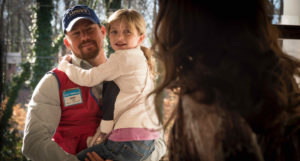 Logan Lucky is a stand-out when it comes to its characters. The actors of this film cater to a little bit for everyone. Channing Tatum as Jimmy is so straightforward, smart, sincere and unassuming. Jimmy's your 'everyday man' trying to be the best he can when life keeps knocking him down. You feel for Jimmy. You want the best for him, and even you find yourself rooting for him because of his caring relationship with his daughter Sadie (Farrah Mackenzie). The chemistry between Farrah Mackenzie and Channing Tatum is unbelievable. Mackenzie is going to be one hell of a little actress in the future that reacts a natural bond with everyone.
Adam Driver (*swoon*) is an absolute babe as paranoid, but lovably aware Clyde Logan. I think that may be a little of my bias going into it cause of my unconditional love for Driver's acting, but he nails Clyde and makes you want the best for him as well. Driver and Tatum as brothers would make you quickly raise your eyebrow, but in Logan Lucky, it works. You believe the two of them and how much they love and respect each other. Your heart almost breaks with the underlining sibling rivalry Clyde has for his brother. They play their role in a way that makes you know that they completely ride or die for each other no matter what.
I may get some hate for this, but Daniel Craig as Joe Bang is one of the best things in his career. Craig stepping into this role is very different from him coming off mostly Bond movies. It's a significant change. He's hilarious and critical to the film. Craig shows the world that he can do something else besides Bond and deliver those witty and entertaining lines and actions that make him so great at his job. Other actors: Riley Keough, Sebastian Stan, Seth MacFarlane, David Denman, and Katie Holmes (yeah, that's right, Katie f*ckin' Holmes) create such an unbelievably fantastic atmosphere that just wants you to settle into its greatness.
Now, for all the good, it had two parts that didn't make much sense. The addition of Hilary Swank and the in and out appearance of Katherine Waterston's character Sylvia Harrison.
At one point in the movie, after the heist has gone down, we switch to an entirely different FBI official vibe when Hilary Swank walks into the room. I don't know about you guys, but Hilary Swank isn't the actress she used to be. In Logan Lucky, Swank comes off as artificial and clearly playing a role instead of coming off natural. She almost resembles a robot. Very stiff and looking to get out of here as much as possible. I audibly hissed in the theater when the last moments came on the screen. I wished she was played by someone different. Not that I don't like Hilary Swank, but she skewed the vibe of the film a little bit.
Katherine Waterston's character Sylvia Harrison was the opposite problem than my issue with Swank. I wanted to see MORE of her. Waterston flows so well within the story. The chemistry she has with Tatum made me excited about seeing more. We only see a full scene of Sylvia and then her coming into Duck Tape (the bar) later on. Nevertheless, character was interesting enough to warrant her coming in for at least another scene.
Verdict: WATCH IT and BUY IT! It's one of those movies that just make you curl up with a warm cup of tea or cider on a fall night. Steven Soderbergh gives us a perfect heist movie filled with emotions, comedy, drama, and characters that you can relate to and openly warm to. Logan Lucky is one of the best films of the year.