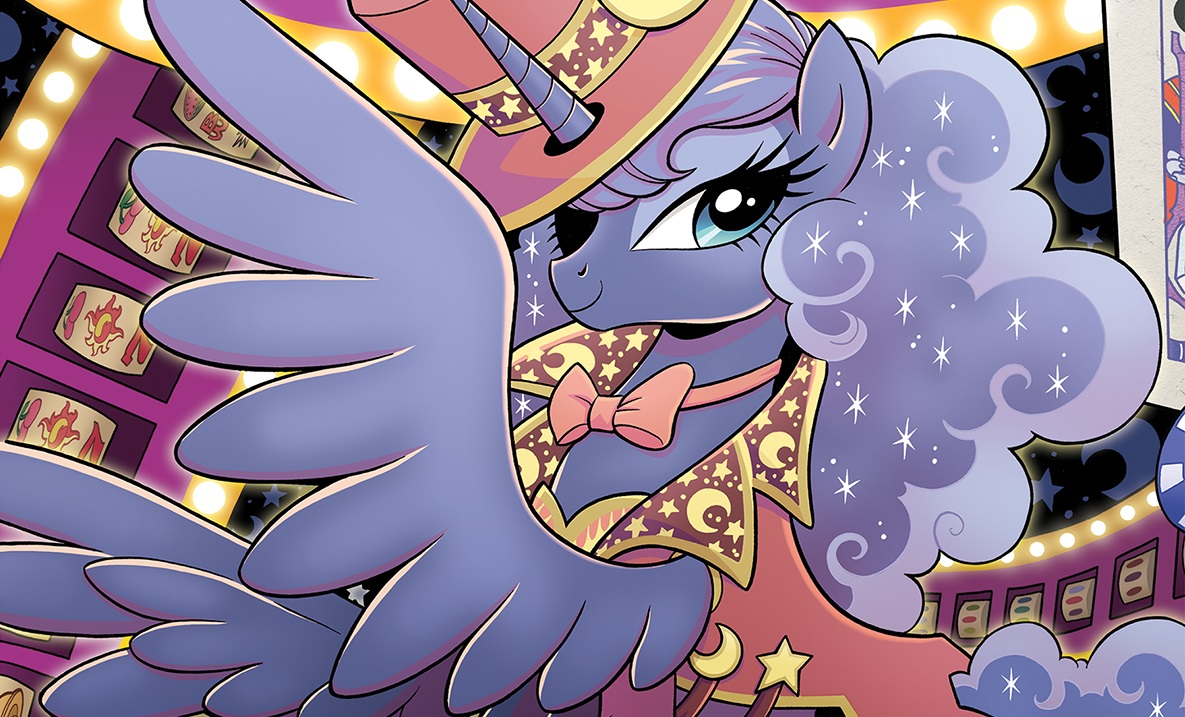 My Little Pony: Nightmare Knights #1
Writer: Jeremy Whitley
Artist: Tony Fleecs
Colorist: Heather Breckel
Letterer: Neil Uyetake
Cover Artists: Tony Fleecs, Brenda Hickey, Andy Price, Jay Fosgitt
Publisher: IDW Publishing
Review by Cameron Kieffer
There was an idea…to bring together a group of remarkable ponies (and one cat)…to fight the battles the Mane 6 never could. Of course, if the Mane 6 are already Equestria's equivalent of the Avengers, then the Nightmare Knights may just be the Thunderbolts.
What starts as a typical night patrolling the dreamscapes of others quickly takes a dangerous turn! Princess Luna finds herself, quite literally, in an old memory of Stygian's (last season's big bad) and is confronted by a deadly new enemy that has targeted Luna's sister Celestia. The soft-spoken Stygian, aka "the Pony of Shadows" reluctantly comes to her aid and the two reformed villains travel to a dark underworld in search of the truth behind their mysterious foe.
Being the first in a five-issue miniseries, this serves as mostly set-up for what has been touted as a team book, although the formation of said team is really only teased at the end. This first chapter is all about Luna and Stygian but all great teams need a good anchor or two and these characters have a very interesting dynamic. Writer Jeremy Whitley is no stranger to the MLP universe or to writing compelling characters and he is very much in his element here (harmonious pun intended). The dialogue is strong and stays true to their personalities, and even works to develop long-time characters. One line in particular from Luna adds a certain nuance to how her villainous past still affects her. The book makes good use of its dark undertones, especially in the humor, which is just a tad darker than what you'd typically find in an MLP book.
Whitley's script also does the admirable job of building upon his more recent works, particularly last year's "Legends of Magic" maxi-series. While it certainly isn't required reading to enjoy this, doing so would greatly add to the experience. I will say that, much like this week's Adventure Time Season 11, this issue doesn't exactly serve as a great jumping-on point for new MLP fans. There is little explanation with regard to past events and it's very much tailored to fans who watched the last season of Friendship is Magic. The inclusion of characters from last year's theatrical adventure may also necessitate a viewing of that film before the next issue arrives. This isn't a slight against the book at all, mind you – but I do feel there are some prerequisites needed to fully appreciate the story.
Art duties are handled by regular MLP artist Tony Fleecs and colorist Heather Breckel. Like Whitley, this team is very much at-home in the world of Equestria. Fleec's faithful, yet slightly-exaggerated style works perfectly for this story and these characters. You can tell both artists had a great deal of fun with the design of the Black Mirror-verse and have incorporated many Easter Eggs for both casual and long-time fans. Nearly every villain, former and current, makes an appearance in some fashion, with a few notable exceptions (see next issue). This issue also boasts the return of a rather unexpected baddie, whose appearance has dire consequences for one of our leads. I won't spoil their identity here, but needless to say, their inclusion was a welcome one!
It's hard to remain objective, but the fact is, I've been looking forward to this book since it was first announced. I was drawn in by the exciting premise and the top-notch creative team, neither of which disappoint.
The Verdict:
Buy it! I think there's a lot of potential here and I would love to see this premise continue, possibly with a rotating team of former villains, ala Suicide Squad. While the team never actually "assembles" in this debut issue, the seeds are planted for a fun, epic tale featuring a few of Canterlot's Most Wanted.