If you're anything like me, you love Halloween. You watch as many horror films as possible and read all the scary stories you can get your hands on. We here at Rogues Portal decided to share with you some of our favorite horror novels that we like to read at this time of year. In no particular order, here is Rogues Portal's Halloween Reads to help you get into the Halloween spirit:
---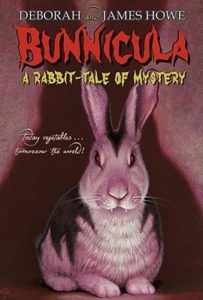 Bunnicula by James Howe
"BEWARE THE HARE! Is he or isn't he a vampire? Before it's too late, Harold the dog and Chester the cat must find out the truth about the newest pet in the Monroe household — a suspicious-looking bunny with unusual habits … and fangs!"
---
Dracula by Bram Stoker
"When Jonathan Harker visits Transylvania to help Count Dracula purchase a London house, he makes horrifying discoveries in his client's castle. Soon afterward, disturbing incidents unfold in England: a ship runs aground on the shores of Whitby, its crew vanished; beautiful Lucy Westenra slowly succumbs to a mysterious, wasting illness, her blood drained away, and the lunatic Renfield raves about the imminent arrival of his 'master.' In the ensuing battle of wills between the sinister Count and a determined group of adversaries – led by the intrepid vampire hunter Abraham van Helsing."

---
The Exorcist by William Peter Blatty
"Inspired by a true story of a child's demonic possession in the 1940s, William Peter Blatty created an iconic novel that focuses on Regan, the 11-year-old daughter of a movie actress residing in Washington, D.C. A small group of overwhelmed yet determined individuals must rescue Regan from her unspeakable fate, and the drama that ensues is gripping and unfailingly terrifying."

---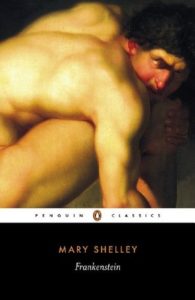 Frankenstein by Mary Shelley
"At once a Gothic thriller, a passionate romance, and a cautionary tale about the dangers of science, Frankenstein tells the story of committed science student Victor Frankenstein. Obsessed with discovering the cause of generation and life and bestowing animation upon lifeless matter, Frankenstein assembles a human being from stolen body parts but; upon bringing it to life, he recoils in horror at the creature's hideousness. Tormented by isolation and loneliness, the once-innocent creature turns to evil and unleashes a campaign of murderous revenge against his creator, Frankenstein."
---
The Graveyard Book by Neil Gaiman
"After the grisly murder of his entire family, a toddler wanders into a graveyard where the ghosts and other supernatural residents agree to raise him as one of their own. Nobody Owens, known to his friends as Bod, is a normal boy. He would be completely normal if he didn't live in a sprawling graveyard, being raised and educated by ghosts, with a solitary guardian who belongs to neither the world of the living nor of the dead. There are dangers and adventures in the graveyard for a boy. But if Bod leaves the graveyard, then he will come under attack from the man Jack—who has already killed Bod's family."
---
The Haunting of Hill House by Shirley Jackson
"Shirley Jackson's The Haunting of Hill House has been hailed as a perfect work of unnerving terror. It is the story of four seekers who arrive at a notoriously unfriendly pile called Hill House: Dr. Montague, an occult scholar looking for solid evidence of a "haunting"; Theodora, the lighthearted assistant; Eleanor, a friendless, fragile young woman well acquainted with poltergeists; and Luke, the future heir of Hill House. At first, their stay seems destined to be merely a spooky encounter with inexplicable phenomena. But Hill House is gathering its powers—and soon it will choose one of them to make its own."

---
John Dies at the End by David Wong
"STOP. You should not have touched this flyer with your bare hands. NO, don't put it down. It's too late. They're watching you. My name is David Wong. My best friend is John. Those names are fake. You might want to change yours. You may not want to know about the things you'll read on these pages, about the sauce, about Korrok, about the invasion, and the future. But it's too late. You touched the book. You're in the game. You're under the eye. The only defense is knowledge. You need to read this book, to the end. Even the part with the bratwurst. Why? You just have to trust me.
"The important thing is this: The drug is called Soy Sauce and it gives users a window into another dimension. John and I never had the chance to say no. You still do. I'm sorry to have involved you in this, I really am. But as you read about these terrible events and the very dark epoch the world is about to enter as a result, it is crucial you keep one thing in mind: None of this was my fault."

---
The Long Walk by Stephen King
"On the first day of May, 100 teenage boys meet for a race known as 'The Long Walk.' If you break the rules, you get three warnings. If you exceed your limit, what happens is absolutely terrifying."
---
Rosemary's Baby by Ira Levin
"Rosemary and Guy Woodhouse, an ordinary young couple, settle into a New York City apartment, unaware that the elderly neighbors and their bizarre group of friends have taken a disturbing interest in them. But by the time Rosemary discovers the horrifying truth, it may be far too late!"
---
The Ruins by Scott Smith
"Trapped in the Mexican jungle, a group of friends stumble upon a creeping horror, unlike anything they could ever imagine. Two young couples are on a lazy Mexican vacation–sun-drenched days, drunken nights, making friends with fellow tourists. When the brother of one of those friends disappears, they decide to venture into the jungle to look for him. What started out as a fun day-trip slowly spirals into a nightmare when they find an ancient ruins site . . . and the terrifying presence that lurks there."

---
The Terror by Dan Simmons
"The men on board HMS Terror have every expectation of triumph. As part of the 1845 Franklin Expedition, the first steam-powered vessels ever to search for the legendary Northwest Passage, they are as scientifically supported an enterprise as has ever set forth. As they enter a second summer in the Arctic Circle without a thaw, though, they are stranded in a nightmarish landscape of encroaching ice and darkness. Endlessly cold, with diminishing rations, 126 men fight to survive with poisonous food, a dwindling supply of coal, and ships buckling in the grip of crushing ice. But their real enemy is far more terrifying. There is something out there in the frigid darkness: an unseen predator stalking their ship, a monstrous terror constantly clawing to get in.

"When the expedition's leader, Sir John Franklin, meets a terrible death, Captain Francis Crozier takes command and leads his surviving crewmen on a last, desperate attempt to flee south across the ice. With them travels an Inuit woman who cannot speak and who may be the key to survival or the harbinger of their deaths. But as another winter approaches, as scurvy and starvation grow more terrible, and as the terror on the ice stalks them southward, Crozier and his men begin to fear that there is no escape."
---
If none of these catch your eye, you can't go wrong with some spooky short stories like The Raven by Edgar Allan Poe and The Call of Cthulhu by H.P. Lovecraft.
Agree with our choices? What are your favorite Halloween Reads?