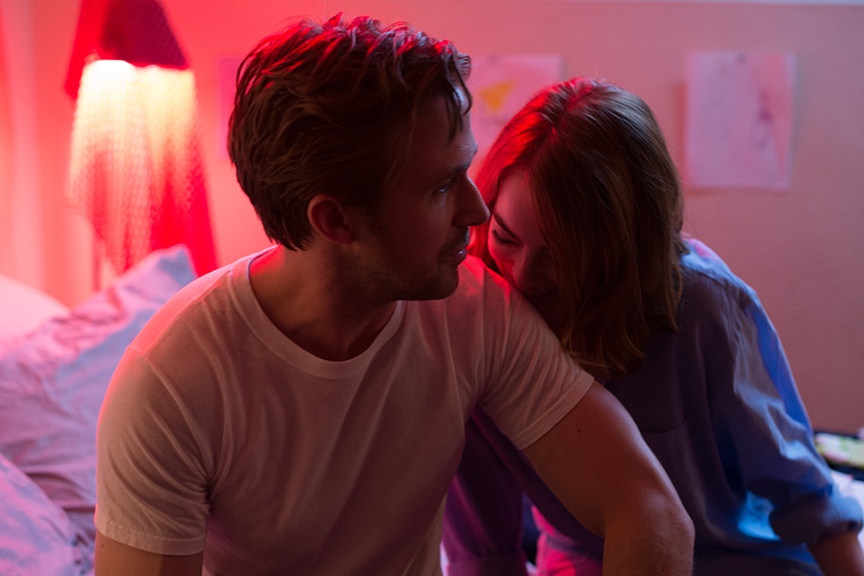 La La Land
Director/Writer: Damien Chazelle
Starring: Emma Stone, Ryan Gosling
A review by Thanh Nguyen
Director Damien Chazelle treads familiar thematic territory in his third feature, La La Land, in which he revisits characters who make sacrifices for the sake of artistic ambitions. Unlike his previous film, Whiplash, which has a darker and bleaker outlook on the consequences of creative endeavours, La La Land, as its title would suggest, takes a sunnier approach to the pursuit of dreams. It's as if Chazelle crawled out of a dark hole and decided to look back on the struggles in his life in a positive retrospect-one brimmed with bright possibilities, soaked with youthful optimism, and tinged with heart aching nostalgia.
The film follows Mia and "Seb" (Sebastian), two starry-eyed individuals in LA who meet and fall in love after a series of charming chance encounters. These happenstances occur so frequently that even Seb comments on them by saying that "maybe it means something". Though Mia quickly dismisses any possible profundity, responding with "I doubt it". It's a moment in the film that feels almost like a wink at romantic comedies and their "meet cute" set ups, a moment that points out their contrived and cliched nature while simultaneously highlighting the magic of movies to bring disparate characters from different worlds together.
As the two form their relationship, they encourage one another to pursue their individual dreams. Mia is an aspiring actress who lives vicariously as a barista working at a coffee shop on a Hollywood studio lot while Seb is a struggling jazz pianist with ambitions of opening up his own jazz club. Both constantly face the ego-crushing reality of struggling to make it big in a land where aspiring actresses are a dime a dozen and traditional jazz is, as Seb says, "dying". However, it's their relationship with each other that keeps their hearts and spirits alive. With Emma Stone and Ryan Gosling playing the charismatic and charming duo with such ease, it's not hard for the audience to feel the same way as well. Their chemistry is so palpable, it practically radiates in every scene as brightly as the sunny backdrop of the film.
As Mia and Seb continue to sweep each other off their respective feet, Chazelle romances the audience in his own way with picturesque settings that are moodily lit, sweeping shots that pull you along with the movement of the characters, and catchy musical numbers that make you ache for a bygone era of Hollywood cinema. There's a fantasy-like quality to the the world that Chazelle depicts in La La Land which allows the audience to immerse itself into Mia and Seb's idealized romance.
The couple's world unfortunately gets disrupted when Seb joins his old friend's Keith somewhat cheesy but moderately successful jazz band as a keyboardist, which sees Seb's relationship with Mia, along with his artistic integrity, being challenged. It seems that for Chazelle, a person's professional and private life are not always able to harmoniously coexist. But rather than illustrate how romantic relationships get in the way of creative success, as was seen in Whiplash, La La Land shows how these relationships help us get to where we are, even if they don't end up working out. While the ending of the film might leave some people dissatisfied, the heart of its message will make you look at life as a glass half full.
The Verdict
See it! Damien Chazelle manages to marry the old and the new by elevating the styles of classical Hollywood movies into an artistic form. At a telling moment in the film, Keith asks Seb (who seems like an on-screen surrogate for Chazelle), "How are you going to be a revolutionary if you're such a traditionalist?". Chazelle seems to answer that very question by creating a modern musical that blends tradition with his own unique vision.
La La Land is currently playing in theatres.