Kill Them All Review
Writer/Artist: Kyle Starks
Colorist: Luigi Anderson
Designer: Dylan Todd
Editor: Charlie Chu
Publisher: Oni Press
A review by Samantha Pearson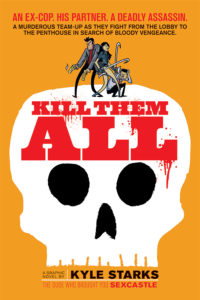 From "the dude who brought you Sexcastle" and Rock Candy Mountain, Kill Them All shines with Kyle Starks' telltale humor and unique art. This "jokey fight book" features an ex-cop (who's obsessed with getting his job back), his reluctant partner, and a deadly assassin who's out to kill. Them. All. Her crappy boyfriend won't even let her dump him properly and then he gets her fired from her job. It's a Bad Day all around, for everyone. Kill Them All starts with the break-up and gets increasingly bonkers from there. And it's so, so fun.
This 186-page book goes by in a flash. The dialogue is sparse, as fighting panels take up most of the pages, but the action is cohesive and interesting. The plot maintains its thread, even as the story moves between Detective Iruka and The Tiger's Daughter. Their plots are not quite parallel but are very similar. Luigi Anderson's colors make Starks' illustrations pop off the page.
Kill Them All is violent, and it has some weird moments. There's some vague orientalism/Yellow Peril in a fight club sequence and in the flashbacks of The Tiger's Daughter's training. Her name — or lack thereof — also leaves something to be desired. Men have used her as a weapon her entire life, leaving her with basically no identity. This fact motivates her killing spree in-book. It's incredible to see her take down the men who've treated her so poorly, but it's also frustrating to see this "perfect assassin" plot repeated over and over for the sake of a Strong Female Character.
Meanwhile, the first half of Kill Them All features Detective Iruka repeatedly talking about how much he misses being a cop. He praises cops as the ultimate good. It's uncomfortable given the amount of police brutality that's been dominating media coverage for the last several years in the US. Luckily, his opinion changes. Iruka's trust in the police is ripped to shreds in the latter half of the book; Starks handles this scene with a candidness that might be surprising to first-time readers of his work.
Like all of Kyle Starks' projects, this "jokey fight book" deals with a lot of serious subjects. Domestic abuse, police corruption, brainwashing, child abuse, patricide, and sexual abuse are all discussed explicitly in Kill Them All, to varying degrees. Starks employs dramatic irony in several spots to hint at the story's ending. He also works in dialogue that seems to almost break the fourth wall in its awareness of the reader's reality. This book feels simultaneously like a quirky Elektra spin-off and a comic installment of a Quentin Tarantino film, but with less bullshit. I appreciate that.
Some frankly impossible physics make the fight scenes in Kill Them All especially exciting. You'll need to suspend your disbelief to get through them. Once you do, The Tiger's Daughter using an umbrella as a shield and then Iruka making several ridiculous shots with his various guns is just pure entertainment. Starks' distinctive style of drawing human anatomy works especially well for this comic because it allows the characters to do wild things with their bodies when they fight, which adds to the dynamism of each page.
The dialogue is also, frankly, hilarious. "When are you going to stop being weirded out by how hard as hell I am?" Iruka asks at one point. I laughed out loud — this book has several comedic gold moments, but that's one of the best.
Verdict
Buy it! Kill Them All is another great Kyle Starks book that will keep you entertained from cover to cover. Bearing its issues in mind, Starks has still crafted a story that's interesting and well-wrought, with an ending that is frankly explosive… though not literally. That happens at the beginning of the book. I highly recommend you check it out!