Category: Comics
Location: Cambridge, UK
Goal Date: July 31st, 2019
Currently Funded: £6,216 of £8,000
Campaign Type: All or Nothing
ABOUT THE PROJECT
A couple of days ago, a new Kickstarter campaign started. Everyone who has the slightest interest in stories well told via the comicbook format should throw every dollar, pound, or euro they can spare at the creators of this magnificent powerhouse of a story. Of course, I am talking about Breaks Volume 2.
What is Breaks, you ask? Is it a coming-of-age-story? Does it tell a tale of athletes and how they might achieve their dreams? Is it a story about love? Is it an ensemble comedy? Or is Breaks a slice-of-life comic, which explores various corners of the human existence and how we come to terms with our past, present, and future?
The simple answer is yes, absolutely (and it also happens to look gorgeous, too). But let me elaborate …
The coming-of-age aspect involves the two protagonists Ian and Cortland. Throughout the first volume of Breaks, we learn a lot about their past lives and what makes them tick. They also discover their love (?) for each other and the obstacles they have to overcome. However, the great thing about Breaks is that it is not just about their sexual orientation. Ian and Cortland are so much more than that.
That's why I listed all those different elements above. Breaks is not just a love story that only centers around their homosexuality. They have friends and families, hopes and dreams, fears and anxieties — they resemble actual human beings. These aspects of the characters make them so relatable and engaging to read. They just happen to be queer.
But besides the well-written dialogue and the fleshed-out characters, the artwork is to die for. Emma Vieceli and Malin Ryden created a distinctive look for every character — beginning with the clothes they wear and their facial expression, down to the way they move and walk. The surroundings are detailed, and as a reader, you always know where each person is in relation to the other characters.
The eyes smoothly flow through the pages, panels, and speech balloons, creating an engaging experience. I have read all the chapters available online several times. Each time, I discovered something new I didn't catch the last time. And finally, I can have them on my shelf as well. We need more stories like Breaks. I need more stories like Breaks in my life.
FROM THE KICKSTARTER
"Two young men discover who they were, who they are … and who they're going to be."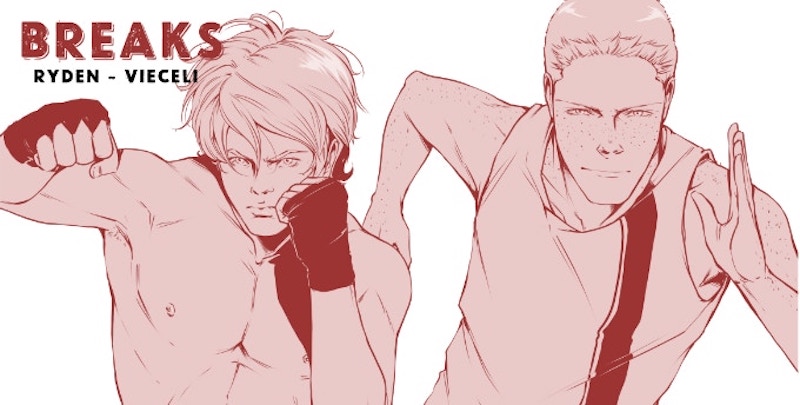 RECOMMENDATION
I find it hard to recommend a particular tier, because it heavily depends on your love for the creators and the story they tell. And also your passion for the project (and the money you want to spend). I personally fell in love with the characters and the artwork at first sight, and I have been following them for years now. So it was an easy decision to jump ahead to the "Special Love" tier. That being said, I would generally recommend the "Hard Love X" tier. You get the second book in the hardback edition, plus the PDF version of both volumes, and a nice looking print.
REWARDS
£5: Digital Love – the less tangible option
£10: Digital Love Plus – PDFs of BREAKS 1 & 2
£20: Hard Love Basic – BREAKS 2 hardback
£25: Hard Love Plus – Book 2 + PDFs
£30: Hard Love X – Book 2 + PDFs + Print
£40: Love Love – Boo2 + wrap + prints + PDFs
£45: Book Love – Books 2 + Book 1 + PDFs + Print
£50: Love Love X – Books 2 + wrap + Prints + PDF + Book 1
£82: Special Love – Books 1 & 2 specials + all
£250: Art Love – Love Love X + original art!
£300: Punky Love – Love Love X + Your graffiti!
Please consider supporting this campaign through the Breaks 2 Special Edition Campaign on Kickstarter.
CLOSING STATEMENTS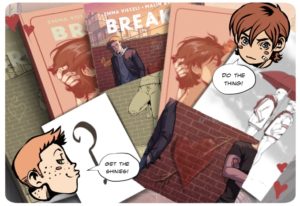 At this point, the Kickstarter is doing very well, and I sincerely hope that the creators get more money for the comic. Further support means that the creators can spend more time on the next arc, and more Breaks is always welcome.
In case you missed the first arc, you can read the story on the website (http://www.breakscomic.com) or on such sites as Tapas. Otherwise, you can buy the first volume here.
Read it. Experience it. Love it. Support it. Share it.