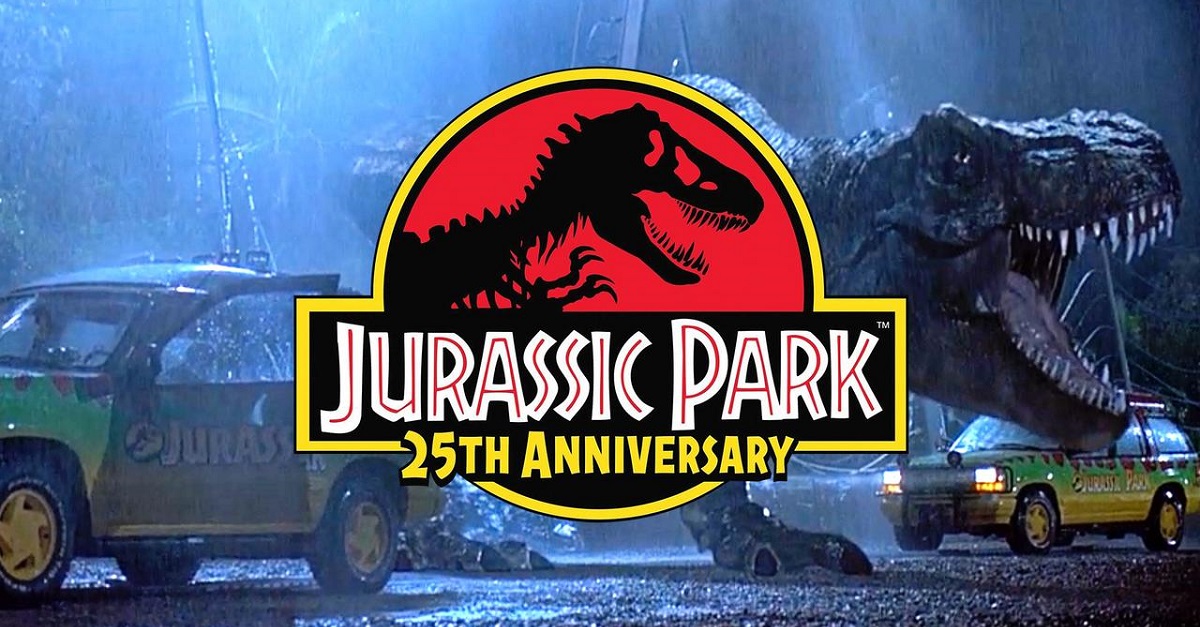 As a fan of the Jurassic Park franchise, I've gotten a bit weary when it comes to re-releases of the films on DVD, Blu-Ray, digital, etc. It's not for lack of enjoying the films. Rather, it's because it seems like every other year Universal is releasing them.
However, since it's been 25 years since the release of Jurassic Park, I can't really begrudge them for releasing an anniversary collection. I was very curious about what they'd do to make this collection special. I was not disappointed.
The 25th anniversary Jurassic Park collection offers, for the first time, the first four films of the franchise in 4K Ultra HD. They have been digitally remastered, and are available in this collection on both Blu-Ray and digital. Viewers now have the opportunity to not just watch the Jurassic films in the most advanced format available today, but also take the films wherever they go with the digital versions.
Watching the digital versions of the Jurassic films offered in this collection, I was blown away first and foremost with the remastering of the sound. I've watched these films countless times. I don't think I've heard them as crisp and clear. The visual remastering is great as well, although obviously limited due to the age of the earlier films. Regardless, those iconic images we've come to know and love–the T. rex roaring as the banner falls, the Raptors in the kitchen, Ian Malcolm's gorgeous bod–still look as great as they did 25 years ago.
What really sets this collection apart is its absolute cache of special features. Archival featurettes, behind the scenes footage, set photos, concept drawings, and so on are all included as well. There is a lot to chew through, which is great if you're a fan of the franchise.
The biggest feature is a six-part documentary, Return to JURASSIC PARK. It contained so much footage and interviews from the production I'd never seen before. I thought it had been made just for this collection. Much to my chagrin, I realized I'd been out of the loop–it's been around since 2011! At any rate, the documentary spans all four films. It spins some of the classic production tales from the sets of these films even further. It helps give viewers even greater insight into just what it took to make such groundbreaking cinema.
Jurassic Park obviously shines above its descendants in this collection, containing the largest quantity of special features to peruse. Likewise, Jurassic Park III–the black sheep of the family–unfortunately gets very little. There's a lot of negativity surrounding that film from fans, but the film's still got a unique production history. Personally, I think many people would want to explore all that stuff further.
Some rarer content this collection gives viewers access to is a number of production stills, conceptual art, and clips of pre-production meetings, as well as access to storyboards of some of the most iconic Jurassic scenes. For me, getting to see all the storyboards for the infamous T. rex breakout and attack from the first film was a dream come true. There's also the infamous Phil Tippett animatics in their full glory. There's also a peek into the process Industrial Light and Magic underwent while animating the CGI dinosaurs for the film. It also has a handheld video of Steven Spielberg going location scouting.
This collection is ripe with stuff that would melt the heart of any Jurassic fan.
Jurassic Park 25th Anniversary Collection Special Features
Return to Jurassic Park

– Six-Part Documentary

The Making of

Jurassic Park

1-3

Steven Spielberg Directs

Jurassic Park

Storyboards and deleted scenes

A Visit to ILM

Welcome to

Jurassic World

Dinosaurs Roam Once Again

Jurassic World

: All-Access Pass

And much more!
Verdict: Buy it!
Personally, I say go out and pick yourself up a copy of this collection as quickly as you can. Universal has beautifully remastered these films. As well, there are so many great bonus features that you can lose yourself in for hours. Great for fans, fun for viewers–it's just a good time for all!