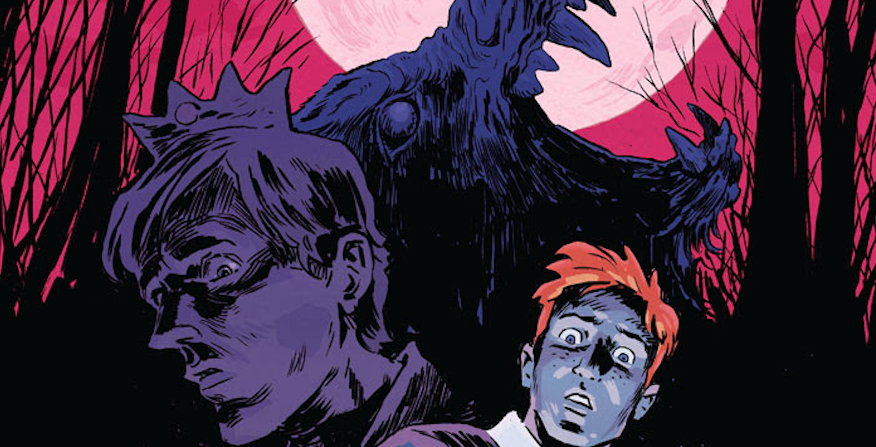 Jughead: The Hunger
Writer: Frank Tieri
Artist: Michael Walsh
Colorist(s): Michael Walsh, Dee Cunniffe
Letterer: Jack Morelli
Publisher: Archie Comics
A review by Insha Fitzpatrick
We all know how much I love myself some Jughead. I live and breathe for any new stories surrounding him and this is one that I'm happy to talk about. Jughead: The Hunger is a one-shot form Archie Horror featured around Jughead's insane and insatiable appetite. I hope it doesn't stay a one-shot.
The town of Riverdale is in a panic. The Riverdale Ripper is on the loose and has claimed yet another victim. The beloved teacher Mrs. Grundy (RIP). No one is safe until they find the person who has committed these crimes. Jughead, as we all know, has an appetite that just doesn't stop. One night as he's walking home from a binge fest with Betty, Veronica, Reggie, and Archie, Jughead comes across Dilton and finds out something about himself the next morning that he really wishes he hadn't. He's a werewolf, but not just any werewolf. Jughead comes from a long linage of werewolves in the Jones family. There's only one person who's destined to stop him and it's a person that Jughead and Archie know VERY well: Betty Cooper, Werewolf Hunter. The three of them must find a way to calm Jughead's savage beast before he spins out of control, or Betty will have to put him down… for good.
Let me say this first, I was absolutely blown away by even the thought of the The Hunger. I'm a big fan of Archie Horror. I love the creative stories that come out of it like Afterlife of Archie and The Chilling Adventures of Sabrina, but this was something new that I didn't expect, but I'm so happy it exists.
This is a concept that has been done before (vampire hunters are still a thing yeah?), but with these characters it's creative, intense, and absolutely incredible with how it fits together with the Riverdale universe. Frank Tieri is a welcomed newcomer in the world Archie Horror. His writing not only puts these characters into another realm of possibility, but the story is just way too cool to ignore. Tieri taking the concept of Jughead's appetite being linked to a werewolf appetite and Betty being a werewolf hunter? Guys… guys… how can you not love that?
Frank does an amazing job in presenting the backstory between their history. It isn't a drawn out process, but (since The Hunger is a one-shot) goes quickly and steadily into their  history. He gives you what you need to know, quickly and simply, then moves the story along where you can become invested within what's going to happen in the friendship between Archie, Betty, and Jughead.
Michael Walsh's art fits so perfectly with the story. Just, so perfectly. I'm absolutely blown away by his art in The Hunger, and for good reason. His inks and shading are absolutely incredible to fit with the dark and gritty nature of Jughead's condition. Michael's actions between the panels are just filmic. It's never stale and it keeps moving within a rhythm and takes the story of something you're just reading into it's very own creation. His art mixed within his and Dee Cunniffe colors are truly inspiring and make the comic pop even more. One thing I love about what Michael and Dee accomplished in this comic was pronouncing the color red. It's splattered among some of the panels. It's almost one of those the brightest colors in some of the darkest panels. It fits so perfectly, especially when Jughead makes the biggest mistake that he could make with Dilton.
The Verdict
BUY IT! I loved The Hunger. I know I used a lot of words that equate to it being AMAZING, but guys… I really HOPE that this gets to go on to bring itself out of a one-shot and into a full series. Since Afterlife of Archie seems to be on permanent hiatus, this is the best comic to preoccupy your time while we wait. Jughead: The Hunger is a perfect addition to the growing collection of Archie Horror comics and I can't wait to see more of what Michael and Frank have to offer.