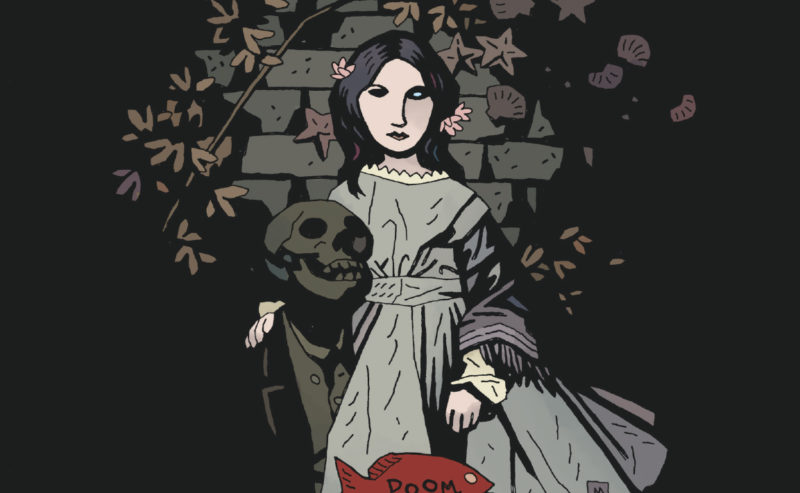 Jenny Finn #1

Publisher: Dark Horse
Writers: Mike Mignola & Troy Nixey
Artist: Troy Nixey
Cover Artist: Mike Mignola
Colorist: Dave Stewart

Review by Anelise Farris
Jenny Finn #1 is a first issue, but this is not the first time Jenny Finn has been introduced to readers. However, that being said, this is my first step into Jenny's world, and it is as creepy and as wonderful as I hoped for. In Jenny Finn #1, London is being ravaged by a plague and a serial killer. For those acquainted with Victorian culture, these horrors are nothing new—routine even—but Mignola and Nixey manage to fill this familiar tale with a fresh, supernatural twist.
It is after Jenny Finn, a young girl, arrives in London that these dual horrors start: a plague that leaves its victims tentacle-covered and a serial killer that hunts women. So just who is this girl? Well, in Jenny Finn #1 we don't get a lot of answers yet. Jenny is depicted as a sweet, clean girl, giving money to the poor on one page, then proudly declaring that she is wicked on another. A man named Joe thinks she needs protecting, but, unfortunately for him, he couldn't be more wrong.
For a first issue, Jenny Finn #1 does not hold back on the horror. From the fish spelling doom in the early pages to the gruesome plague-ridden skin and blue-tinged ghosts, Nixey and Stewart create a compelling visual narrative to go along with Mignola's story. Although we don't get much in terms of the narrative yet, the art makes up for any thin spots in the writing. Victorian London is equal parts gray and bleak as we travel from the shipyard to the streets to the brothel. The pages are highly detailed and everyone's faces are long, heavy-browed, and veering toward the grotesque. If you are looking for a Victorian ghost story with literal monsters in it, Jenny Finn #1 is for you.
Verdict: Buy it.
Although there is a whole lot more story to tell (at least for someone new to the Jenny Finn series!), the creepy art and compelling protagonist introduced in Jenny Finn #1 are more than enough to have me coming back for issue #2.