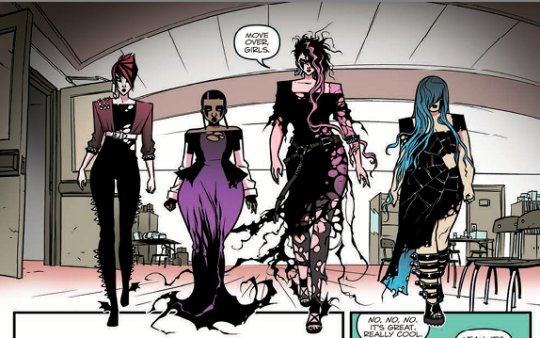 Jem and the Holograms Vol 3: Dark Jem
IDW Publishing
Story by Kelly Thompson
Art by Sophie Campbell
Colors by M. Victoria Robado
Letters by Shawn Lee
Review by Foosa Pentragon
Jem is back for a third volume and the story, Dark Jem, is stronger than ever. The creators brought back Jem and the Holograms in the comics with all the idealisms of the original cartoons and many newer idealisms that reflects the contemporary. The comic brought on more diversity in all manner of ways including race, sexuality, and lifestyle. All this presented in glamour, fashion, and good storytelling. To top it off, the sequence of events and even the flashback is very reminiscent of a modern fairytale.
After the lackluster second volume, Jem and the Holograms are tackling the darker side of themselves and technology. The Misfits and the Holograms are going on tour together and for once their rivalry is not at fault for their current misadventure. For young readers, they can learn Through Dark Jem the idea that connecting with technology can produce viruses and hacks that may turn against you. It also shows how music influences people and the dark side of fanaticism.
The art of Dark Jem reflects the cartoon of Jem and the Holograms. The beuty of both is the singing. Since we cannot listen to the songs, since the first volume, the feelings it emits in the reader shows what type of music it is. The art also shows the ideas of how the reader should view the characters and what type of people they are. Let's not forget the most important aspect, the visual design of the characters' hair, make up, and fashion makes me both giddy and weep from envy. I am so happy from the beauty of it all.
Verdict:
Buy it! Jem and the Holograms Vol 3: Dark Jem can be considered a standalone story though I would recommend reading the other two volumes. The story was much more intriguing and more enticing than the second. Though it does not match the excitement I felt when reading the first volume, it is new and contemporary. The themes are more relatable than seeing the 80's show. However, the most exciting part past the cool story is the beautiful hair, make up, and fashion design. This is coming from someone who is only creative in what they wear. Honestly, I loved the character designs here both as light and dark characters. I highly encourage everyone to read it!