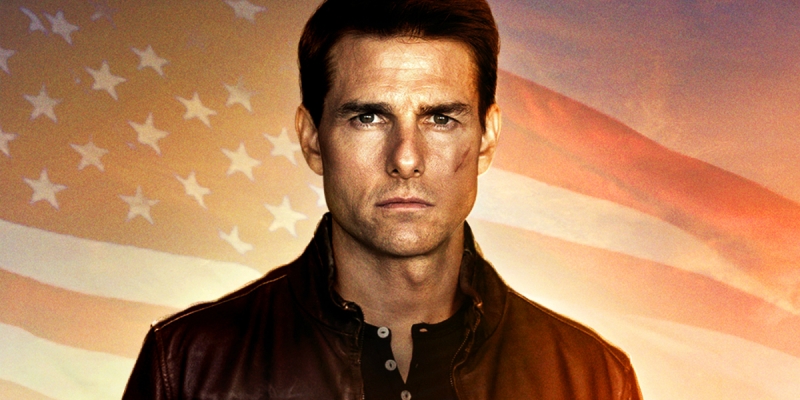 The first Jack Reacher film hit theatres a few years ago in 2012, starring Tom Cruise and giving new life to his career. It's been awhile since he's been in films as regularly as he was (and we probably won't ever see him like he was in his prime again) but Mission: Impossible and the Jack Reacher films make it so that he'll pop up on the big screen semi-regularly for the foreseeable future.
As far as action movies go, I think I'm a little more inclined towards the M:I franchise but this isn't a comparison of the two.
The Jack Reacher films are based on the series of novels by Lee Child. I can imagine that the novels may be a tad on the hokey side, which reflects in the film's dialogue, but I really don't know that for sure. It's just a presumption. The dialogue feels like those real cheesy moments from CSI where Grissom would turn some sort of horrific crime into a pun or use ridiculous wordplay to elevate the drama tension.
The dialogue within Jack Reacher isn't punny though, it's just straight up silly. This isn't necessarily a bad thing though, especially if you go into the film knowing that that's what to expect.
The first Jack Reacher film was surprisingly fantastic and had a lot of epic action, less hokey dialogue, and more. This one feels a bit more like a straight to DVD film: except that it wasn't.
The acting isn't bad (per se) either, I think I'd chalk up the hokeyness of how they come across to Edward Zwick, the film's director. He's not a new director and obviously he's pretty well known (Blood Diamond, Defiance, Legends of the Fall, etc), but I don't know: the script, him, and the cast just didn't really mesh. I don't think the vision for the film was really in line for everyone. Cobie Smulders sort of plays an angrier Maria Hill (a la Avengers) and Tom Cruise is Ethan Hunt but in the US Military Police but with worse dialogue. And the kiddo in the film (played by Danika Yarosh)? Well, I think she was just told to squint a lot and channel your inner THE WORLD IS UNFAIR. She's pretty insufferable, so I guess in that way, she technically may have been the best of the actors cast as she truly nailed moody teenager being dragged along for the ride.
Jack Reacher: Never Go Back Special Features:
Reacher Returns
An Unexpected Family
Relentless: On Location in Louisiana
Take Your Revenge First: Lethal Combat
No Quarter Given: Rooftop Battle
Reacher in Focus: With Tom Cruise and Photographer David James
The Verdict
See it! I don't know if I can recommend buying it… it IS pretty silly, but I enjoyed the film for what it was, hokey dialogue and all. It feels more like something I would watch at home on Netflix or a streaming service on some Saturday afternoon while scrolling through things and trying to decide on something to watch.