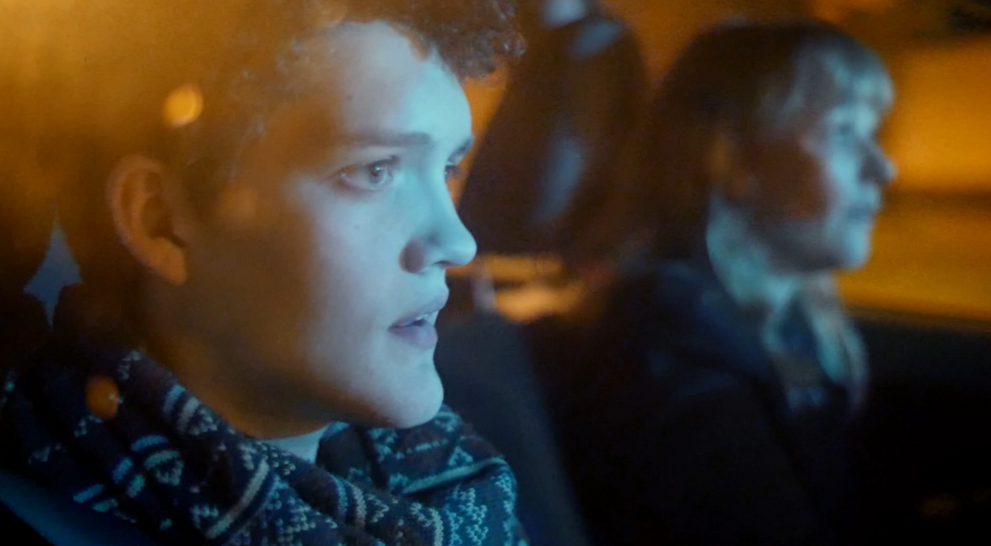 This will be my third and final reviews of the short film showcased at the Iris Film Festival. There were also other films showing on Saturday but, unfortunately, I couldn't attend. However, I will leave a list and a synopsis in another post so you can guys can also view them yourselves. We had our second and third helping of Best British Shorts (unfortunately I missed the third viewing.) as well as the Best Shorts number 8.
Best British Shorts 2
Women dominated the shortlist in this category, but the second programme of British Shorts centers around women's stories, with an emphasis on youth and growing up.
We Love Moses
Director: Dianne Edwards
Country: UK
Time: 15 mins
Year: 2016
Plot: When Ella was 12, she had her first fight. And when she was 12, she discovered sex. Years later, Ella reflects on how her obsession with her brother's best friend Moses left her with a secret she still carries.
Opinion: This was the winner of Best British Short in the Iris Film Festival. If you've ever get the chance to view it, you'll see why. What stuck with me was the use of colour in the film. There is a stylish scene, done mostly in slick slow motion using red and purple as its main colours. Add some eargasmic music and you have an aesthetically pleasing scene. The music set the tone perfectly. A well-deserved win.
Rink
Director: Gail Hackman
Country: UK
Time: 10 Mins
Year: 2016
Plot: Tomboy Jane is visiting her local ice rink with best friend Alfie when she spots her crush, Leanne. Can she pluck up the courage to speak to her? And what will Leanne's brother say if she does?
Opinion: This film was okay. Rink didn't spellbound me like the others. It was pretty cute though. It would be a great film for little children to see and to educate them on this topic. It reminded me a lot of Yuri on Ice. It's told to us as the audience that the character identifies herself as male since she's skating on the rink for when it's for males only.
Pillow Talk
Director: Louise Marie Cooke
Country: UK
Time: 8 Mins
Year: 2017
Plot: A coming-of-age film about best friends Cara and Lucy set in 1993. Lucy suspects that Cara has feelings for girls rather than boys and is determined to get the truth out of her, even at the risk of damaging their friendship.
Opinion: I really enjoyed this film!!! It was a nice film with a nice ending. It wasn't overly dramatic, and I found it a bit romantic if I'm honest. The grunge vibe sets the mood of the film. I felt the film depicted the 90's era perfectly! I loved the minimal use of colour with brown, orange being the main colouring of the whole film. This can open to a sequel or a series of films depicted their growing relationship!! Crossing my fingers, this will happen!!
Outlines
Director: Ellie Rogers
Country: UK
Time: 16 Mins
Year: 2017
Plot: A teenage girl, Sarah, returns to her father's apartment earlier than expected, only to come face-to-face with his hired escort, just as she's about to leave. In the moments that follow, distrust and prejudice give way to understanding, and maybe even friendship.
Opinion: I had the absolute pleasure of meeting Ellie at the Iris Film Festival and she's the sweetest person on the planet!! Turns out she lived in the flat they shot the film!! There was a beautiful backdrop of London. Can you imagine waking up to that every day?! The presents an awkward position to be in, and I believe it was handled delicately. What I loved about this film was the fact that feelings between Sarah and the pizza day delivery girl was not touched upon so deeply. As in it was more 'Sarah likes pizza delivery girl, pizza delivery girl likes Sarah' and they both happen to be girls. This is something i believe we need more of in terms of LGBT films. We need a good variety of romance films where the characters are gay and coming out/identity crisis films.
Fay Presto: The Queen of Close-up
Director: Hanna Aqvilin
Country: UK
Time: 16 Mins
Year: 2017
Plot: A documentary portrait of the legendary Fay Presto: the UK's most in-demand close-up and cabaret magician, who would rather die on stage than quit performing.
Opinion: A fantastic look at the world of the magic industry and how it treats female magicians. This was a very enjoyable documentary and probably one of the top three for me from the whole festival. Fay Presto seems such a kind and talented person, and you really take a shine to her in the films. She's open and honest throughout the entirety of the film. I want to be her. I want to find a job that I don't want to retire from.
Iris Shorts 7
From the Iris Magazine "With issues surrounding gender identity at the forefront of current debate, we are very pleased to present a programme of short films with trans and non-binary characters and subjects as their focus. From intimate documentary self-portraits to moving drama, these films will take you on a journey across three contents, from the US to Austria to Israel to China".
Get the Life
Director: Ozzy Villazon
Country: USA
Time: 12 Mins
Year: 2016
Plot: Alex is a transgender teenager with an unwanted pregnancy. Faced with compromising choices that could have unexpected repercussions. Alex must now decide how to the break this news to his partner Jesse, and how much he's willing to lose to live honestly and courageously.
Opinion: Another tough film to sit through, you felt for the character throughout the whole film. One thing caught my eye. At the abortion clinic, it had a poster that said 'Healthier Moms Means Healthier Babies.' I was thinking "Why the hell would you have that as a sign in an abortion clinic?" The makeup skills on Alex' character and the end was top notch.
Paperback
Director: Hillel Rate
Country: Israel
Time: 11 Mins
Year: 2016
Plot: Leah is an ultra-orthodox teen visiting Jerusalem's old central bus station for a meeting with her estranged brother. Thinking he won't show up, Leah is just about to leave when she meets a mysterious woman who knows Leah by name.
Opinion: There was a lot of discussion on this film since it's believed they used a cis-woman to play the part of the brother. That didn't sit well with some audience go-ers and quite rightly so. I wasn't quite sure what was going in some parts of the film. It's enjoyable for some but it wasn't my cup of tea. I did love the gentle use of pastels. Some of the film looked really pretty.
Goodbye Mr. B, Hello Ms. B
Director: Beatrice Wong
Country: Hong Kong
Time: 15 Mins
Year: 2016
Plot: An autobiography documentary about director Beatrice Wong's experiences as a transgender woman, her childhood and adolescence, her relationship with her mother, and her hopes and aspirations for the future.
Opinion: I had the privilege of meeting Ms. Wong' at the film festival, and she's such a lovely and nice woman. Her documentary had an awesome 'no frills, no bullshit' approach when it came to using herself as a subject matter. She left no stone unturned. It was an honest, frank and enjoyable film. Also very educational since you got to (literally) every step of Ms. Wong's journey. Expect explicit imagery in the film too.
Kopriva (The Nettle)
Director: Piaoyu Xie
Country: Czech Republic/China
Time: 22 Mins
Year: 2017
Plot: Nikola is about to join his girlfriend at her father's house for a summer holiday, but after wearing make up for the very first time, he begins a startling and life-changing process of self-discovery.
Opinion: This film was the epitome of aesthetic. This was one of the most visually pleasing films in the whole festival. Everything was nicely framed, as if they were trying to replicate paintings. They used such beautiful locations and the house was absolutely stunning!! This film itself was, well, slightly sad. I don't know why I was hoping for a happier ending for her.
Mathias
Director: Clara Stern
Country: Austria
Time: 30 Mins
Year: 2017
Plot: Mathias is a young transgender man, coping with a new identity and a new job. Each has its fair share of challenges, but sustaining a relationship with his long-term girlfriend Marie could be the biggest challenge of them all.
Opinion: Mathias was actually played by a girl!! One of the filmmakers informed us and I couldn't believe it. She was incredibly convincing and her acting was fantastic! They couldn't find a trans actor so they opened the auditions. The acting was top notch throughout. It brought so much emotion to me in such a small period of time. In 30 mins, it made me feel happy, sad, uncomfortable. Not even many feature films can evoke so much emotion from me. I really like the ending. It wasn't a happy ending, but he carries on regardless. That's realistic ending and something any audience member would be able to relate to. We've all been in a situation where the outcome wasn't great, but you keep going anyway.
British Short Films 3
Masculinity and male relationships came under the spotlight in the third programme of British Shorts. Unfortunately, I couldn't attend this screening however her are the synopsis of each film, if you wish to view them yourself.
Wolves
Director: Maria Balduzzi
Country: UK
Time: 20 Mins
Year: 2016
Plot: Teenager Josh lives alone with his father in a remote corner of the British Countryside. Their relationship is strained, and Josh spends much of his time exploring the nearby woods, but his life takes an unexpected turn when he meets a mysterious boy, wearing nothing but his underwear, shivering with cold and unable to speak.
Sunday Morning Coming Down
Director: Harry Lighton
Country: UK
Time: 20 Mins
Year: 2016
Plot: On a Sunday morning in October 1994, 21-year-old twins George and Ben leave the house, telling their family they're going to a birthday party. Instead, they're travelling by car to the seaside town of Hastings, where George has arranged to meet a man he's met online.
One Summer
Director: Gregory Oke
Country: UK
Time: 19 Mins
Year: 2017
Plot: Set in the idyllic green hills of Herefordshire, against a soundtrack of vintage French rock, One Summer tells the story of a frustrated sheep shearer and his growing attraction to a colleague.
Leroy
Director: Marley Morrison
Country: UK
Time: 19 Mins
Year: 2017
Plot: On a deprived council estate in Northeast London, eccentric teenager Leroy Brown spends his days fighting with his wannabe 'gangsta' brother Kenny, making his own jewellery and playing an amusement arcade dance game with his best friend, Yukiko. The sudden death of his beloved grandfather Nelson forces Leroy out of his shell, but with the help of a cassette tape Nelson left him, Leroy learns what it takes to live in a 'man's' world.
Colours
Director: Peter Lee Scott
Country: UK
Time: 25 Mins
Year: 2016
Plot: In the aggressive and often hostile world of youth football, 17-year-old Adam faces the ultimatum from his bullying captain when they discover that a teammate – Adam's best friend Tom – is gay.
Bearable
Director: David James Holloway
Country: UK
Time: 4 Mins
Year: 2016
Plot: What if your tribe within the gay community defined you? What if the labels we attach to ourselves were literal? What if you lived with an actual bear?
Iris Short Films 8
In their eighth programme of shorts, they included the most sexual films. These were the most explicit, frank and hard-hitting films we saw at the Festival. From graphic depiction of a sex party to a vibrant meditation on sex and sensuality, there was something for everyone's tastes.
One Summer
Director: Gregory Oke
Country: UK
Time: 19 Mins
Year: 2017
Plot: Set in the idyllic green hills of Herefordshire, against a soundtrack of vintage French rock, One Summer tells the story of a frustrated sheep shearer and his growing attraction to a colleague.
Opinion: I swear I could hear the beautiful welsh accent in this film even though it's based in the middle of England. I loved the choice of music they used even though I do not quite understand why he was learning French in the first place. Maybe it was mentioned but I don't think I picked up on it. It's a film that many can relate to, especially the character and his troubles.
Sodom's Cat
Director: Huang Ting-Chun
Country: Taiwan
Time: 30 Mins
Year: 2017
Plot: When Sun attends a sex party organized via a dating app, he fins himself more perplexed than aroused. Despite everyone's best efforts, nothing seems to turn him on. What is the secret of Sun's desires?
Opinion: I was thoroughly looking forward to this film throughout the whole festival, and it did not disappoint!! We had watched so many films, and sometimes you just want to watch a film with a sex scene in it. It was weirdly refreshing. I also love the fact the focus was on his desires rather than his sexuality. It separates itself from all the other films just by doing that alone and making his sexuality just a normal thing.
TOMMYTEEN18
Director: Vincent Fitz-Jim
Country: Netherlands
Time: 17 Mins
Year: 2017
Plot: As he journey's from childhood to maturity, 15-year-old Tommy loses himself in a tireless search for male sex, until a gay dating app seems to offer the only solution.
Opinion: It was a shock to me that they were using a boy of such a young age in the film, however, I then remembered the age of consent in Netherlands is 13. It was a very interesting film. I'm not going to lie. I honestly couldn't feel much sympathy for our protagonist, even though it's a struggle, he was a bit of a dick.
Taste of Love
Director: Paul Scheufler
Country: Austria
Time: 15 Mins
Year: 2017
Plot: What is the taste of love? Could it be sweet, sour, bitter or even salty? Our narrator embarks on a aromatic journey of love stimulating her taste buds to the point of climax. With all of her senses, she explores the various forms love can take on.
Opinion: It was such a short film, but it was soo good!!!! I really really enjoyed this film. Very artsy and thought-provoking with its subject. Amazing use of vibrant colour and food!! You shouldn't definitely check it out. It was almost pornographic for me.
Iris Shorts 9
In their final programme, they featured three very different takes on the theme of mothers and sons, from the brightly coloured streets of small-town Spain to one woman's emotional visit to a sex shop. I couldn't attend the final programme which is unfortunate since the winner of the Iris Film Festival was in this category. However, I will leave a synopsis if you wish to check out the films yourself.
Mother Knows Best (Winner of the Iris Film Festival 2017)
Director: Mikael Bundsen
Country: Sweden
Time: 13 Mins
Year: 2016
Plot: After introducing her to his boyfriend, an anxious teenager faces the awkward car journey home with his mother. Filmed in one continuous take, the conversation that follows is funny, uncomfortable and touching in equal measure.
The Whole World
Director: Julian Quintanilla
Country: Spain
Time: 30 Mins
Year: 2016
Plot: Every year Julian visits his mother's grave in the village cemetery, and every year she appears to him and they make plans or rather, she makes plans and he obeys. This year, however, La Chary has something different in mind, a special request that will surprise the whole world!
Adult
Director: Jamieson Pearce
Country: Australia
Time: 12 Mins
Year: 2017
Plot: Tormented by a loss she believes to be her fault, Elena enters an adult store in search of redemption. An unconventional, discomfiting examination of the relationship between mother and son.