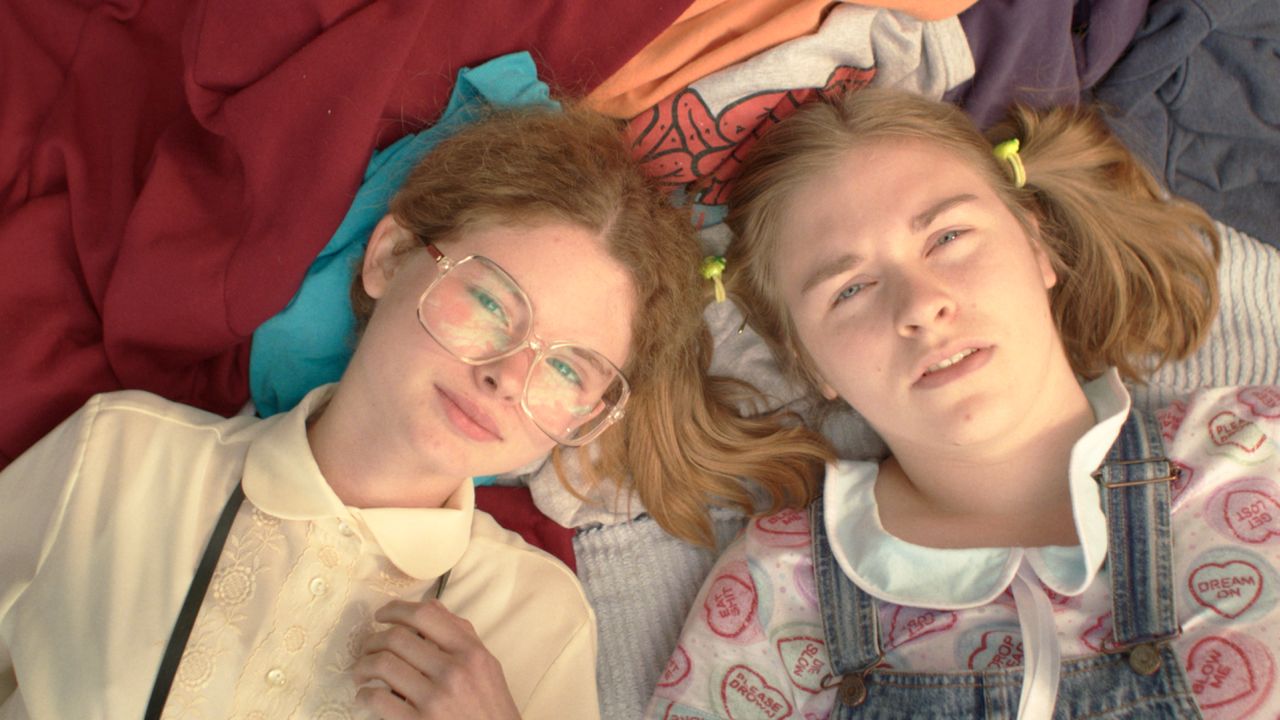 eThe Iris Festival was in full swing on Thursday where it showcased its first selection of short films. My pen and paper and I were ready. We couldn't wait to start reviewing some films!! Unfortunately, we couldn't attend Super Saturday, so there were quite a few films I missed out on seeing but I managed to view every other film including Beach Rats, which I was very excited for!!
We were blessed with three films. All these films in the first batch featured a female protagonist, based largely around the theme of memory and perception. Each section of shorts were themed, and I managed to write a tiny review for each of them. I hope you enjoy!!
We Love Moses
Director: Dionne Edwards
Country: UK
Time: 15 mins
Year: 2016
Plot: When Ella was 12, she had her first fight. And when she was 12, she discovered sex. Years later, Ella reflects on how her obsession with her brother's best friend Moses left her with a secret she still carries.
Opinion: This was the winner of Best British Short in the Iris Film Festival. If you've ever get a chance to view it, you'll see why. What stuck with me was the use of colour in the film. There is a stylish scene done mostly in slick slow motion and uses red and purple as its main colours. Add some eargasmic music, and you have an aesthetically pleasing scene. The music set the tone perfectly. A well-deserved win.
Die Ballade Von Ella Plummhoff
Director: Barbara Kronenberg
Country: Germany
Time: 29 mins
Year: 2015
Plot: As she faces an important maths exam, 13-year old Ella Plummhoff reminisces about the previous summer and her first kiss.
Opinion: This was one of my personal favourites from the whole Festival. It was lighthearted, it was hysterical, it didn't have a fairytale ending, but it didn't have a sad ending either. The ending for me was satisfying and opens up to a sequel!! Let's pray for a feature-length film (crosses fingers and toes). The film made great use of pastel colours, especially lilac. The suburban setting was beautiful. The framework used in that setting were on point!! The acting was superb, and I was lucky enough to meet the amazing actress behind the deadpan Ella. She's as sweet off screen as her character. I haven't seen a gay film like this before, and I hope to see it again in the future.
Pool (Piscina)
Director: Leandro Goddinho
Country: Brazil
Time: 30 mins
Year: 2016
Plot: While researching her grandmother's past, Claudia meets Marlene, an older woman who has transformed an empty swimming pool into a place of memories.
Opinion:
"Why is she living in a swimming pool?"
-Sam Hickman (Singing Harpist, homeowner, mother of one cat)
It was a bit odd that Marlene was living in a swimming pool, especially when she had a perfectly amazing house behind her. However, all her favourite memories occurred around that swimming pool and therefore feels this connection to it. Even though I wasn't quite sure what was going on at the beginning of the film, everything explained eventually, and it's very very sad. Claudia's grandmother's life was one that none of us want to go through. Unfortunately, it's a life some people went through and who still go through it. The acting was superb, and the chemistry between Marlene and Claudia was great from start to finish. The film dedicate itself to all the homosexuals who were killed by the Nazi Regime.
Iris Prize Shorts 2
The second batch of Iris shorts were an eclectic bunch of films. The storylines focused on the troubles of contemporary life in America to the paranoia and prejudice of 1960s Britain as well as a brief glimpse into one of Israel's most important memorial days.
The Mess He Made
Director: Matthew Puccini
Country: USA
Time: 10 Mins
Year: 2017
Plot: Awaiting the results of a rapid HIV test, Jude wanders a sexual health clinic and the surrounding area, assessing the life he has and the choices he's made. This could be the longest 15 minutes of his life.
Opinion: There is no music used in the film, and I believe that was a good call from the director. I don't think it would've had the same impact if there was a sad ballad playing in the background. It was a very suspenseful film since you're waiting to get his results. What I enjoyed about this particular film was the fact you had to fill some plot lines yourself, similar to Inception. You're not quite sure how he may (or may not) contracted HIV. You also don't get to find out his result either. He's informed of his results, but you don't hear the outcome, so it's open to debate. There was also some beautiful location shots, particularly of the sky.
The News Today
Director: Lisa Donato
Country: USA
Time: 12 Mins
Year: 2017
Plot: Inspired by the tragic shooting at Orlando's Pulse Nightclub, The News Today highlights the last ordinary moments between two men in love.
Opinion: The audience is told beforehand that the film was inspired by the Orlando Shooting, so I was bracing myself. Luckily, I mentally prepared myself because everything happened so quick I ended up catching my breath. One minute they were having a somewhat pleasant conversation (which went south very quickly) and then for the next ten seconds you hear gunfire and then a blank screen. My heart was racing. It was very sad but such an important film, especially within the era we're living. As a fitting tribute, the names of the Orlando victims appear in the film subliminally. However, you're aware of them by the end of the film.
The Colour of His Hair
Director: Sam Ashby
Country: UK
Time: 21 Mins
Year: 2017
Plot: Based on the unrealised film script written in 1964, The Colour of his Hair merges drama and documentary into an impressionistic meditation on queer life and after the partial decriminalisation of homosexuality in 1967.
Opinion: This film was an absolute eye opener for me. I knew homosexuality was a criminal offense up until 1967, but I didn't realize the lengths (or even the pettiness) they went to arrested homosexuals back then. It's difficult for me to comprehend the fact that 50 years ago you could've been arrested for living with the person you love. It's astonishing to see how far we've come as a nation and how far we've got to go. I loved the mixture of drama and documentary, and the use of minimal colour in the drama scenes stuck with me. It had a Miss Marple-esque look to it. Such an informative and interesting piece.
If I Met a Magician
Director: Shaked Goren
Country: Israel
Time: 21 Mins
Year: 2015
Plot: Released from military reserve duty to attend his uncle's memorial service. Omri finds himself wandering the streets of Tel Aviv during National Memorial Day. The day Israel commemorates it's fallen soldiers.
Opinion: I thoroughly enjoyed this film even though I wasn't quite sure what was happening. I feel it's one of those films where you may have to watch it, again and again, to understand what's going on or the message it's meant to convey. There is an 'at-the-edge-of-your-seat' moment where Omri and his friends hear the missile alert sound and leave their vehicle and hide on the path next to the road. They were lying there for ages, and it was intense. I won't tell you what happens as I want you to watch the film, but the ending to that particular scene is bloody funny!
Iris Shorts 3
The third and final batch of shorts from my first day at the Iris Prize Festival is a showcase of international documentaries, encompassing everything from frank and moving character studies to an animated snapshot of gay life in contemporary post 'Arab Spring' Egypt. I loved all of these films and if you're able to view them view them!!!
Hattie Goes Cruising
Director: Konstantin Bock
Country: USA
Time: 18 Mins
Year: 2015
Plot: In an age of online cruising and sex apps, having sex in public parks and restrooms might seem like a thing of the past. For Hank Major, a 70-year old gay African-American from Philadelphia, picking up guys on the street or at old-school cruising grounds is still very much a way of life. In this charming and surprisingly tender documentary, Major – nicknamed Hattie Louise by his friends – walks us through his memories of a turbulent lifetime of cruising.
Opinion: I loved this film and fell in love with Hattie!! I loved his honesty, and he was such an interesting character to document. He didn't hold back when it came to his past and why should he? Hattie had a fantastic time so why not tell everyone!? He told us all the rules of cruising. I didn't realize there were so many. The film is very tender as Iris describes it. Nothing about this film made me feel uncomfortable or sad. I just thoroughly enjoyed it.
Little Potato
Director: Wes Hurley and Nathan M. Miller
Country: USA
Time: 14 Mins
Year: 2017
Plot: Following the collapse of communism in Russia, Wes Hurley's mother becomes a 'mail-order bride.' But neither she nor Wes could possibly guess what lies in store for them when she marries a conservative Christian fundamentalist and takes her son to the Pacific Northwest.
Opinion: This was done in a proper studio, so it had a formal interview setting. Neither of the subjects were being interviewed and are in a setting they were more comfortable, but they still talk with such ease. The mother is amazing and she managed to make the audience laugh on a few occasions. There is a major plot twist to their story that was completely unexpected, and I was left shocked!!! I'm not going to tell you what that plot twist is, don't want to ruin this film for you, do I?
Half a life
Director: Tamara Shogaolu
Country: Indonesia
Time: 12 mins
Year: 2016
Plot: Half a Life pairs the intimate narration of a young, Egyptian gay activist with stylized animation bringing the streets of Cairo to life through this first-hand account. The anonymous narrator shares the story of a traumatic encounter which prompted him to become a gay-rights activist in the unstable, oppressive and increasingly dangerous social climate in present-day Egypt.
Opinion: I became very good friends with the director of this Iris animated short, so I was really excited to see it!! You all know I adore my animation, and I fell in love with this. The story told is horrible and can be triggering (warning before viewing this film). The colour and the style of artwork was absolutely gorgeous!! I loved how she modernized Egyptian scripture in her piece. I thought it was a nice touch and I felt it represented the fact even though we're a modern society. We're very much still stuck in the past. I love the overlapping of live footage and animation, and I'm glad the story itself wasn't sugar-coated. This is what's happening in Egypt right now, and something needs to change.
Picture This
Director: Jari Osborne
Country: Canada
Time: 33 Mins
Year: 2017
Plot: Picture This follows Andrew Gurza, a self-described 'queer cripple' as he organizes the second Justify My Love, a sex-positive play party which the international labeled a 'handicapped orgy' when it launched in Toronto the year before. At the heart of the film is the uneasy dichotomy that disabled people face, of feeling either invisible or like a freak show, especially when it comes to their sexuality.
Opinion: Again, an eye-opening short. Like all the other shorts it had a no frills no bullshit approach and our character study was honest and didn't shy away when talking about his disability and sexuality. It's a good teaching in the difference in fetishism and sex. Anyone who knows me knows I love my fetish culture, and I find that whole world intriguing and interesting but never have I ever regarded a person as a fetish. If you do, then you're immature, both sexually and as a human being. Andrew Gurza has his own podcast called 'Deliciously Disabled' and you should give it a listen. I found myself in some parts of the film because even though because even though some aspects were sad Andrew is such a positive person. His strength is admirable.