Actress Sarah Minnich recently guest-starred in Midnight, Texas and now has a feature film (Shot Caller) with Nicolaj Coster-Waldau under her belt. She can also be seen in the upcoming Weinstein Television limited series, Waco, based on the true events of the 1993 stand-off between the FBI and ATF.
I caught up with Minnich via e-mail to talk about her career, her co-stars, and who she'd like to act beside in the future.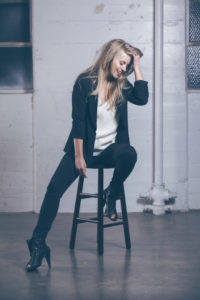 Rogues Portal: So much of your work is super dramatic and often crime-focused — do you feel drawn to roles in these projects, or is that a coincidence? If you are drawn to them, what about this genre appeals to you the most?
Sarah Minnich: Wow! Good point… I don't think that I have ever really considered this. I think the crime-focused thing might be a coincidence… either that, or some kind of a type-casting thing. Maybe the kind of directors/producers/networks that cast projects about crime, tend to be drawn to my look and or style of acting.
As far as drama being my primary body of work, that is definitely not a coincidence. I would categorically label myself as a dramatic actor. Don't get me wrong, I would love to do comedy, but it's just not the genre that I am trained in or that I typically gravitate towards. Part of the reason that I love to act is because I love to portray complex human emotions and moreover, to resonate with people on an emotional level. Of course, comedy is very capable of resonating with people on an emotional level; it is simply that I tend to achieve my goal best when performing drama.
RP: What was your experience working on Shot Caller? How do you feel about the movie in its final form?
SM: I really enjoyed playing Janie on Ric Roman Waugh's Shot Caller. The project is about a newly released prison gangster who is forced by the leaders of his gang to orchestrate a major crime with a brutal rival gang on the streets of Southern California. I would say that viewers should expect a gritty, situationally-accurate film about a good man who made a bad mistake and spent the rest of his life paying for it. My character Janie, is a young gang-groupie type who gets caught in the crossfire when she attempts to seduce the head honcho Money, played by Coster-Waldau, immediately after his is released from prison.
I was so pleased to work with such a professional crew; given my nude scene and delicate plot line, everyone was very respectful and treated me as a professional. Ric Roman Waugh was an awesome director to work with; he is clear about what he wants, very personable and has a good command of his set. All in all, the project was a great learning experience for me as an actress.
RP: You've worked with some pretty big names. Is there anyone who stands out in your mind from any of your projects as being particularly inspiring on set?
SM: Whenever I am asked this question, my mind goes back to working with Harvey Keitel on Two Men in Town. This was one of the first major projects that I ever worked on, and shockingly, they put me in a scene with 'The Wolf' himself. I've seen so many of his films and I've always had a lot of respect for his presence. Let me just tell you, he was an EPIC inspiration to me from that day to this one.
If you were to ask me what specifically it was that hit me so hard, I don't know if I could give a direct answer. All I can say is that he knows who and what he is, and he owns it; no questions, no buts, just pure Harvey whether you like it or not. He comes to work, does his job, is kind to people around him and doesn't put up with BS. If there's anything I want to be in my career, that's it. That kind of humble confidence isn't easy to find in one's self, but when you do locate it, it can take you to the stars.
RP: Do you ever get star-struck?
SM: Who doesn't!? I mean, I don't usually get star-struck, but once in awhile I am a bit shocked by the status of the person reading across from me. For example, I was pretty stunned to work across from Nickolaj Coster-Waldau, considering I'm a major Game of Thrones fan. He is shockingly handsome in person, and really quite a kind and gentle type in conversation. Another example is when I did The Ridiculous 6 with Adam Sandler. I've literally been watching his work since I was 7; how do you not have a moment of utter disbelief when meeting someone you've seen on screen for over 20 years? The key is to remember that they are just human, just like you and I, and move on with your work.
RP: Can you tell us a little bit about Waco? Are you still filming?
SM: I am so thankful to have been given the chance to play one of the key characters from the Waco trials, Angela Duke. This is the largest guest-starring role I have booked so far, and I really hope that it will open many doors for my career. As many know, the Waco situation and corresponding trials took place in 1993 in Waco, Texas. Filming wrapped up in late July and I am so excited for it to be released on the Paramount Network on January 24, 2018.
RP: What's it like to work on a project based on a historical event? Did you have to do anything different to prepare for your role?
SM: Historical event films are one of my favorite genres to work on. I love diving into things that happened in the past; I love exploring the past as a figure who lived in the past and doing research on people whom my characters are based on. I highly encourage folks to take a peek when the limited series releases; from what I hear, the cast and direction will NOT disappoint.
RP: What do you like to do when you're not acting?
SM: Funny enough, I'm actually writing this interview from Germany. My fiancé and I have family here and try to travel out when we can. Other than travel, I like to work in my father's cactus nursery between acting gigs. I do hot yoga 4 to 5 days a week, and enjoy camping when there is time. Specifically, we like to go up to Colorado above Pagosa Springs with friends, or even just the two of us. All and all, I find that staying busy is maybe one of the most important things to do as an actor.
RP: Is there anything in pop culture that you're super into right now, like an album, Netflix series, or film?
SM: I have a Game of Thrones passion. I've read all of the books published so far, and ever since, I've been an addict to the TV show. I LOVE watching the film versions of books that I've read. Apparently, The Passage is being made into a TV show, and that is just way too thrilling for me to even keep still. I've been trying every day to manifest myself into an audition for that show, assuming it gets picked up… like it wouldn't, haha. Another book to TV show that I love watching is Outlander. There's just something about knowing the whole story from the books and then watching an interpretation of that story in moving picture form.
RP: Do you have a "bucket list" of performers or creators you would like to work with one day? Who's on it, and what would be your dream collaboration with them?
SM: There are way too many to list here! First, and most importantly for now, I really hope to be considered for the role of Lisa Carter in the eventual production Shantaram, being produced by Johnny Depp, Brad Grey, and Graham King. Those three names should say it all right there. Although this project has been in development since 2004, I have high hopes that it will move to pre-production in the coming year or two.
The reason I want so badly to play Lisa is my love of the original novel by Gregory David Roberts, another book to moving-picture fascination, and the resonance I felt with her character journey at the time that I read the book. In 2015, I listened to the audiobook version of the story, and fell in love with everything about it. The character Lisa is a woman caught in a dark place in her life, mixed up with prostitution and drugs, who runs away to Mumbai to drown herself in a toxic life. So as not to spoil things, I won't go into how her story plays out. One way or another, she ends up making quite the transition from start to finish. According to IMDB, this film is slated to shoot in New Mexico, so every few months I bug my agent about breakdowns having gone out yet. We shall see.
In terms of other actors who I am dying to work with, again, the list is way too long to mention here, for starters: the Duplass brothers, Idris Elba, Kevin Costner (specifically in the production Yellowstone), Eddie Redmayne (who I find to be particularly fascinating), Taraji P. Henson, Michelle Pfeiffer (long-time idol), Sharon Stone (long-time idol), Christina Hendricks, Matthew McConaughey, Jake Gyllenhaal, Maggie Gyllenhaal, Jason Bateman (specifically in Ozark) … definitely Shia LaBeouf. I for sure want to work with Jon Bernthal again… and Joe Gatt. There are just too many people … I could literally go on for an additional page or two, and that's not even including the directors I want to work with.
RP: Is there anything else you'd like to add?
SM: Aside from the above mentioned Waco on Spike TV, there are a few other shows/movies coming soon that I would encourage fans to check out:
TV – Godless on Netflix (

November 22, 2017

)
TV – Scalped on WGN America (Late 2017 or Early 2018)
Film – An Ideal Home by Remstar Films (Early 2018)
Film – Icebox by Gracie Films (Late 2017 or Early 2018)
---
To keep up with Sarah Minnich, follow her on Twitter.