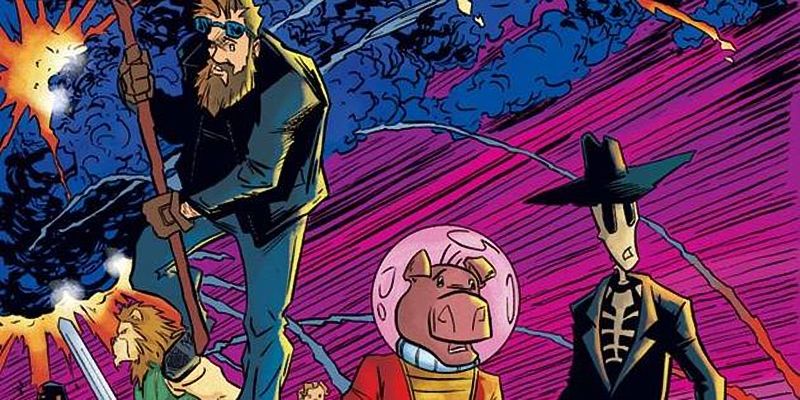 Adventures of Auroraman Annual #1
Writers: Gary Boyarksi, Donovan Yaciuk, James Zintel
Artists: James Zintel, Justin Shauf
Colourist: Donovan Yaciuk
Letterer: Andrew Thomas
Editor: Jeff Burton
Publisher: Canadian Comic Book Alliance
Interview and Review by Josh Rose

The Adventures of Auroraman Annual #1 has the world's biggest crossover of independent Canadian superheroes in a single issue. It features Auroraman,  Spacesquatch,  Spacepig Hamadeus, Jack Grimm: Harbinger of Death, Big Nick, Auric of the Great White North and many more! This issue sees Earth in cataclismic danger from Protomaster Psy-Korr, and Canada's heroes have united in an attempt to save existence. A depowered Aurorman teams up with Spacepig Hamadeus and Spacesquatch to defend the earth from a robot invasion while the team goes to fight Psy-Korr. Rogues Portal had the opportunity to chat with Donovan Yaciuk about some of the creative inspirations behind the story.
"I was inspired to write something with a humour bent after marinating in all of James Asmus' Quantum & Woody stories for Valiant, which in my opinion is the gold standard for smart humour. I'm not as good as James Asmus, but I'd like to play him on TV," said Yaciuk.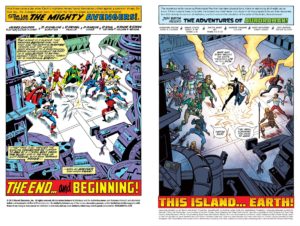 Like the rest of the book, the opening page is inspired by and influenced by events from the 80's and 90's. And don't be surprised if you feel as if you're in the middle of the story when you pick this up. You are, and it was intentionally designed that way.
"When I was a kid, I would buy a comic that told it's own story, but tied into giant Secret Wars/Crisis/Millennium-style company-wide crossovers. They're overdone these days, but when I was young I was fully engaged! So the bigger-picture story featuring all the heroes is my tribute to that and my love-letter to the Jim Shooter/Roger Stern Avengers era."

James Zintel drew the cover as a reward for an earlier Auroraman Kickstarter. When Yaciuk joked about writing a story based on that cover, peer pressure forced him to start plotting and recruiting artists to join him. Yaciuk's hope is that this story will inspire the other creators whose characters are featured, to create their own tie-in issues and let him complete the main event.
Yaciuk is the creator of Spacepig Hamadeus, and he is a big fan of Valiant's 4001 A.D. era. "James drew Auroraman with a glass tiger shirt, so I titled it after the only Glass Tiger song I could find that had a title that might possibly sound like a sci-fi, robot-smashing epic tale." And so Yaciuk loaded this book with 80's song references: Glass Tiger's "Island Earth" and "Don't Forget Me (When I'm Gone)," as well as Van Halen's "5150." He also threw in references to the Super Mario underwater world, Degrassi High, the Littlest Hobo, and The Avengers.
The mid section is illustrated by James Zintel, which is bracketed by the Justin Shauf illustrated crossover, featuring all of the independent Canadian super heroes. Their different styles are better suited for the tone of each story. Shauf's art is more edgy and serious, while Zintel's art is fun and lighthearted. Andrew Thomas' lettering is a pleasure to behold. It's bright, attention grabbing, but doesn't distract you from the story. What really impresses me is how Yaciuk's colours slightly change between the two styles. They become a little bolder for Shauf's art while they're a little flat on Zintel's cartoonish style. And the all-red final page revealing the menace of the universe sends chills down my spine.

The Verdict: Buy It.
Alongside all of the fun references, Adventures of Auroraman Annual #1 really is a love letter to comic events of the 80's and a reminder of why I got into comics in the first place. One thing is for sure: I need more Aroma man. Especially if he has quality beard products.
The Adventures of Auroraman Annual #1 will be available for purchase at the Calgary Comic and Entertainment Expo April 26th, or preorder at https://gum.co/WUETq.