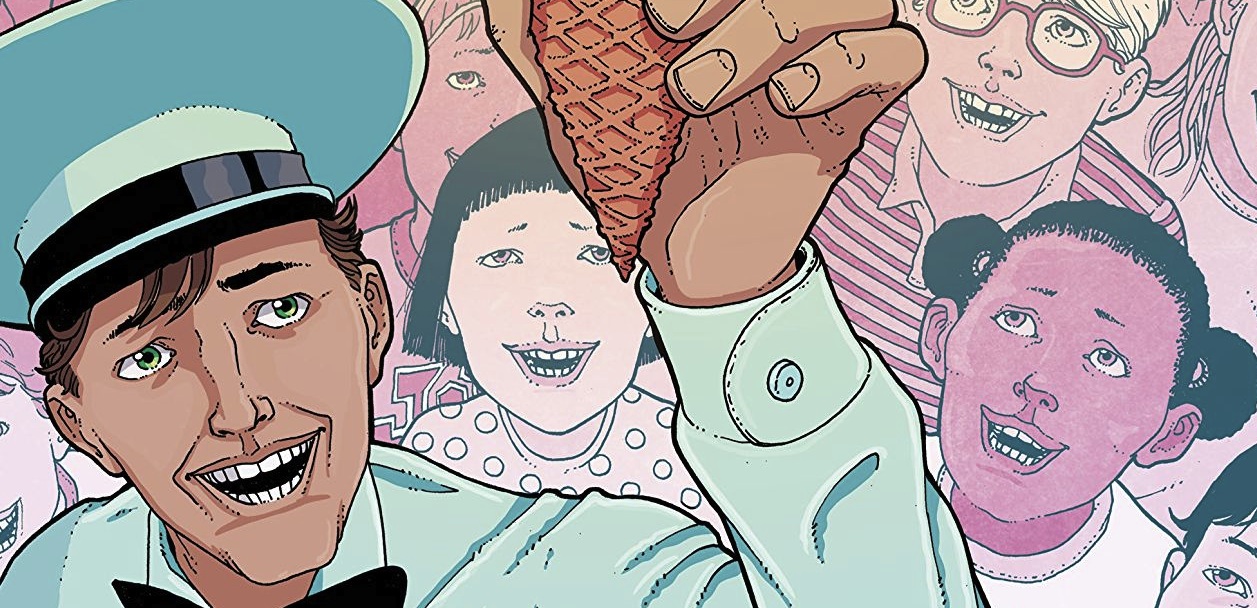 Ice Cream Man #6
Writer: W. Maxwell Prince
Artist: Martin Morazzo
Colorist: Chris O'Halloran
Letterer: Good Old Neon
Publisher: Image Comics
Review by Greg Brothers
Many times, when people think of a comic book writer they think of the person who makes all the thought-provoking words come out of people's mouths. So, what happens when you read a comic that does not have any words? Well, as Ice Cream Man #6 reminds us, there is much more to writing a comic than just coming up with some slick dialogue.
Ice Cream Man #6 starts innocently enough with a young man stopping by to get some ice cream. Of course, anyone who is a regular reader of the Ice Cream Man series knows that the innocence ends there. After he eats the first few bites of the triple scoop ice cream, the story veers off in three different directions. The storylines consist of the classic boy meets girl, boy meets dog, and the always popular boy finds maggots and bugs in his ice cream.
Each of the branches in Ice Cream Man #6 are distinct and provide a different emotion. The most heartbreaking of the stories has to be the boy meets girl story. In the boy meets dog story, I was constantly waiting for the other shoe to drop as I have grown accustomed to in this series. Instead, by the end of the story, you are reminded just how far someone may be willing to go for someone they love. The maggot in the ice cream one is strange and off the wall.
The thing with Ice Cream Man #6 being a silent issue is that when you are "reading" it you forget that there are no words. This cannot be accomplished without an outstanding art team. Where words would highlight feelings and thoughts, the artist has to be adept enough to convey those feelings. There is never a point where I felt confused or unsure as to what emotions were being portrayed. In particular, the look that the redhead girl gives and then the puppy gives to our main character show the flirting from the girl and the need for help from the puppy. The stories all having their own distinct shading, which helps the reader to easily separate the stories.
Verdict: Buy it.
I have no idea how a silent issue comes together. What I do know is that Ice Cream Man #6 is an emotional, heart-wrenching, and strange story that I have not been able to stop thinking about since I put it down. Seriously run out and buy this book now!