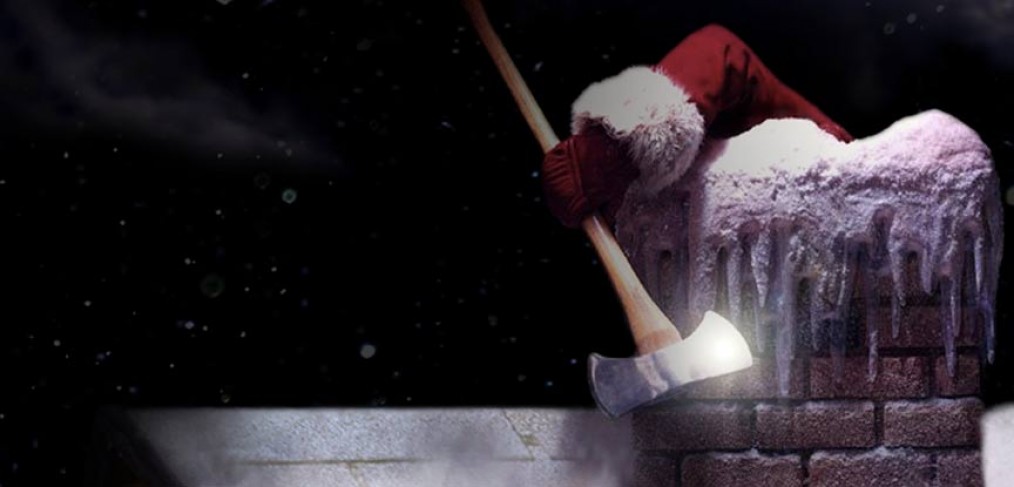 Ten Christmas Horror Film Favorites
Tired of watching The Christmas Story for the sixth time? Maybe you need something to follow-up your yearly viewing of Die Hard this Christmas Eve? Look no further than this list of horror films set during or around the winter holidays. It's time to cozy up to the fire with some eggnog or some hot chocolate. But try not to let the flame go out. You never know what's lurking in your chimney during these cold, dark nights!
---
Gremlins (1984)

"Don't expose him to bright light. Don't ever get him wet. And don't ever, ever feed him after midnight." Three simple rules to owning your own mogwai. But when break those rules? The Peltzer family finds out the hard way. Then, all hell breaks loose in their sleepy little town when vicious, gleeful gremlins start to wreak havoc. Joe Dante's cult classic is a personal favorite, especially around the holidays. It's a black comedy filled with just the right amounts of creepy and cute with a heavy splash of camp just for good measure. I recommend an annual viewing.

Black Christmas (1974)

The Christmas slasher that started it all, Black Christmas is a classic that should be on everyone's holiday genre list. It's been cited as a major influence on Carpenter's Halloween (1978) and spawned a wealth of slashers in the same genre. The movie unfolds at a sorority house during the Christmas holidays. Girls go missing and strange, threatening calls start to disrupt holiday plans, and it soon becomes apparent there is something very wrong inside the house.

While the film was remade in 2006 (unfortunately titled Black X-Mas), it doesn't compare to the original. Stick with the classic for a healthy dose of holiday terror.

Krampus (2015)

When young Max's dysfunctional family gathers for the holidays, he really just wants a happy Christmas, but they just aren't cooperating. When he reaches the end of his rope and rips up his own letter to Santa, the sinister side of the holidays in unleashed in the form of the Krampus, a creature of legend that punishes the naughty. From the director of Trick 'r Treat, the film is filled with great creature effects and some wonderful scares. However, it keeps the heart of the story in the ground in the themes of family and

The Children (2008)

Two extended families come together in a remote house to celebrate the New Year in this British film. When the children begin acting strangely quiet and insular, the adults aren't concerned at first. However, as accidents start to happen and they begin to wonder if the children aren't involved.

The film excels at creeping dread as the events unfold slowly. The suspense keeps a great pace, and it'll definitely bring out parental anxiety in anyone.

Dead End (2003)

On Christmas Eve, family patriarch Frank Harrington decides to take a shortcut on the way to see his in-laws for the holidays. What ensues is a quiet, nihilistic little gem of a horror film that's gone relatively under the radar in recent years. Dead End is a road trip gone horribly wrong. It's gory, weird, and incredibly disturbing. However, the ending really does make it worth the watch.




Rare Exports: A Christmas Tale (2010)

An archaeological dig in Finland unearths a surprising artifact – a bearded man frozen in a block of ice. When it turns out this fellow isn't as dead as he originally appears, the town begins to learn that Christmas isn't always the most wonderful time of the year. Children begin to disappear in the night, reindeer turn up slaughtered, and an intrepid young boy may be the only one who's figured it all out. Half dark fairytale magic and half action-horror, Rare Exports is not only a great Christmas horror film but a stellar dark fantasy as well.

Silent Night, Deadly Night (1984)

Notorious for being the film that was pulled from theaters a single week after release due entirely to parental public outcry (because taking your child to see a Santa slasher flick is great parenting?), Silent Night, Deadly Night has gained a serious cult following. For that alone, it had to be added to the list The main character, Billy, has an abusive childhood in a Catholic orphanage after the death of his parents on – you guessed it – Christmas Day. As an adult, he has a psychotic episode, dons a Santa costume, and goes on an ax-wielding rampage in his hometown. It's low-budget horror at its finest, and you definitely won't be disappointed in this 80's gem.

Better Watch Out (2017)

Ashley, a teen babysitter, finds herself fending off masked home invaders to protect the two tweens in her care just in time for the holidays. As the night goes on, the situation takes a hard turn into something much less cliché than the tropes would suggest. This twisty subversion of a classic home invasion with a babysitter and her intrepid charges takes the audience to some unexpected places.

It's well worth the watch.

Santa's Slay (2005)

Who doesn't want to watch former WWE superstar Goldberg star as a campy, murderous Santa Claus? According to the film, Christmas was actually the "Day of Slaying" until a bunch of angels defeated Santa Claus in a game of curling. (Yes, you read that right – curling.) It put a stop to the rampage for a thousand years which just so happens to end right around this particular Christmas. This film is ridiculous in the best kind of way. Santa on a Zamboni. Killer "hell-deer." Death by giant candy canes. This one speaks for itself.

Anna and the Apocalypse (2018)

The newest film on the list, Anna and the Apocalypse is a musical romp through zombies, teen drama and the end of the world. This Christmas, a group of teenagers must fight their way through their town to escape from undead hordes. Teen drama takes center stage. The inclusion of the zombies amid this love-triangle makes for a quirky set-up with plenty of laughs. It's been described as Shaun of the Dead meets Lal La Land; any fan of both genres should check it out. You can read our full report on the film here.
How does our list stack up to your favorites? Let us know!