Hi-Fi Fight Club #1
Publisher: BOOM! Studios
Writer: Carly Usdin
Artists: Nina Vakueva, Irene Flores, & Rebecca Nalty
Letterer: Jim Campbell
Review by Anelise Farris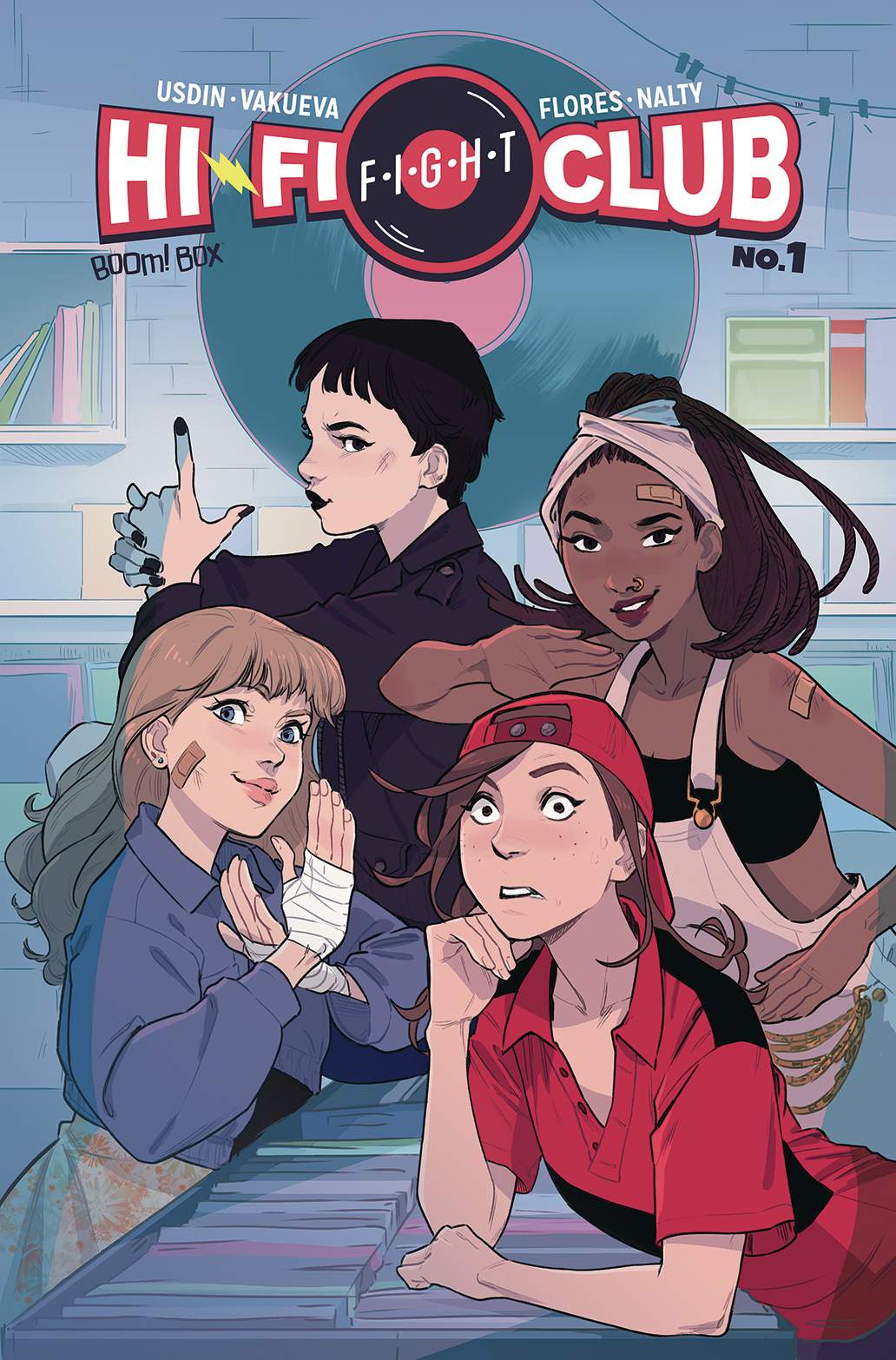 Hi-Fi Fight Club #1 is a solid mixtape. Hi-Fi Fight Club #1 brings together 90s culture, indie record stores, a music mystery, and a kickass group of teenage girls.
Meet Chris: a new employee at Vinyl Mayhem, the local record shop. She is thrilled to be working at a music store, especially one that with a fully female staff. However, she is still trying to figure out how she fits in with the cool-adult manager Irene, the resident goth Dolores, the music-encyclopedia Kennedy, and her perhaps not-so-secret crush Maggie.
Chris begins to wonder if her feelings of exclusion are all in her head or if their is something bigger going on. Why do the rest of the employees get invited to stay late? Why is Chris always sent home? Fortunately, she is about to get some answers.
When the band Stegosour (weren't the 90s the best??) shows up to play a gig without the singer, Chris discovers that Vinyl Mayhem is not just a record shop. Her new employer is the home of a teen girl vigilante fight club, and now it's up to Chris to prove that she has what it takes to join the club and find out what happened to her idol Rosie Riot.
High-Fi Fight Club #1 does a fantastic job of balancing lighthearted mystery with a thoughtful coming-of-age narrative. This is a creative team that is deeply invested in the development of diverse characters. It shows in their attention to the characters' distinguishing features and characteristics as well as the awesome 90s fashion. The writing is well-paced, and the comic as a whole flows smoothly. There is plenty of convincing dialogue and even a "your mom" joke or two. The westernized-manga art—think Hope Larson or Brian Lee O' Malley—fits perfectly with the story, giving it a fresh, youthful vibe.
Verdict: Buy it! This is a fun female-forward comic with diverse characters, a unique music mystery, and relatable teenage angst. It's time to pull out your Walkman, throw on a flannel, and snag a copy of High-Fi Fight Club #1. You won't regret it!