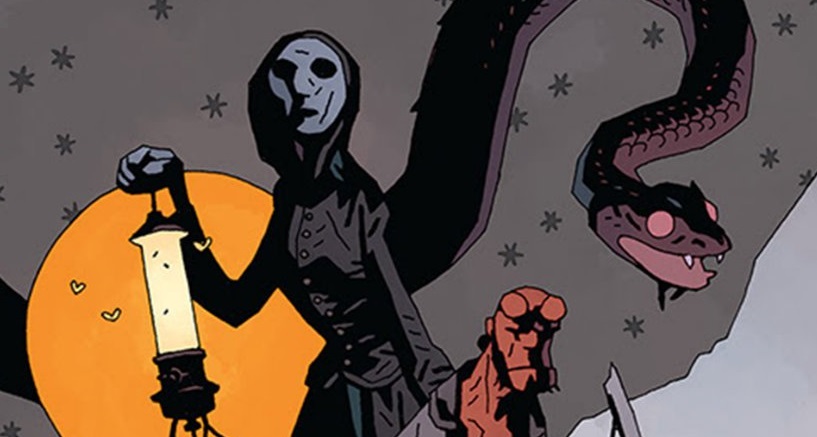 Hellboy: Into the Silent Sea 
Writers: Mike Mignola, Gary Gianni
Artist: Gary Gianni
Colorist: Dave Stewart
Letterer: Clem Robins
Publisher: Dark Horse Comics
A review by David Hildebrand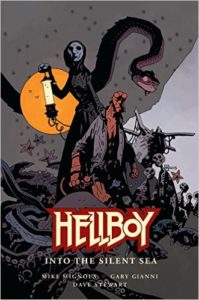 So, I have a secret that I have been harboring for quite some time now. I have never really indulged in Hellboy. I know who he is. I know that he is a demon that was summoned to Earth from Hell as an infant by Nazis and eventually found by Allied Forces. I also know that I own both moves that sit on my shelf, still in plastic, waiting for me to watch. I got word that the new one shot Hellboy: Into the Silent Sea was coming out, so I decided that the book would be my first venture into the world of Hellboy.
The story begins with our hero rowing a small craft out into the ocean when he encounters a huge pirate ship and presumably crashes into it. Hellboy wakes up and finds himself chained securely to one of the ship's masts. The captain has visions of cashing in on Hellboy like he's King Kong. If that isn't enough, Hellboy has to deal with a mysterious Ahab like lady. Then there is the cabin boy and his dog. Hellboy has his hands full as the mystery of the ship starts to unfold.
Mignola's story feels like a throwback or homage to ghost and monster writers of the past. There is an element of danger that continues to rise as the tale progresses and ultimately reveals its ugly head. As I was reading, I wasn't quite so sure that I picked the appropriate book to begin my journey with this franchise. The story didn't really grab me as much as I was hoping for, but I don't blame that on Mignola, I blame myself for not being familiar with the source material.
Gianni's artwork and Stewart's colors are what pulled me into this book and kept my attention. The mood and colors are dark and drab. It has an old fashioned look; it that suits the story well. You get the feeling that Hellboy is in for certain doom. Visually the story is excellent and proves there is more style than substance.
The Verdict
Buy It! Hellboy: Into the Silent Sea didn't completely blow me away but it did pique my interest into tracking down more Hellboy books so I can read up on the character's adventures because I did like my brief introduction to him. I am sure if you have been a fan of the character much longer than 30 minutes or so I spent with him, you will enjoy the book more than me. I also believe it is time for me to rip open the plastic on those blu-rays!