Hasbro Toys is hosting its first-ever HASCON in Providence, RI on September 8—10, 2017. Rogues Portal will be there all weekend long covering panels, performances, celebrity appearances and more. To get in the spirit, here's a HASCON preview!
HASCON Preview: Guests
HASCON already has an impressive guest list that's still being updated in the lead-up to the event. Among industry experts and big name creators, the con also boasts an impressive list of sports stars and musicians, including retired Boston Red Sox player David "Big Papi" Ortiz and award-winning rapper Flo Rida.
Here at Rogues Portal, we're especially excited to see Marvel legend Stan Lee, Transformers voice actors Peter Cullen and Frank Welker (the original Optimus Prime and Megatron, respectively), and writer/director James Gunn (Guardians of the Galaxy, Vol. 1 & 2).
More:
Len Cabral (Internationally Acclaimed and Award-Winning Storyteller)
Dude Perfect (YouTube)
Daya (Singer/Songwriter)
Andrea Libman (Voice of Pinkie Pie/Fluttershy in My Little Pony: Friendship Is Magic)
Cathy Weseluck (Voice of Spike in My Little Pony: Friendship Is Magic)
Brenda Hickey (Comic Artist, IDW's My Little Pony)
Artists and designers for Magic: The Gathering will also be in attendance, as well as several others. For a full list and updates, check out the HASCON website.
HASCON Preview: Panels
HASCON is a jam-packed weekend. Some of its advertised panels look absolutely amazing! Here are just a few from each day that Rogues Portal is excited to cover.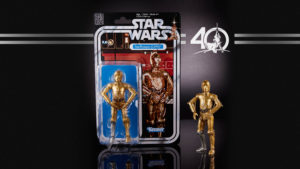 Star Wars: 40 Years of Play (Friday, 12:30 p.m. EST)
"Join members of Hasbro's own Star Wars team as they discuss the popular Hasbro Star Wars line and its 40-year long legacy. Star Wars team members, veterans and newcomers alike will discuss their favorite products, hidden history and even the line's origins at Kenner in 1977."
Panel with Marvel Legend Stan Lee (Friday, 1:30 p.m. EST)
"As one of this generation's greatest storytellers, Stan will share his astonishing tales about the creation of pop culture icons including Spider-Man, The Incredible Hulk, Iron Man, Thor, the X-Men and many more – EXCELSIOR!"
The Voices of My Little Pony: Friendship Is Magic (Friday, 3:30 p.m. EST & Saturday, 10:30 a.m. EST)
"Have you ever wondered what it's like to be the voice behind a pony? Straight from the pony's mouth, learn about what it takes to bring iconic characters to life with just a script and a mic."
IDW: The Hasbro Comic Revolution (Saturday, 11 a.m. EST)
"IDW and Hasbro have been making great comics together for over a decade now! How'd it all get started? Where's it going next? IDW CCO Chris Ryall and guests to be named will share stories of comics past and Visions of comics future!"
Dungeons & Dragons Monster Building Panel (Saturday, 2 p.m. EST)
"Join the team that makes Dungeons & Dragons as you collaborate on building an all-new monster. Mike Mearls, Manager of the D&D Design Team, leads us through the process we use when creating new D&D monsters. With input and feedback from the audience, we'll design a monster that you can use in your games at home!"
Spotlight on James Gunn (Saturday, 3 p.m. EST)
"Moderated discussion with James Gunn, writer and director of the Guardians of the Galaxy film franchise. Find out how Star-Lord, Gamora, Drax, Rocket and Groot managed to save the galaxy, not once but twice! And what could the future hold for our favorite Guardians: something good, something bad, bit of both?"
How Marvel Toys Are Made (Sunday, 10 a.m. EST)
"From concept to consumer, come learn how Hasbro brings Marvel entertainment to life in toys. Hasbro's designers will share a peek behind the curtain of the creative process and also answer some of your questions."
Peter and Frank Sound Off: The Voices of Optimus Prime & Megatron! (Sunday, 12 p.m. EST)
"The powerful voices behind two of the most iconic adversaries, the heroic Autobot Optimus Prime and villainous Decepticon Megatron, come together as friends and share stories around the legacy they have helped create. With more than 30 years of Transformers voice acting history and decades of friendship, these two will fill the air with untold stories and glimpses behind the microphone of some of the most memorable recording sessions."
Dungeons & Dragons Live Game with Matt Mercer (Sunday, 1 p.m. EST)
"Dungeon Master Matt Mercer leads a party of wacky celebrities through a Dungeons & Dragons adventure in front of a live audience."
HASCON Preview: Brand Experiences & More
In addition to a great guest list and an intensely cool panel schedule, HASCON is offering brand experiences throughout the weekend. Daily games of Dungeons & Dragons, a Sesame Street show, musical performances, and more round out the HASCON experience.
Plus, attendees can battle in an inflatable Nerf arena, takes photos on the Emperor's Throne (Star Wars), check out Transformers movie props, get "ponified", get a sneak peak into toy development at Hasbro headquarters, and learn the basics of Magic: The Gathering in hands-on demos.
Last but not least, HASCON attendees can meet some of their favorite guests, sign up for photo ops, and take home autographs. The convention will also feature exclusive merchandise.
Interested in attending?
You can purchase tickets for HASCON here. See pricing below:
Single Day Tickets:
Adult: $60
Youth: $30
Child: $0
Three Day Tickets:
Adult: $165
Youth: $75
Child: $0
VIP Tickets:
Adult: $642
Youth: $214
Child: $0