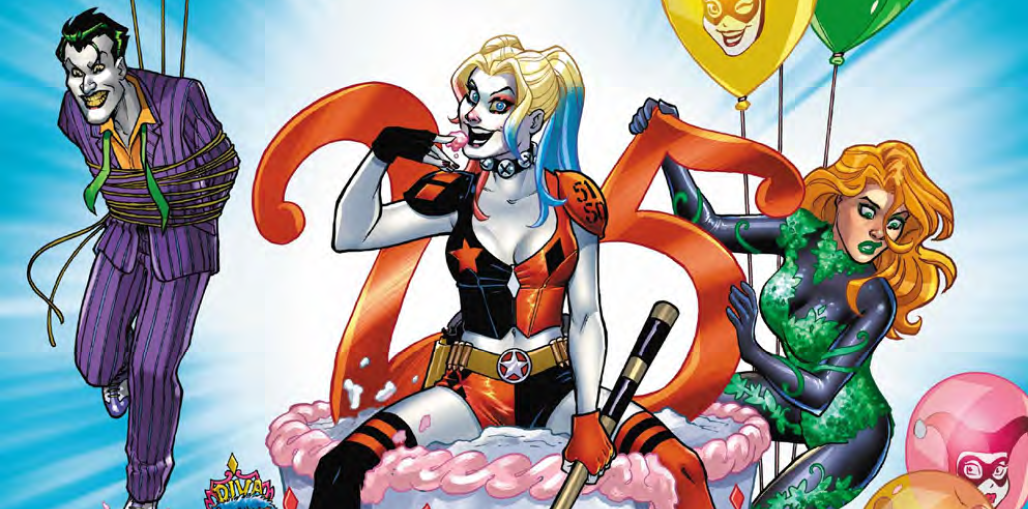 Harley Quinn 25th Anniversary Special #1
Writers: Various
Artists: Various
Colorists: Various
Publisher: DC Comics (See the link for the full list of contributors)
A review by Samantha Pearson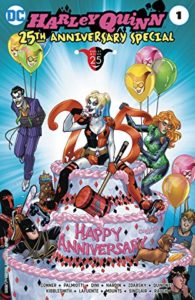 I have never read a Harley Quinn comic. Does that seem blasphemous? Maybe. My knowledge of Harley Quinn comes from a few sources. I know her from Batman: The Animated Series, friends' obsessions with her, and endless think pieces about her role within the DC universe. Thus, reading the Harley Quinn 25th Anniversary Special #1 felt strange, but also like a good introduction to the character.
Rather than a traditional, one-story comic, this volume from DC Comics collects several short stories about Harley Quinn. Writers include Chip Zdarsky, Amanda Conner, Jimmy Palmiotti; artists include Amanda Conner, David Lafuente, Annie Wu, and Dustin Nguyen. Each story is just a few pages long, and represents a different aspect of Harley's personality. The Harley Quinn 25th Anniversary Special of course features a birthday story, and a wild party story, and even a bit from Gotham City Sirens.
Also included in the special is various pieces of Harley Quinn art that showcase some of the many interpretations of her personality and style. This collection is bright, colorful, and super fun, especially in conjunction with DC Comics' Harley Quinn Batman Day takeover. The character premiered 25 years ago, and celebrating her in this collection feels great.
Speaking as someone who's on the outside of the Harley Quinn fandom, one thing is for sure: her relationship with The Joker totally pales in comparison to her relationship with Poison Ivy. The short piece from Gotham City Sirens set off all my shipper bells, as did the birthday story. Harley, girl, forget that old clown. Go be villainous with Poison Ivy and Catwoman for the rest of your days.
Verdict
Check it out! Harley Quinn 25th Anniversary Special #1 is a cool intro for people unfamiliar with the character, and it seems like a fun little collection even for the most diehard fans. Happy Anniversary, Harley!