Harbinger Wars 2 #1
Writer: Matt Kindt
Artist: Tomás Giorello
Colourist: Diego Rodriguez
Letterer: Dave Sharpe
Publisher: Valiant
Review by Josh Rose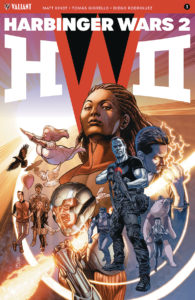 This is Valiant's latest summer event, inspired by the original Harbinger Wars. While they share the same name, you don't have to read the previous event in order to enjoy Harbinger Wars 2 #1. Harbingers, or psiots, are Valiant's equivalent to Marvel's mutants. But unlike mutants, they have to be activated in order to access their powers. There are very few psiots who do not require activating, and they are omega level psiots.
Harbinger Wars 2 #1 sees Amanda McKee, Livewire, holding America hostage because a military contractor group called Omen tried to kill the superpowered kids she was training. She has the ability to control technology and energy, and so she's cut the power to the entire country. Meanwhile, Peter Stanchek has been traveling through the continent activating as many psiots as he can. His team, the Renegades, are in hiding protecting the recently activated psiots until they are forced out of hiding. X-O Manowar and Ninjak are called in by government agencies to try and talk Livewire down while another group hunts Peter.
I really enjoy a lot of the books Matt Kindt has written. And here he has put together an all-star cast, pitting their loyalties against one another: X-O Manowar, Livewire, Ninjak, Bloodshot, HARD Corps, Peter Stanchek and the Harbinger Renegades! Its just the start to the event, but Kindt does a great job introducing the all the players and getting everything rolling.
Tomás Giorello does an amazing job on the art. There are so many pages he draws that are amazing, its hard to pick a favorite, but the spread page of X-O Manowar saving a satellite is definitely one of them, and the page of Ninjak talking to Livewire is a close second. Giorello's faces are very expressive and convey a wide range of emotions: from stoic to amused and also anger. Diego Rodriguez's colours are stunning, and set the tone for the series. It starts out light and bright, but it quickly gets darker and for the most part stays that way.
The Verdict: Check it out.
I find that while I enjoyed Harbinger Wars 2 #1 overall and understand the character's motivations, there was a lot of build up I missed. This is not a big deal if you missed the Secret Weapons series, Harbinger Renegades and Generation Zero. To truly appreciate this though, I think one must go read the Harbinger Wars 2: Prelude #1. That being said, I think Kindt has set up a great story, and I look forward to seeing where this goes. In true Valiant fashion, I think Harbinger Wars 2 is going to be a book with some serious ramifications later on in the Valiant Universe.
Harbinger Wars 2 #1 is on sale May 30th, 2018