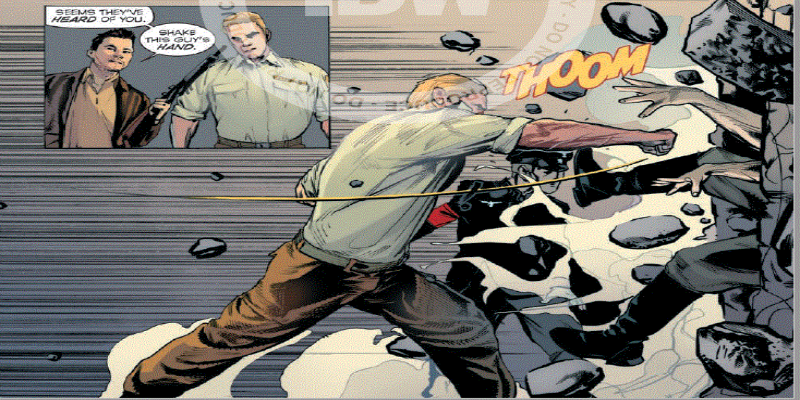 Half-Past Danger 2: Dead To Reichs #1
Writer & Artist: Stephen Mooney
Colorist: Triona Tree Farrell
Editor: Tom Waltz
Publisher: IDW Publishing
A review by Stacy Dooks
Every once in a good long while, my patience is rewarded. After Stephen Mooney's amazing opening salvo in the first Half Past Danger series, I was hoping the adventures of Irish, John Noble, Emma Moss and Ishikawa Monomoto were merely a taste of things to come. Thankfully, we now have Half-Past Danger 2: Dead To Reichs #1  to pick up where the original series left off with thrilling heroics, dinosaurs, and many a nazi deserving a good punch through the nearest brick wall.
For those who missed the first Half Past Danger series   from IDW Publishing (available in print now in a nifty hardback), I'll spin the initial setup quickly. Tommy "Irish" Flynn is the sole survivor of a squad of soldiers who were killed on a mysterious island. . .by a tyrannosaurus rex. Despite photographic evidence, he was ridiculed and hit the bottle as a result. Enter Captain John Noble of the U.S. Army and Emma Moss of MI6. Moss believed his story, and recruited Irish, Noble, and the mysterious ninja Monomoto for a mission that left the fate of the free world in the hands of this misfit bunch. The day was saved, but not without cost, and that leads us to part two. Irish and Noble are on an adventure for Army Intelligence, but their efforts to investigate further into loose ends left by their previous mission are shot down. The pair resign themselves to a little rest and relaxation. However, this is quickly interrupted with an all-new call to adventure and one hell of a first-issue cliffhanger.
Half-Past Danger 2: Dead To Reichs #1 is an absolute hoot. Mooney's art is amazing as always, with a cinematic feel that serves the story's adventure serial ancestry in fine style. Irish gets the best lines, and it's a hoot to watch as he and Noble riff off each other in the midst of dire peril. The pair are Indiana Jones and the golden age Superman by way of Hope and Crosby, and they're a delight. As for the other lead characters, the whereabouts and situation of Monomoto are still up in the air (as befits a ninja). And, as for Moss. . .well, let's just say she's full of surprises.
If the book has a drawback, it's that it is a sequel to a previous story. Mooney provides a fun newsreel-style piece to get everybody up to speed, but he's still got to sew up some loose ends from the previous series. As a result, the build-up of Half-Past Danger 2: Dead To Reichs #1 is a little less fast-paced than the previous installment. I understand that guns need to be hung on the wall and the roller-coaster needs to get up that first major rise, so the slow burn isn't a deal-breaker.
The Verdict:
Buy it! What do you get when you put Indiana Jones, the Fleischer Superman, Emma Peel, and Snake Eyes in a blender with Conan Doyle's The Lost World? You get Half Past Danger. Half-Past Danger 2: Dead To Reichs #1 delivers great art, a compelling story, well-developed characters, and despicable bad guys. It's a fun universe that left me wanting more, and now you can get in on the ground floor of the next chapter. Highly Recommended!