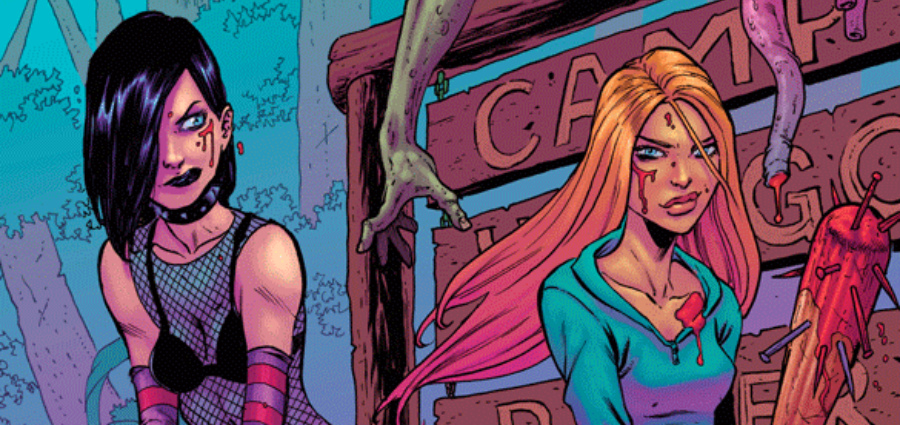 Hack/Slash: Resurrection #2
Writer: Tini Howard
Artist: Celor

Colorist: K. Michael Russell
Letterer: CRANK!
Publisher: Image Comics
Review by Mark Bouchard
Hack/Slash: Resurrection #2 starts off right as Cassie walks into her new gig as a camp counselor for kids traumatized by violence and the supernatural. Thanks to her swing-first-ask-questions-later attitude, Cassie nearly pummels her young wards and clobbers a co-worker. Luckily for Cassie, this lands her some alone time with a counselor who caught her eye— the camp director's daughter, Laura. The two discuss Cassie's backstory over dinner, which inevitably leads into the path of a wandering zombie. Laura and Cassie make a half-hearted attempt to shelve their very palpable sexual tension before tearing through nearly a dozen zombies. But once they arrive at the zombies' place of origin, the local prison, and meet the man responsible for the recent zombie outburst, they make a shocking discovery…
Tini Howard has, for lack of a better word, reanimated the classic horror series. She has a clear love of the genre and the characters created by Tim Seeley. Because of this, Howard doesn't try to convince us that Cassie is anything but what she is: on edge, fed up, a little bit awkward, and a certified badass. Cassie Hack is a veteran Slasher-slasher and slayer of the supernatural, but she can't talk to hot girls for shit. Howard presents us with a Cassie who'd have a much better chance of successfully mowing down a horde of zombies than stringing together a solid sentence when caught off guard by someone she finds attractive. With Hack/Slash: Resurrection #2, Howard strikes a balance between snappy dialogue and unfettered violence that will tide readers over till next month, when the massive cliffhanger at the end of this issue is elaborated on.
Visually, Resurrection diverges from the original Hack/Slash series quite a bit. Celor's linework is more stylized, taking on an exaggerated, almost cartoonish appearance. Though it has taken some getting used to, Celor is able to tonally punctuate Howard's words with a mastery over facial features. However, action panels are where Celor is at his best. He's got a total command over violence and gore, which includes controlling how much each blow warrants. Of course, without Crank!'s onomatopoeias and Russell's intense juxtaposition, none of the bat-and-axe driven panels would pop nearly as much as they do.
Generally, though, Russell's colors are grainier and more muted. Gone is the Hot Topic palette of Hack/Slash, dominated by heavy inks and reds. Russell uses a much broader palette to strike intense dichotomies between warm and cool colors that'll have anyone who ever went to sleepaway camp flashing back to frightening late-night walks to the bathroom, illuminated by nothing but a flashlight and a faraway campfire.
The Verdict: Buy it.
Buy two copies; give one to a friend. I am beyond impressed with this book and its creative team. Hack/Slack: Resurrection #2 is visually kinetic in a way that showcases the strengths of the medium. Page after page, Howard, Celor, Russell, and Crank! remind me exactly why I love comics more than any other medium. With a snarky take-no-shit protagonist in the form of Cassie Hack, and a nuanced, potentially budding queer romance that shines bright underneath all the blood and guts, Howard & co have given readers a gift: a character-driven horror comic that does not fail to shock and entertain.