Grrl Scouts: Magic Socks #2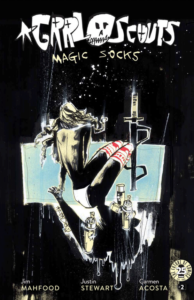 Writer/Artist: Jim Mahfood
Colorist/Letterer: Justin Stewart
Designer: Carmen Acosta
Variant Cover: Bill Sienkiewicz
Publisher: Image Comics
A review by Stephanie Pouliotte
So why didn't I expect Grrl Scouts to just get even more insane with every issue? Each member of their formidable crew has a strong presence on the page, but Daphne's outshines them all. The girl just won't quit, and she really goes off the rails here, or in her case, right smack dab in the middle of them. Alright, so here's the gist of where we left off after the first issue…
So Gwen heard about the Magic Socks from Daphne's uncle Humphry, who recounts how the bloody and facetious history of the infamous Magic Socks led to his niece um… acquiring them? Obviously Josie is after them too, and shit gets real (and not in the way you'd expect, yet also exactly in the way you'd expect?) Mahfood really knows how to keep the reader on their toes, and he loves throwing in an unexpected, comic twist, which is usually ridiculously over the top (as it should be.) It keeps the pacing lively and even plays with the idea of characters as plot devices, trimming away anything superfluous and just barreling through the story at breakneck speed. This comic is its own experience in both narrative and visual style, and if you read it to Mahfood's unofficial track list at the back, totally immersive. It has a wild pulse, reads like an acid trip, and is unashamed in what it represents, almost like Daphne… though maybe she should feel just a tad shitty after what went down.
From the band posters flypapered to the wall of the bar (with a shout out to DJ Mahf) to that dope vinyl collection Gwen rifles through, we continue to see Mahfood's passion for music as the lifeblood of the comic's raw appeal. Well that, and his absolutely sick artwork. Things get freaking chaotic by the end of the issue (well, pretty much throughout), and Mahfood takes it out of the layout, drawing panels that can barely contain the flying limbs and shockwaves of badassery. It's really Justin Stewart's colouring brings the whole thing together though.
In a comic that is simply bursting with every colour imaginable, he still finds a way to make everything pop in the right places. I mean, you may get a small headache for staring at the sheer awesomeness that's smacking you in the face, but there's also a lot going on on every square inch of the page, which can be a bit overwhelming. Mahfood does a great job with empty space near the end, but it's Stewart's use of white in his colouring that really makes the chaotic panels visually legible, and I think even more brutal. Your pulse stops in the final pages, and the contrast colouring really sells the tone perfectly. And we get a few glorious sketch pages at the end, with some really raw stuff that just honestly makes me happy to see.
Verdict!
Buy it! Grrl Scouts: Magic Socks #2 just blew my expectations out of the water, now I don't know what to think! It's such a wildly fun and engaging comic with some crazy action and a killer set of characters. I actually have no clue what the next issue will bring, I'm just along for the ride. And that's fine by me.