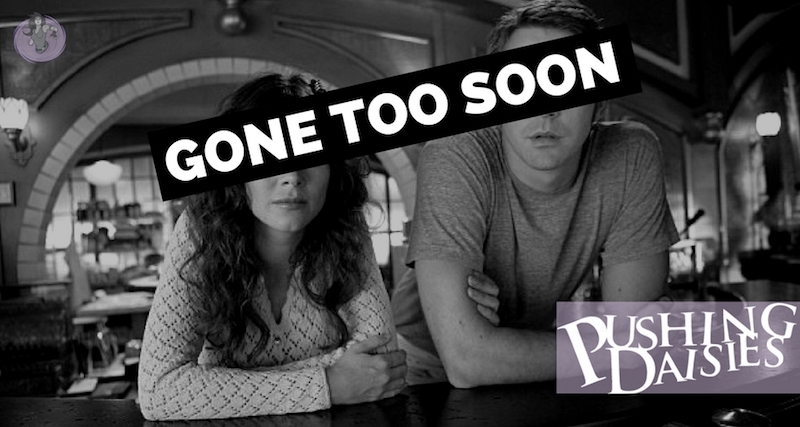 Pushing Daisies would be celebrating its tenth anniversary this year were it not for its untimely demise. The show, described as a "forensic fairy tale", was created by Bryan Fuller (of Hannibal fame) and debuted on ABC during the 2007 fall season to the adoration of fans and critics alike. This quirky and colorful comedy involved capers and confections. Pushing Daisies fit right in with the network's high concepts (Lost) and dark comedies (Desperate Housewives) but remained completely unique and original. Unfortunately, like so many other original concepts, the series had a limited shelf-life.
I came into the series during its second (and final) season but had little difficulty getting into it. Its "murder-of-the-week" formula and fairytale-esque narration was very accessible to a newbie like me. I was drawn to the lives of pie-maker Ned (Lee Pace), his childhood crush Chuck (Anna Friel) and their doomed-from-the-start romance.
See, Chuck dies in the very first episode of Pushing Daisies. Fortunately, Ned has the inexplicable ability to resurrect the dead with one touch. However, he cannot touch them again or else that person dies once more. Permanently. If Ned fails to touch them again within one minute, someone or something of equal value loses its life instead. Talk about playing God.
In addition to the likable leading loves, the dramatis personae included private investigator Emerson Cod (Chi McBride), a private investigator who exploited Ned's gifts by having him temporarily resurrect the victims of unsolved murders. They worked as a team to solve cases and split the reward money. Also in the cast of characters is Olive Snook (Kristin Chenoweth), Ned's friend with an unrequited crush on him. She serves as a waitress at the Pie Hole, Ned's restaurant.
The lighthearted and whimsical tone of Pushing Daisies set it apart from the dark and gritty show it could've been. The murder victims would often die under ridiculous (and hilarious) circumstances. Their grotesque appearances would be much more in-line with iZombie than The Walking Dead. The silly nature of the show even allowed for the occasional musical interlude by Olive. Let's face it, if you're going to cast Kristin Chenoweth in a show, you better let her sing. It's basically the law.
While the series may have been a critical darling and had plenty of network support, Pushing Daisies was an unfortunate casualty of the 2007-2008 writers' strike. The strike saw the demise of many first-season hits, including Heroes, which Fuller worked on before launching Pushing Daisies. ABC originally ordered thirteen episodes of the latter, but had such faith in the show that they extended the order to a full season.
The writers' strike forced Fuller's cast and crew to halt production early and produce only nine episodes, the last of which aired just before Christmas. The second season of Pushing Daisies premiered the following fall. Faltering ratings and a less than supportive network caused the cancellation of the show not long after its return.
Adding insult to injury, the network didn't even premiere the last three episodes until the following summer. They aired them on Saturday nights, which is the television equivalent of a death rattle. The network was forcing the once-strong Pushing Daisies to fizzle out, rather than end with a bang.
(I also have to assign just a tiny bit of blame to Chi McBride. It's nothing against him personally. The man is brilliant; however, his track record for canceled tv shows is staggering.)
When the Pushing Daisies finale aired, the final scenes worked to provide closure for certain characters and long-running plotlines. Fuller knew he had more story to tell. He announced he would be continuing the story in a spin-off comic book. You can find some art online, but that announcement was long ago, without anything materializing. It feels like it may be a lost cause at this point.
There were even talks of filming a proper ending, either as a miniseries or TV movie. Heck, there were rumors at one point of turning the concept into a Broadway musical. Even with the influx of television revivals the last few years, there hasn't been a word or whisper of bringing back the Pie Hole and its denizens for a couple of years now. I'll always hold out hope that someone will resurrect this wonderful world for one last case. Until then, it looks like it'll remain six feet under.