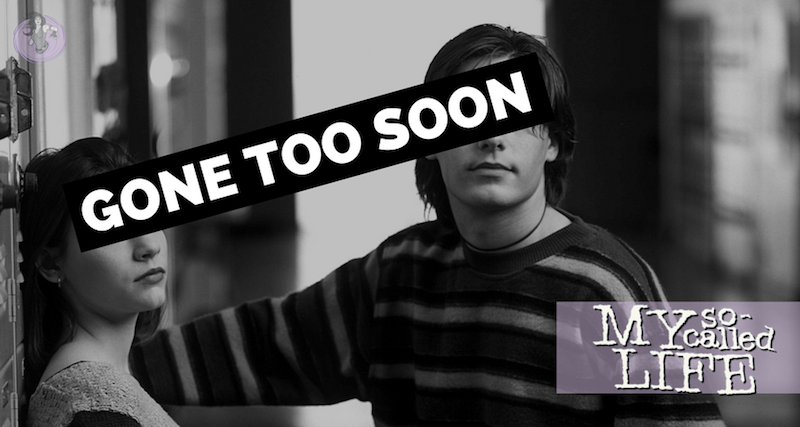 It's been 22 years since we were introduced to the life of Angela Chase — a teenager who had a bittersweet relationship with her mom, a best friend that made life interesting (to say the least), and a love interest that bore the bluest eyes we ever did see. My So-Called Life was the ultimate teenage dramedy, blowing shows like Beverly Hills, 90210 out of the water. Its strength? It was relatable. This wasn't a show about rich teens working at lavish beach clubs and wearing the trendiest clothing, making everyone who watched it feel inadequate and drab. Rather, it was a show that expressed the most innate and visceral experiences of teenage-hood in an intensely personal way.
My So-Called Life is also a show that spans generations. I can watch it now and have a new appreciation for decisions my parents made when I was 15. Angela's relationship with her mom, Patty Chase, blew Brenda Walsh's mother-daughter angst out of the water. I will never forget that moment in "Other People's Mothers" when Patty sits alone in the family car and lets it all out. That was the realest mom-moment I've ever seen on TV, and just writing about it now gives me goosebumps.
The series ended with the episode "In Dreams Begin Responsibilities" — the same episode that introduced "The Letter." Yes, the letter. The infamous letter that traveled from Brian Krakow's heart to Jordan Catalano's hand.
Dear Angela,

I know in the past I've caused you pain, and I'm sorry. And I'll always be sorry til the day I die. And I hate this pen I'm holding because I should be holding you. And I hate this paper under my hand because it isn't you. I even hate this letter because it's not the whole truth. Because the whole truth is so much more than a letter can even say. If you wanna hate me, go ahead. If you wanna burn this letter, do it. You could burn the whole world down. You could tell me to go to hell. I'd go. If you wanted me to. And I'd send you a letter from there.

Sincerely,
Jordan Catalano
"In Dreams Begin Responsibilities" wasn't meant to be the final episode of My So-Called Life. It was written with the intention of the show being renewed for a second season, where we would undoubtedly find out the consequences (good or bad) of Angela's decision. Instead, we were left with a massive cliffhanger, and in the same way that we will never find out what happened to Lindsay Weir after she skipped camp to follow the Grateful Dead on tour, we will never know what happened to Angela Chase after she drives off in Jordan Catalano's car.
But perhaps it was the perfect ending. Maybe not knowing is better than knowing. My So-Called Life could have gone on for five more seasons and, in the same way that many shows start off strong and fizzle, we might not have been left with the same nostalgic ache.
The show ended with a conceivably poor decision (depending on how you look at it) made out of the naiveté that comes with first loves. After a heart-wrenching exchange, Angela chooses Jordan over Brian, knowing full well that Brian was the one who wrote the note. All the signs point to yes, and Angela chooses no.
Isn't that what being 15 is all about?