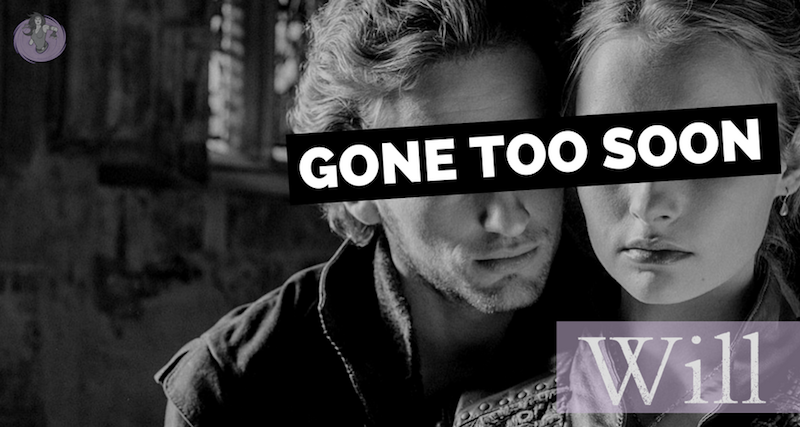 Since it premiered in July, I have been recapping and reviewing each episode of Will on TNT. I interviewed actress Jasmin Savoy Brown about her role as Emilia Bassano, Shakespeare's "dark lady." I wrote, in my finale review, that I desperately wanted a second season to tie up loose ends that were left hanging in S01E10.
Unfortunately, a second season is not to be.
Will's cancellation isn't a total surprise. The series quietly slid into the 11 p.m. time slot on TNT about halfway through its run, which usually reflects poor ratings and the inevitable axe.TNT made the entire 10-episode series available for streaming about three weeks into the show's run. And according to TVLine, viewer numbers were low from the start.
Canceling the series makes sense. But just because it makes sense, doesn't mean I have to like it. Will had incredible potential to grow into something longer, more interesting, and more well-wrought than just 10 episodes allowed it to be. Given space to breathe, this series could have expanded the lives of its ensemble cast into memorable, exacting performances. Hell, just 10 episodes provided some of the most heart-stopping and emotional television I've watched in recent memory.
A "punk rock William Shakespeare" seems so hokey on the surface. Will certainly played fast and loose with "Shakespeare canon", but it did so unapologetically. The fictionalized elements of the series made it all the more interesting and shined light on some of the more universal themes of Shakespeare's works. Will dealt with religious persecution, sex, classism, and sexual assault. It went to some very dark places, and it offered a far more entertaining look at Elizabeth's England than many other period pieces.
The series wasn't without problems. Its only canonical gay characters were either insane (Christopher Marlowe) or monstrous (Richard Topcliffe). It avoided William Shakespeare's propensity for sleeping with men altogether. Or — no, that's not quite right. Will and Kit did kiss in S01E02, but Will shoved Kit off in a hurry. The rest of the season was quite forcibly heterosexual, even once Will and Alice broke things off for good.
Will's season finale suggested that some of these issues would be re-addressed in a second season. It also left quite a few questions hanging in the balance. How would London receive Marlowe's Dr. Faustus? Would Moll and Richard finally get together? Where the hell did the ship take Alice and Father Southwell? And what new horrors did the crown have in store with Topcliffe presumably out of the way for good?
The final scenes of Will reminded me of Shakespeare In Love, which hinted at a sequel. With so little of Will's early years in London covered in the first 10 episodes of the series — they didn't get anywhere near the opening of the Globe, for example — the possibilities seem endless. It's a huge bummer to have to say goodbye to this show. Will was just picking up! Its best episodes were in the back half of its first (and only, now) season.
Until the next Shakespeare adaptation arrives… goodnight, sweet prince.