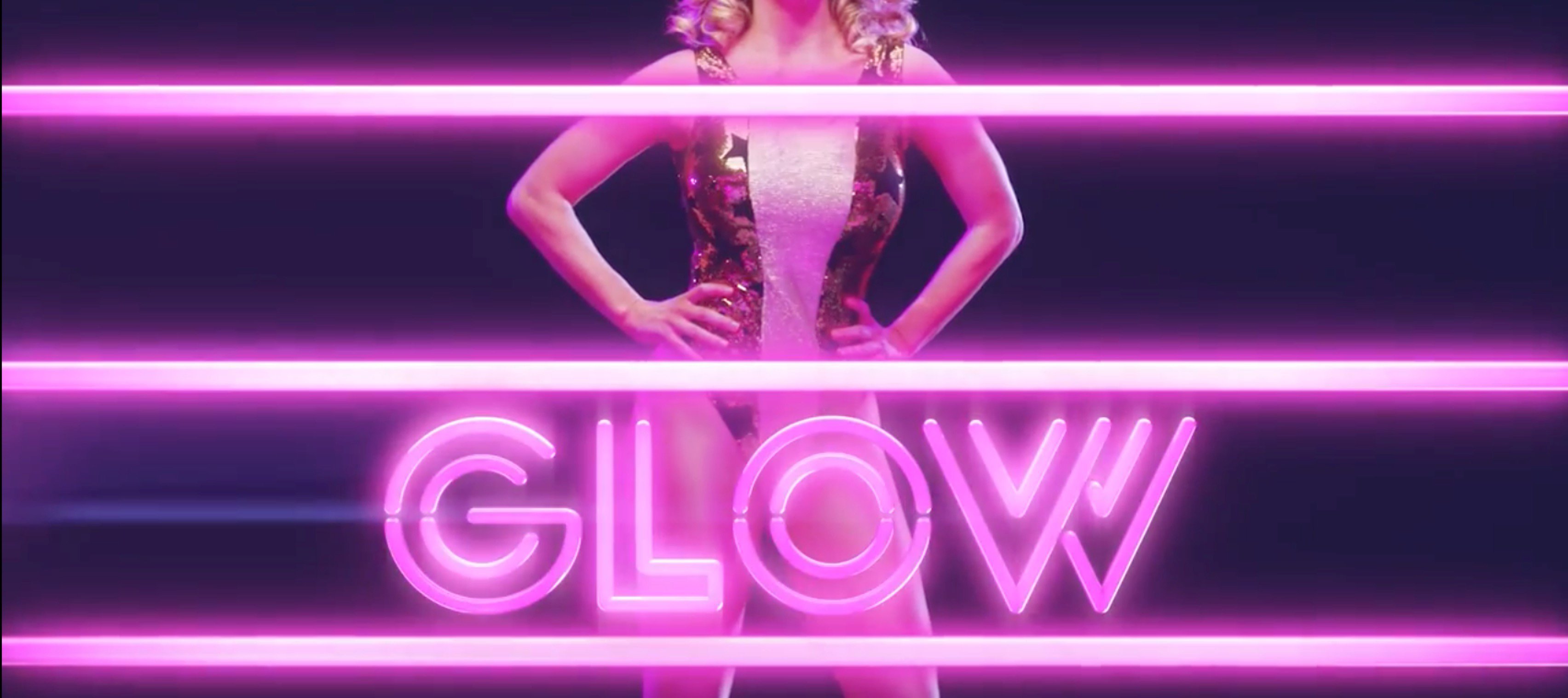 GLOW
Starring: Alison Brie, Betty Glipin, Marc Maron, Chris Lowell
Directors: Phil Abraham, Kate Dennis, Claire Scanlon, Jesse Peretz, Tristram Shapeero, Wendy Stanzler
Writers: Liz Flahive, Carly Mensch
A review by Heather Fischer
"GLOW, GLOW. That's the name, women's wrestling is our game!" If there is one thing that Netflix's new series GLOW does not have any shortage of, it is catchy music from the 80's. Well, that and racial stereotypes reminiscent of the show's original incarnation. Set in the decade notorious for its big hair and even bigger personalities, the 10 episode series is modelled after the Gorgeous Ladies of Wrestling which aired in 1986 out of Las Vegas. Staying semi-true to events, GLOW is the conception and birth of the unprecedented league of women wrestlers.
The story follows Ruth (Alison Brie) as she searches for the perfect fit for her creative expertise. An aspiring actress, she receives rejection after rejection. Unlike her seemingly perfect BFF Debbie (Betty Glipin) who is just coming off a successful spot on a soap opera, Ruth just can't seem to catch the eye of anything notable. Cue the nick of time call from the casting director with a part that no one wants! Out of desperation and fear of her lights being turned off, Ruth sets off to a dirty old gym for an audition she knows little about. The real G.L.O.W. auditions brought out more than 500 women hopefuls to Gold's Gym who were eager to jump on board. Through the rest of the series we watch as GLOW, the brainchild of Sebastian "Bash" Howard (Chris Lowell) and direction Sam Sylvia (Marc Maron), goes through the growing pains of any new concept.

Perhaps I should disclose before diving into my thoughts on what didn't work for the show that I am no stranger to the world of professional wrestling. Women's wrestling has more often than not been used as a sideshow or something not meant to be taken seriously. While both the original G.L.O.W. and Netflix's reimagination aim to break that narrow way of thinking, I am not entirely certain they hit the mark. GLOW has a great cast of characters to work with. There are so many other things they could have done to round out the plot and make it more about the women coming together and taking ownership of this new thing they are creating. Unfortunately, what we are given in that regard is mostly background noise. Literally. Apart from the few scenes where the wrestlers are working in ring, most of their training goes on in the background while some other dialogue is happening in the foreground.
Wrestling has always relied heavily on tropes and stereotypes. The original showcased personalities like Americana, The Hicks, and Spanish Red. If you wondered if Spanish Red was made the heel (bad guy in wrestling terminology) because she spoke Spanish and ran around the ring saying things like "me gusta Espanol!" don't worry, she certainly was. Though even that is relatively mild to the characters in GLOW.
Consider the persona given to Kia Stevens' character Tamee, The Welfare Queen. Stevens, known as Amazing Kong or Kharma during her time in the WWE, is an amazing real wrestler.
Not only that, but she is one of the sweetest people I've ever met. It is almost disheartening to watch as her character spouts lines about living off food stamps and not having to work because she gets all that "welfare money." Without even having to know anything out the original G.L.O.W, this just comes off a little too on the nose. Couple that with names like Fortune Cookie, Beruit the Mad Bomber, and Machu Picchu and it just all sort of makes for an epic eye-roll.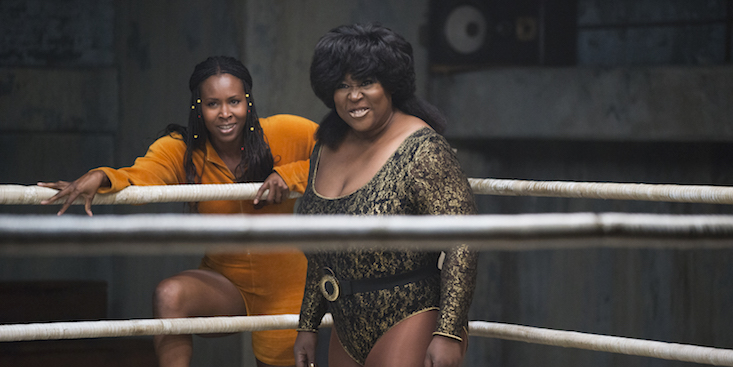 Stereotypes aside, that was not the only issue I took with GLOW. The underlying plot is recycled, the conflict threaded through all ten episodes is unimaginative and seems forced down our throats, and Ruth is robbed of her agency at crucial points. That last point seems very counter-intuitive to a show that is trying to focus on its 'girl power' vibe. While there is one very important scene that gives some of that back, it is all for naught when they return to soap opera drama for the closing scene (though perhaps that is the point?).
There are things that GLOW very much got right. For example, in the show Carmen (Britney Young) comes from a family of wrestlers. Not only did seeing some familiar faces from wrestling (Carlito and Brodus Clay) push my excitement button, but it really hit on the prevalence of wrestling families in the industry. The Harts, the Andersons, the Von Erichs – seriously, wrestling families are a huge thing and people get really hung up on lineage. Whether the creators did this intentionally or by accident, it was a nice addition.
GLOW also hit on what a dark, seedy place the world of professional wrestling can be. In that regard, it was perfect that the director Sam (who was really the promoter) came equipped with his past full of horror and softcore porn flicks. This is akin to the Razzie award-winning co-creator of G.L.O.W., Matt Climber. People that get into wrestling don't do it because it is the pinnacle of sporting events. It's a passion, an art, and an addiction.
The Verdict:
Give it a try. While Netflix's GLOW is not a perfect delivery of what could have been, it is entertaining and a quick watch with only ten 30-minute episodes. Should it get picked up for another season? If it does, I hope we can transcend above the shallow melodrama and spend more time in the ring. I lived for the season finale and was hard-pressed to take my eyes away. Give me sparkles, give me lady wrestlers, give me the GLOW I wanted and I'll be back sitting ringside for season two.
PS: If you're feeling really ambitious after watching GLOW, check out the source material. Totally worth it.