With Deadpool 2 leaving its mark across the world, I managed to find some Deadpool Series 2 Collectors Keyring blind bags!! I was apprehensive in buying the blind bag. I was left highly disappointed with what I got in my Deadpool Series 1 Keyring unboxing. However, I thought 'risk it for a biscuit' and bought one just to see if lady luck would be on my side this time around.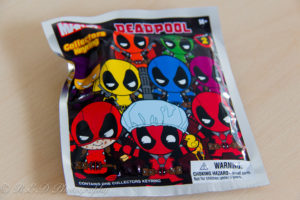 Deadpool 2
Personal opinion: I prefer Deadpool 2 to the first Deadpool film. It felt more fine-tuned to me. Deadpool 2 centres around Wade Wilson protecting a young mutant child named Russell who becomes the main target of Cable, played amazingly by Josh Brolin. It's funny, sweet with a major plot twist. Be prepared if you haven't seen it!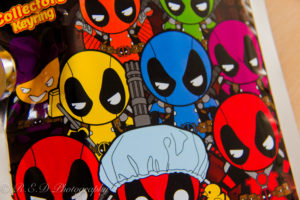 Monogram International Inc
Monogram International Inc. has the reputation of bringing amazing quality and licensed characters to life in a variety of ways such as gifts, toys, and collectibles designed for both children and adults. They've been on the scene for 40 years and have their products sold all over the world including theme parks.
The Blind Bag
There are 11 keyrings to collect all together, and they are called:
Foolkiller
Solo
Stingray
Slapstick
Terror
Madcap
Deadpool with Rubber Chicken
With Shower Cap and Rubber Duck
Eating Chimichanga
There are also two exclusives you can collect too. I already feel that the series 2 is miles better than Deadpool Series 1 collectors keyring which didn't have that much variety. With series two, there is more variety in colour as well as his extra accessories. There was a lot in series one that were just too similar.
I would love, love, LOVE to get one of the coloured Deadpools. My heart is set on Solo or Slapstick. I'd be happy with any. It's also important to note that product colour and specifications may vary from photos.
And I got…
TERROR!!!
I'm really pleased with my collector's keyring!! I'm thrilled I managed to get a coloured one as I already own a normal Deadpool keyring from my Series 1 unboxing post. The keyring is made from foam. It feels soft to the touch but very solid. It's such a good quality, and super detailed. He has a belt, his famous swords, and his belt also has a tiny little Deadpool face on it!. I also love the expression he's making on his face. He looks soo angry, but he also looks soo cute!!
Overall, I am much happier with what I got in my series two unboxing than I did in my series one. I won't be buying any more. I have more keyrings to unbox for you all very soon. My keys need variety!!
You can buy Deadpool Series 2 Collectors Keyring here.