For today's Geeky Diaries I shall be unboxing Kid Robot's most recent Vinyl Mini Figure blind box, which depicts the characters of the incredibly popular animation show Bob's Burgers. I've always been impressed with the quality of the Kid Robot' Vinyl Figures and I have a few in my collection which include The Simpsons characters as well as one or two Eric Cartman figurines (I'm planning on getting more of these so stay tuned). I can't wait to see what I get!
What's Bob's Burgers?
Bob Belcher is a third-generation restaurateur who runs Bob's Burgers with his loving wife and their three children. Bob believes his burgers speak for themselves and isn't afraid to offer a variety of off-beat creations. Bob's wife, Linda, supports his dream but is becoming sick of the slow times, as the restaurant is constantly in danger of going out of business.
Kid Robot is one of my favourite dealers in affordable limited edition art toys. They've helped many artists in finding steady work and to let their creative projects thrive. There is something to suit every nerd. Their passionate about their products and you can see that in their 'About Us' section of their website. Here's a snippet;
'More importantly, we are human. We are a group of dreamers who want to create a space where art, design and surprise meet. In a store. On our website. In a conference room. Or living room. Where the conversations about art and design take place. But it's the element of surprise – the nod, the magic – that finds its way into all we do, which creates our point of difference. It keeps things interesting, making people want to stick around to see what's next'.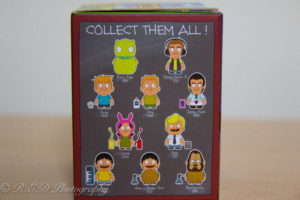 The Blind Box
The box itself depicts the burger restaurant on the front and as far as blind boxes are concerned this is the most detailed one I've seen. On the sides of the box it shows what characters you can collect. There are 19 characters to collect all together and they are:
Teddy (2/20)
Calvin Fischoeder (1/40)
Gayle (1/20)
Bob (3/20)
Burger Boss Bob (1/40)
Linda (2/20)
Tina (3/40)
Bad Tina (1/40)
Buttloose Tina (1/40)
Kuchi Kopi (1/80)
Jimmy Pesto Jr. (1/20)
Andy (1/40)
Ollie (1/40)
Jimmy Pesto (1/20)
Louise (3/40)
Hugo (1/20)
Gene (3/80)
Gene in Burger Suit (1/20)
Beefsquatch (1/80)
Even though all the designs look adorable I really do hope that I get Linda or Jimmy Pesto. I'm going to realistic and say that I would not be able to get Kuchi Kopi but if I do that'll be a cherry on the cake!!
And I got…
GENE!!!
I'm really glad that I got Gene!! He's the only Belcher I don't have in figure form (I have the rest of the family in funko form) so I guess my collection is complete. He comes with his own little megaphone which he uses when he's trying to sell burgers on the street. He's a lot bigger than I thought he would be, well worth the money you spend. He also has articulation in his head and arms too and the paint job is second-to-none!!
I'm really impressed with my little figurine and I have one more to open to keep your eyes out for that!!
You can buy Bobs Burgers Vinyl Blind Boxes here