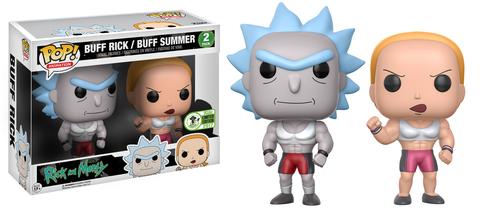 Emerald Comic Con is happening on March 4th and of course the Funko Pop clan will be there ready and waiting for you. As per usual they've been working really hard in delivering us some new and unique products for everyone! Emerald City Comic Con is the premier comic book and pop culture convention in the Northwest, taking place in beautiful downtown Seattle, Washington and has been running since 2003.
They've revealed two waves of new releases. The first wave they released were all green coloured products, which of course fitted the Emerald theme well. All the products were part of the animation Funko Pop genre. The second wave of Funko exclusives included some new Pop! Rides as well as some Stranger Things exclusives!
Here are a select few of what Funko will have to offer you at Emerald Comic con!
Buff Rick and Summer 2-Pack
This is a must have for any
Rick and Morty
fans and will be the first time Summer has been made into a Funko Pop. The characters come from Season 1 episode nine entitled "Something Ricked This Way Comes" where in the post credit scene, Rick and Summer have beefed up and merrily beat the tar out of a Neo-Nazi, a bully, a member of the Westboro Baptist Church, and an abusive dog owner.
Looney Tunes – Michigan J. Frog
It hasn't been long since they released the latest
Looney Tunes
Funko wave but they've already bought out an exclusive in the form of Michigan J. Frog. He's is a minor character who has appeared on occasion in the
Looney Tunes
, having debuted in "One Froggy Evening" in 1955. He is a frog with quite a talent for singing and/or dancing. Ed Sullivan influenced the character, as told by Chuck Jones. I love his little top hat.
Superhero Kermit
Kermit, without a doubt is one of the mot popular Muppets around and, of course, being as green as he is, he was obviously going to become an Emerald Comic Con exclusive. Donning a cute swamp green cloak with a big Muppet 'M' in the middle, this little cutie is a must-have for any Muppet fan!
Peppermint Patty
Peppermint Patty can now be added to the Funko Pop Peanuts line! Known as the tomboy and star athlete of the
Peanuts
series, Charles M Schulz describes Peppermint Patty as '
Peppermint Patty, the tomboy, is forthright, doggedly loyal, with a devastating singleness of purpose, the part of us that goes through life with blinders on.' 
Who wouldn't want a character like that in their Funko collection?!
Scooby-Doo – The Creeper

Scooby-Doo has released a villain as part of their Funko series and part of the Emerald Comic Con exclusive. The Creeper was a green-skinned phantom/zombie, with dark red hair and yellow sclera. He wore a dark green trench coat, with dark green pants and black shoes. Fits perfectly with the Emerald Comic Con aesthetic.
Emerald City Crusader
Funko have also released an exclusive and original design for this years Emerald City Comic  Con: The Emerald City Crusader! He's glow in the dark too! A must-have if you're a Funko Pop Superhero collector.
Upside Down Eleven and Barb
During the superbowl, we had a brief glimpse of the second series of
Stranger Things
which will be coming out Halloween time, so why not celebrate the new season then by purchasing this 2-pack upside down Barb and Eleven!
There are more exclusives which you can view 
here
.
Don't forget to enter the Funko Exclusives Lottery to make sure you reserve your spot to grab one at the show. You can hit the next slide to get an up-close look at the wave 1 exclusives!