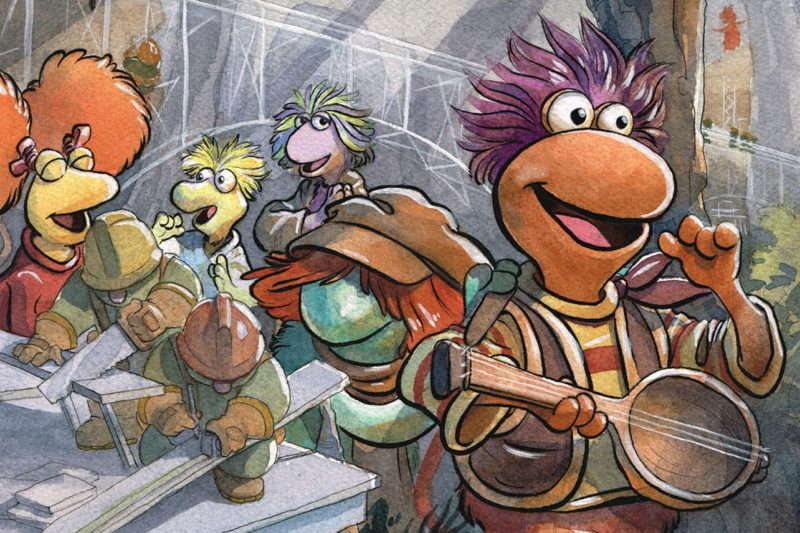 Jim Henson's Fraggle Rock #1
Writer, Artist: Jared Cullum
Letterer: Mike Fiorentino
Publisher: BOOM! Studios
Review by Anelise Farris
Let me just start by saying that my review might be slightly biased because Fraggle Rock was one of my favorite television series when I was a wee one. I also may have recently forced my husband to watch the intro music with me because it was stuck in my head for no apparent reason. Now, here we are, with Jim Henson's Fraggle Rock #1, the start of a brand-new series from BOOM! Studios, that begins, of course, "down in Fraggle Rock!"
As Jim Henson's Fraggle Rock #1 opens, all are gathered in the Great Hall. Everyone's anxious about Mokey's current state of mind. She's an artist who has apparently lost her muse. Her friends decide to host an art show to try and help her. But, that's not what Mokey needs. When she accidentally stumbles into a space and has a chat with Tank Doozer, she learns not to put too much pressure on herself, to take it easy, and to create as she feels led.
That said, it shouldn't come as a surprise to learn that this issue is moral heavy, and it definitely reads like a one-shot children's book. It's self-contained, and you don't need to know anything about Fraggle Rock prior to reading this issue. However, I think that having some familiarity with the series will make Jim Henson's Fraggle Rock #1 a bit more endearing. Is it revolutionary? No. Is it thrilling? No. But something about it still warmed my heart. And let's not forget the art—which is probably my favorite part about the issue, to be honest. The watercolor style and surreal vibe transported me to this otherworldly place. And the use of pastels and undefined panel borders lent this issue a sense of sophistication that surprised me (in the best way).
Verdict: Check it Out.
If you're a fan of Fraggle Rock, then you're probably going to buy Jim Henson's Fraggle Rock #1 just because. But, even if you're not, this charming, feel-good story, with gorgeous watercolors is still worth checking out.