Flavor #1
Writer: Joseph Keatinge
Artist: Wook Jin Clark
Letterer: Ariana Maher
Color Artist: Tamra Bonvillain
Publisher: Image Comics
Review by Anelise Farris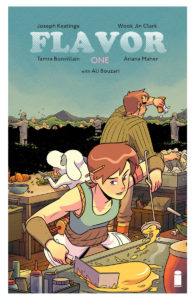 I am a foodie and a comic enthusiast, so imagine my excitement when I heard about Flavor #1. In this first issue, we are introduced to a food-centered competitive world that has some pretty high stakes—and quite different than what you're going to see on Food Network.
Flavor #1 opens with Xoo and her dog Buster pursuing a rare truffle. This is not simply the act of going to the store and purchasing it. This involves beating out other chefs, and, if you're Xoo, getting some really hot pepper seeds thrown into your eyes. It's a tough world for an unregistered chef. While it's not clear how old Xoo is, according to the state she is underage. And with her parents both in wheelchairs, her uncle arrives to help run the restaurant (which is in danger of being shut down).
The setting in Flavor #1 feels like an older, peasant-style village. I realize that's not quite eloquent, but think Beauty and the Beast when Belle is strolling through the village singing. Only here the police look like medieval knights, and they take their food culture very seriously. The art is manga-esque, and I enjoyed the bold use of color and playful linework despite the dark undertones. I'll just say there's a human sacrifice, and leave it at that.
Verdict: Buy it.
Flavor #1 is a dark, delicious read about competitive cooking—just not in the way you probably expect!
In stores Wednesday, May 16, 2018.