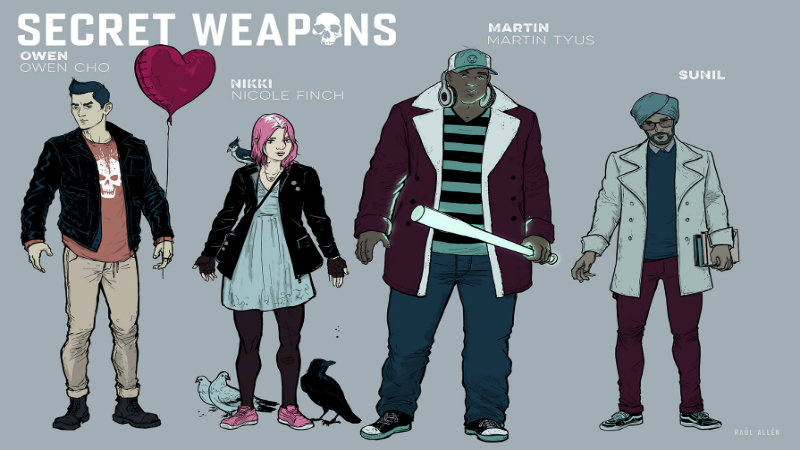 Valiant is proud to announce that Academy Award-nominated screenwriter Eric Heisserer, writer of the internationally acclaimed, smash-hit motion picture Arrival, as well as the upcoming Harbinger and Bloodshot feature films from Sony Pictures, will join Harvey Award-nominated artist Raul Allen (Wrath of the Eternal Warrior) with Patricia Martin (Bloodshot Reborn) for Secret Weapons, an all-new, Valiant Prestige format limited series starring the much-demanded, super-charged hero Livewire!
The government has dispatched Amanda McKee – the technopath codenamed Livewire – to investigate the ruins of a secret facility formerly run by Toyo Harada, the most powerful telepath on Earth and her former mentor. In his quest for world betterment at any cost, Harada sought out and activated many potential psiots like himself. Those who survived, but whose powers he deemed to have no value to his cause, were hidden away at this installation. But Livewire, having studied Harada's greatest strengths and learned his deepest weaknesses, senses opportunity where he once saw failure.
A young girl who can talk to birds… A boy who can make inanimate objects gently glow… To others, these are expensive failures. But, to Livewire, they are secret weapons…in need of a leader. Now, as a mechanized killer called Rexo seeks to draw them out, Livewire and her new team of cadets will be forced to put their powers into action…in ways they never could have imagined…
"Much like Faith before her, Livewire is a comic's icon in the making. She is beloved by fans and adored by creators. Finding the right stage for her to shine has been a top priority at Valiant for some time now and, with Secret Weapons, Eric and Raul have crafted something truly special." – Valiant CEO & Chief Creative Officer Dinesh Shamdasani
"My path to Secret Weapons is a bit wonky. I started writing for characters like Pete, Faith, Livewire, and Bloodshot in the film adaptations of their stories. When I am given the opportunity to translate a property to screen, it's like adopting someone else's child for a while. I put in my time, try to respect all the hard work of the original authors, and sooner or later I'm on my way. The Valiant characters were different, especially Livewire. I kept thinking about her, long after my official writing services were complete. I wanted back into that world. I had crazy ideas for her powers, and the hard choices ahead of her. So, I asked to build a new book for Valiant, with a new group of faces, all led by Amanda. To my relief, Dinesh and Warren said yes." – Eric Heisserer
On June 28th, 2017 Oscar nominee Eric Heisserer and visionary artist Raul Allen follow in the footsteps of Harbringer and Faith to forge a new vision of 21st century superheroes as Livewire steps to the fore with an all-new team of heroes in the waiting, only in the limited four issue run of Secret Weapons!