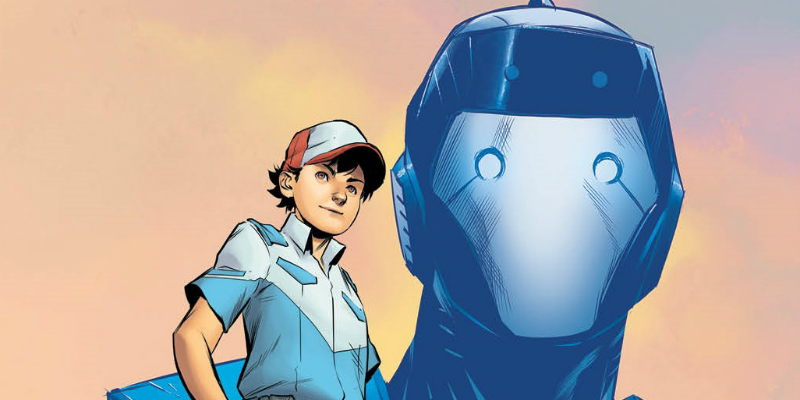 BOOM! Studios is thrilled to announce Mech Cadet Yu, a new monthly series launching in August from longtime collaborators Greg Pak (The Incredible Hulk, War Machine) and Takeshi Miyazawa (Ms. Marvel, Runaways). The pair has worked together in the past on projects like Code Monkey Save World and ABC Disgusting, and are widely known for the creation of Amadeus Cho, who would eventually star in Marvel's Totally Awesome Hulk.
Mech Cadet Yu is the story of Stanford Yu, a young janitor who is unexpectedly chosen to join the sacred ranks of the mech cadets at Sky Corps Academy. Once a year, giant robots from outer space come to Earth to bond with the cadets to defend the world from terrifying aliens known as the Sharg. After he unintentionally bonds with his robot, Yu is thrown into training, hoping to prove he is worthy of being there at all.
"I love giant robots. And I love quirky, personal stories about lonely kids trying to find their crew and mission in the world. So many of the stories I've written over the years are rooted in things I loved the most when I was 10 years old—like giant robots, natch. It's a thrill to finally be writing that kind of story from the point of view of a character who's an actual kid. And I'm excited to be writing multi-dimensional Asian American lead characters in a genre that's so beloved by so many Asian Americans, but seldom features them." – Greg Pak
"To me, working with Greg Pak is a chance to work on something special. Mech Cadet Yu is one of those special projects, an underdog story about beating the odds, making friends, and kicking alien butt in giant robots. When he came to me with the idea, it was something I couldn't turn down." – Takeshi Miyazawa
Mech Cadet Yu #1 will be available wherever comics are sold this August.