We've been covering Marvel's Runaways for awhile now. It's getting closer and closer to becoming reality and Hulu has slapped us in the face with some first look images and footage of your favorite heroes.
Hulu Upfront has announced a slate of shows coming, but the most exciting one has to be Runaways. If you don't know the Runaways, let me give you a brief refresher. Runaways, created by Brian K. Vaughan (W) and Adrian Alphona (A), tells the story of when six teenagers find out that their parents are not exactly the most boring people on the planet. It turns out that they're villains. The kids, who were childhood friends, have to reunite in order to take their parents down once and for all.
We've covered our heroes, we've covered the parents and now it's time to take a look at the teaser trailer and the first look at them.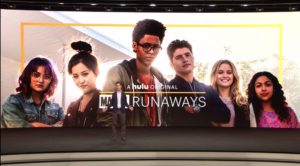 Here's the Teaser Trailer from Jack Rico from ShowBizCafe!
No date yet when Marvel's Runaways is set to air on Hulu.