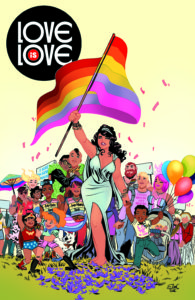 IDW Publishing and DC are partnering together to honour the victims of Orlando's Pulse Nightclub tragedy by publishing Love is Love, an anthology graphic novel curated by Marc Andreyko (Batwoman, Wonder Woman '77).
In the wake of this devastating attack of hate, Andreyko assembled a group of fellow comic book creators to contribute to the benefit project. Andreyko received an overwhelming response across the comic book community. With over 200 writers and artists lending their talents to Love is Love, this 144-page love letter to the LGBTQ community is a collection of over 100 short graphic stories. All material has been donated by the writers, artists, and editors, with all proceeds going to victims, survivors, and their families via Equality Florida.
Love is Love features Phil Jimenez, Steve Sadowski, Paul Jenkins, Mike Carey, Matt Wagner, Marguerite Bennett, Aneke, Damon Lindelof, Patton Oswalt, Steven Orlando, Rafael Albuquerque, Jason Aaron, Jason Latour, James Asmus, Ming Doyle, James Tynion IV, Cecil Castellucci, Brandon Peterson, Jesus Saiz, Olivier Coipel, Leinil Yu, Elsa Charretier, and more to be announced.
"When tragedy happens, art responds. And after the Pulse massacre, the comics community responded quickly, decisively, and with open hearts. I could not be more proud of this book, or to be a member of the comics community. The talent and emotion on every page is staggering. Love is Love mourns the 49 lost, honours the survivors, and celebrates love in all forms." – Marc Andreyko
The contributors behind Love is Love have banded together to send a powerful message through their art: they stand with the victims of this national tragedy and that love is love. Help spread the love this December and become part of this historic comics event.
Pre-order Love is Love here.