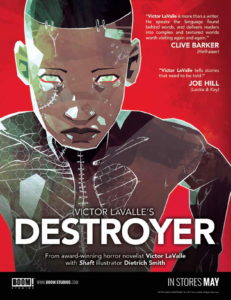 An all-new, original, monthly comic series from award-winning novelist Victor LaValle (The Ecstatic, The Devil in Silver, Big Machine) and artist Dietrich Smith (Shaft, Incredible Hercules) comes to BOOM! Studios this May! Destroyer is LaValle's comic debut and is an intense series that explores the legacy of the greatest family in horror fiction.
When Dr. Jo Baker loses her son as the tragic result of an encounter with the police, she turns to science to find true justice for the death of her only child… by resurrecting him. Embracing her heritage as the last living heir of the Frankenstein family, Baker will soon come face-to-face with her family's original monster, one whose quest to eliminate the scourge of humanity from the planet has been reawakened by recent events. But as the two must decide if they're friend or foe, Dr. Baker will be forced to question if this battle for vengeance makes her the family's true monster.
"The country is tearing itself apart. Hell, the whole world is tearing itself apart. All of us seem to be teetering somewhere between annihilation and hope. Destroyer is the story of a woman, a mad scientist, facing the same dilemma. And her choice might mean the death of every human being on the planet. I'm so excited to be telling this story, and at this exact moment in time. It will be a hell of a lot fun and thought-provoking, too."- Victor LaValle
"Working alongside well-established writer Victor LaValle is a joy in itself and illustrating this legendary monster of lore is a bonus I can't explain. More importantly, the issues this series addresses will no doubt enthrall and entertain readers, hopefully bringing about introspection in them as well." – Dietrich Smith
This series is the latest release from BOOM! Studios' eponymous imprint, home to popular original series such as Klaus by Grant Morrison and Dan Mora; Godshaper by Si Spurrier and Jonas Goonface; Grass Kings by Matt Kindt and Tyler Jenkins; The Woods by James Tynion IV and Michael Dialynas; and Irredeemable by Mark Waid and Peter Krause.
"The role of fiction in our society is as important now as it's ever been before, and Victor has proven himself to be a vanguard of socially relevant horror. Paired with Dietrich's inimitable illustration, we feel that Victor LaValle's Destroyer is more than just escapism—it's a rallying cry." – Eric Harburn, Editor, BOOM! Studios
Destroyer hits comic book stores this coming May!
Advanced Praise for Destroyer:
"Victor LaValle is more than a writer. He speaks the language found behind words, and delivers readers into complex and textured worlds worth visiting again and again." – Clive Barker (The Hellbound Heart)
"Victor LaValle tosses off wry, startling observations much as fireworks toss off sparks. He also has a generous, wide-open heart, and the restless, questing imagination of a first-rate fabulist. But best and most of all: He tells stories that need to be told." – Joe Hill (Locke & Key)