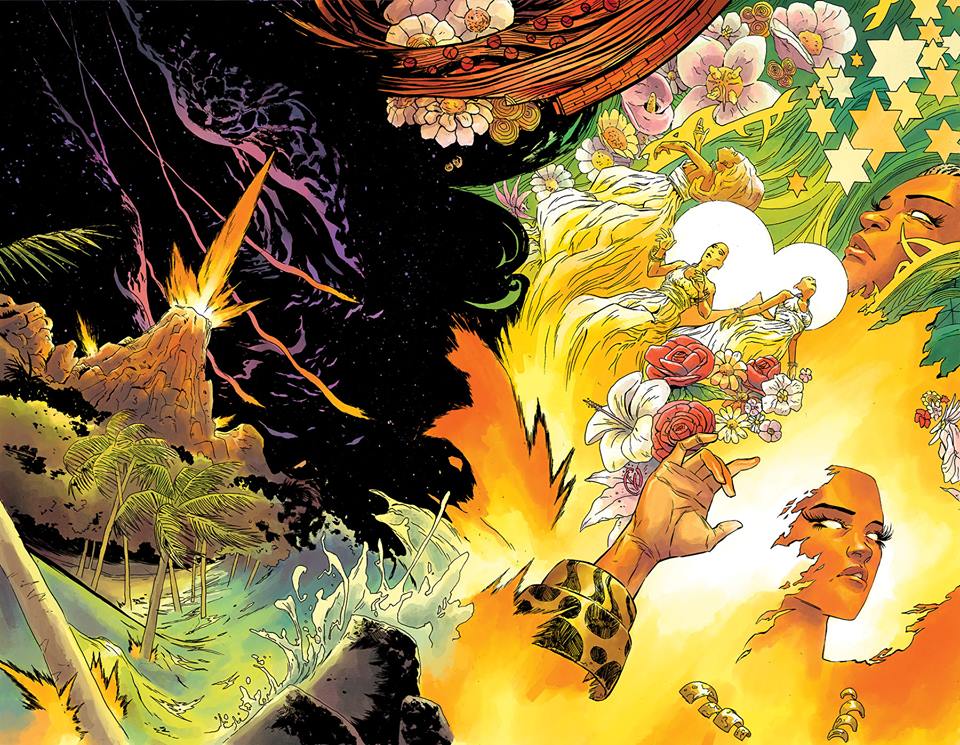 Firebug
Writer & Artist: Johnnie Christmas
Colorist: Tamra Bonvillain
Letterer: Ariana Maher
Publisher: Image Comics
Review by Greg Brothers
High fantasy is not an easy genre to do right. With the characters, locations, and concepts all being fleshed out, it is
easy to end up on a long winding road to nowhere. When it is done right, however, you can end up with a compelling story and engaging characters. The setting becomes part of the story when well-executed, and all the moving parts of the plot come together in perfect harmony. Thankfully Firebug, from the mind of Johnnie Christmas, hits all the right notes to form a perfect story.
Early on we meet Keegan. Unknown to many others, she is the descendant of a fire god. It is a revelation that ends up leading to a battle to rule the universe, all while trying to harness the power of the world itself.
While Keegan provides the subject for an interesting story herself. It is in the menagerie of other characters where the depth of the story really takes shape. With cults, protectors of the forest, and water gods, it becomes it become obvious that Christmas has some grand ideas of the story in Firebug. Even with such a large supporting cast, the time is taken to flesh out and explain the motivations of most of them.
With Firebug, Christmas is able to create environments that are just as much characters as they are settings. Volcanoes, waters, the forest and even the city are as important to the story as the characters that inhabit them. Each of them serve a purpose and provide motivations for each of the characters. Without these environments, the story would be lacking much of what makes it so inviting.
It is important that with a story like Firebug that the art enhances the story. And the art from Christmas and the colors from Bonvillain do exactly that. Every character has a unique and original look. It makes it easy to identify who is driving the dialogue and the intentions of each. Bonvillian's coloring has a watercolor feel to it as the colors blend perfectly. The color transitions from bright whites to reds and greens, and then into greys and black without missing a beat. It is visually stunning to look at.
Verdict:
Buy it. There are times when you pick up a book to read and it is obvious from the first page that everything was clicking for the creative team. Firebug is one of those books. From the beginning, the dialogue, characters, and art all work in perfect harmony to create a story that draws you in. Every page activates every sense as the story unfolds. Every turn provides more intrigue and creates a story that you do not want to put done until you have reached the finish.
Firebug will be available in stores Wednesday, March 7, 2018.