Feud: Bette and Joan S01E01 "Pilot"
Director: Ryan Murphy
Starring: Jessica Lange, Susan Sarandon, Alfred Molina
Writers: Jaffe Cohen, Michael Zam, Ryan Murphy
Feud: Bette and Joan is the latest in a line of anthology series that cater specifically to the interests of creator and producer Ryan Murphy. Luckily, his interests tend to overlap with mine so I've been anticipating this series and, I'm relieved to say, it does not disappoint.
The series is chronicling the antagonistic relationship between Bette Davis (Susan Sarandon) and Joan Crawford (Jessica Lange) starting with the filming of Whatever Happened to Baby Jane? What the first episode seems to imply is that the series will delve deeper and wind up much more interesting than that alone. After Crawford watches Marilyn Monroe win a Golden Globe she comes face-to-face with her fading power, as a star and as a person. Her beautician vocalizes it the next day: "men age, they get character; women age, they get lost". And our series thesis is born.
We get a glimpse of how women were treated by the Old Hollywood system, how they struggled (and continue to struggle to this day) for roles when they age out of love interest parts, and how society as a whole treats women. This wasn't a surprising development considering Murphy's penchant for attracting star power like Lange, Frances Conroy, Jamie Lee Curtis, Kathy Bates, and Angela Bassett to his previous shows. This time we actually get to delve into the issue and explore it using two of the greatest acting icons of all time.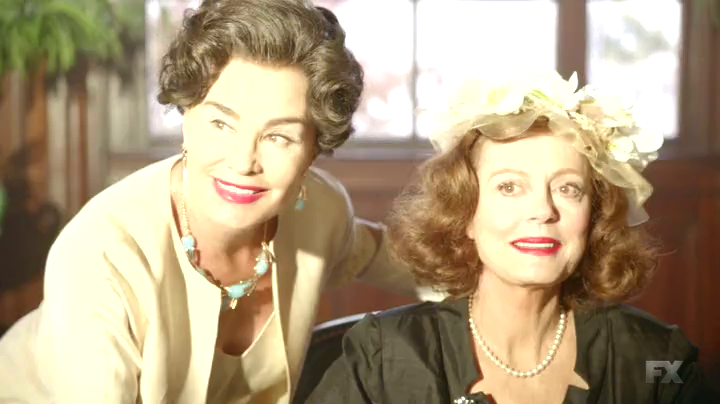 The main draw of the series is seeing the studio system true tales and apocrypha: Crawford rubbing lemons on her elbows to keep them drying out, Davis claiming she coined the term "Oscar" for an Academy Award, Davis choosing a wig for her character in Whatever Happened to Baby Jane? that Crawford had previously worn in a role. There's lots of stuff to chew on for a fan of the time period.
The true depth of the series is going to be the thematic elements and the powerhouse performances. Watching Crawford and her assistant Mamacita (Jackie Hoffman) scour through novels to adapt because there weren't any good roles for women, and watching her fight to bring the movie to life, was impressive. Once she finally gets Davis and writer/director Robert Aldrich (Alfred Molina) on board, it's a tough sell to even get the movie produced. The studios they go to want younger leads, or the only young female role in the movie beefed up, so they end up at Warner Brothers. There we're introduced to Stanley Tucci as Jack L. Warner who appears to be the embodiment of the patriarchy itself. The first thing he asks Aldrich is whether or not he'd sleep with either of the actresses. I'm excited to see how much fun Tucci will have with this character who, so far, seems like a totally unrepentant douchebag.
Once filming actually commences we get some great scenes. My personal favourite scene, just because it's unabashedly a crowd-pleaser, is the reveal of Davis's makeup for her role. It's presented as a big reveal, giving the iconic look the exact sort of moment that it deserves. We also get a telling scene when Crawford comes on set the first day. She gives each crew member a gift and a personal greeting, informed of their identities by Mamacita doing her best impression of Gary from Veep. It's interesting to see that the amount of performance these women have to put into their personal lives almost matches the performances they put on the screen. It's all politics in Hollywood, especially when you're a woman.
The episode ends with the two stars showing up for dinner at the house of Hedda Hopper (Judy Davis), the notorious gossip columnist. The two women play nice while promoting the film but their personal problems and professional resentment are just bubbling under the surface. Unfortunately they're bound to lash out at each other instead of the system/world, and that puts them at odds with each other to begin with. As Hopper says in an earlier scene:
"Men build the pedestal, darling, not me. There's only room for one Goddess at a time."
The Verdict
Watch it! The problem with this series compared to American Horror Story or American Crime Story is the specificity of the season. It's a lot easier to know whether you like horror or crime than the vague concept of 'feud', so it ultimately comes down to the subject matter of the season to pique a viewer's interest. Luckily, I'm all in on this subject matter. There are a few clunky moments, like the wraparound story of Joan Blondell (Kathy Bates) and Olivia de Havilland (Catherine Zeta Jones) being interviewed for a documentary is full of on-the-nose descriptions of the character motivations. But we also get some solid comedy, like the ever-looming omen of Pepsi-Cola vexing Davis. That, combined with the on-point production design and the powerhouse performances of Lange and Sarandon, will keep me watching for the full 8-episode season.