Feud: Bette and Joan S01E06 "Hagsploitation"

Director: Tim Minear
Starring: Jessica Lange, Susan Sarandon, Alfred Molina
Writer: Time Minear & Gina Welch
A review by Michael Walls-Kelly
Hagsploitation opens with a trailer for Joan Crawford's new film, a gimmick-y splatterfest called Strait-Jacket. As fun as that is, the truly triumphant moment is when John Waters emerges as the gimmick-y B-movie master, William Castle.
It's perfect stunt-casting. Not only is John Waters great, he's the exact kind of person who would love Bette Davis (Susan Sarandon), Joan Crawford (Jessica Lange), William Castle and series creator Ryan Murphy. It's a quick, fun little opening that's supposed to show us the depths Joan has to sink to in order to get work. What it really does is make me wish we'd followed the filming of Strait-Jacket so that we could have some more John Waters.
Which isn't to say the episode as a whole is bad. It's good. It just isn't as good as every other episode due to a few clunky scenes and some structural issues.
The episode proper starts with Jack Warner (Stanley Tucci) angrily railing against the fact that he doesn't have a "hagsploitation" picture out there, copying and capitalizing on the trend he started. The trend being, you know, actually letting older women work. The way he sees it though, in his throbbing-prostate-of-a-brain, is that audiences like to see these women degraded. He's lamenting the fact that he isn't able to degrade them.
Jack's in luck though, because Bob Aldrich's (Alfred Molina) latest film with Frank Sinatra was  a bomb. Bob comes crawling back to Jack with a hagsploitation script, a Whatever Happened to Baby Jane? ripoff called Whatever Happened to Cousin Charlotte? Jack's happy because it has actresses being mentally torn apart, melodrama and violence.
Jack actually gets a lot to do early on in this episode and Tucci relishes it. The more time we spent with him the more I actually came to understand Jack. He's still the 1960's equivalent of a TapOut t-shirt, but he's wholly himself. Bette, Joan and Bob have all been struggling to be perceived how they wish to be. Jack just is who he is, for better or worse. He's kind of a reassuring emotional basecamp.
That being said, after an amusing montage where Bob tries to convince both Bette and Joan to join the picture so they can recreate the magic of Baby Jane, it's extremely satisfying to see tell Jack off. Bob sold his picture to another studio and meets with Jack to gloat about it. Tucci and Molina are obviously top-notch actors and watching them throw these insults at each other is basically a gift.
If that's a gift then Lange and Sarandon going at it is every present under the Christmas tree. We get a solid showdown between the two, our first in a while, when they sit down to do the table read. Bette and Joan made a truce, agreeing to be a united front, but that quickly comes crumbling down due to Joan's self-aggrandizing and Bette's artistic hubris. The table read is a disaster.
Joan has her own personal issues going on in this episode, and that's kind of where the whole thing falters. Hedda Hopper (Judy Davis) comes to her early on and tells her that there are rumours of a stag picture featuring a young Joan floating around. This scene is solid, with Hedda marking herself as a truly pragmatic villain, pulling an Aaron the Moor in Titus Andronicus and basically lamenting the fact that she didn't have more time to ruin more lives. Hedda was a solid attack dog for Joan in previous episodes but she shows her true colours. She'll go to whoever has the bloodiest meat.
So Joan visits Hal (Raymond J. Barry), a man who turns out to be her brother. He's the one offering to sell the film and Joan tries to buy him off. The problem with this storyline isn't the actors. Barry is a fine performer and Lange obviously knows how to sell the drama, but the writing is clunky and on-the-nose. It also comes a bit late in the game for fleshing out Joan's background. Of course there's a twinge of sadness when you find out it's Joan's brother doing this to her but the exposition-filled dialogue kind of tamps that down.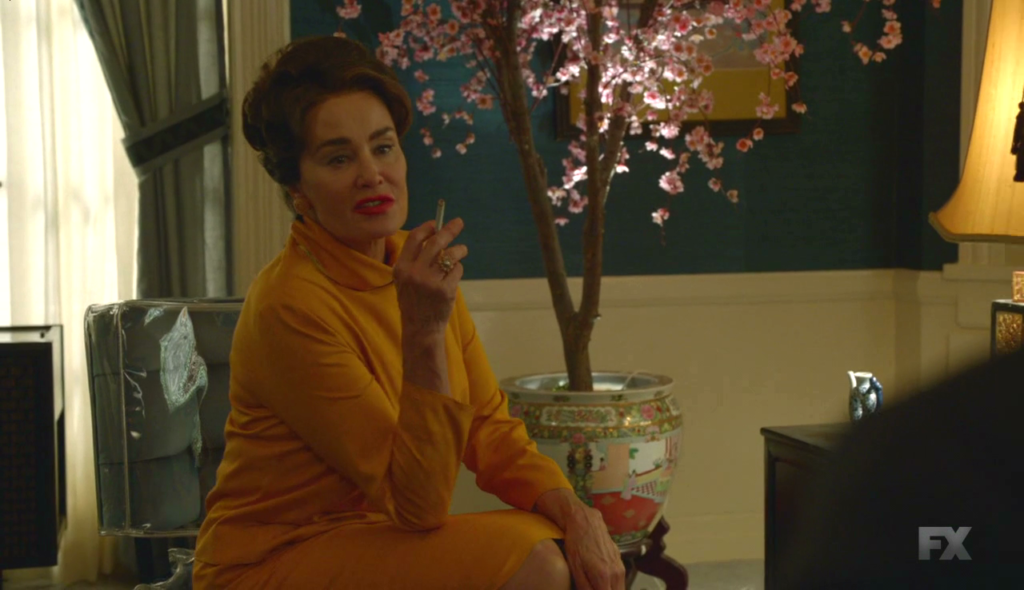 It's hard for the show to go for a shift of sympathies after Joan's brutal — but entertaining — devastation of Bette at the Oscars, but the episode definitely tries. Bette exerts her power over the production — a stipulation of her signing on — and relishes Joan's discomfort.While it's good to get another side of things, and Bette has seemed to be the more sympathetic character throughout the series, it kind of feels like it came too quickly.
Frankly, I already felt for Joan. As pompous and stuck in her ways as she was, her money troubles, her feelings of inadequacy and the general misogyny of Old Hollywood were enough for me to sympathize with her through the layers of insecure scheming. I could completely understand why she would feel the way she feels, if not necessarily act the way she acts.
So we're left with a mistreated Joan determined to put it all behind her and start shooting the picture with no hard feelings. Until she calls Bob and overhears Bette, the two of them having rekindled their brief affair since Bob's separation.
Joan is not happy.
The Verdict
Keep Watching! While I didn't love this episode as much as the previous ones, it was still a solid entry. The cinematography was lush as usual and the actors were still game. Tucci was the standout, giving us our best — and funniest — look at how Jack Warner works. I assume we're going to see the fallout for that final phone call, which will be fun, and there are only two episodes to go in the season.