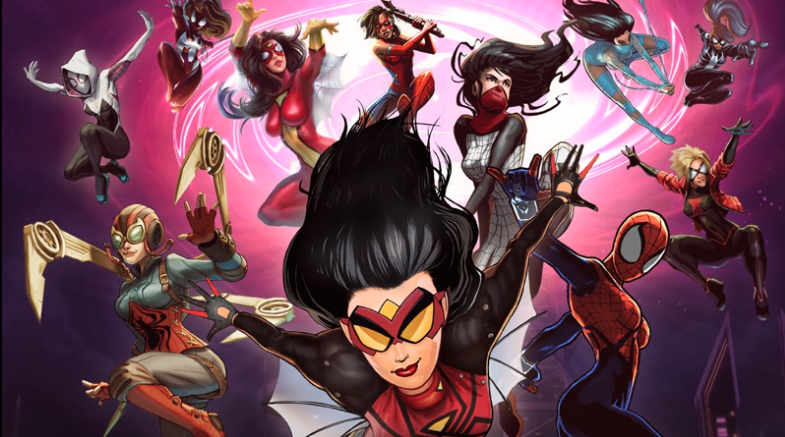 Sony has announced recently that an animated all female Spider-Women film is in the works. The upcoming movie Spider-Man: Into the Spider-Verse will be in theatres December 14th, but already has a sequel on the way. As well as, an animated Spider-Women film as a spinoff. Lauren Montgomery (Batman: Year One, Wonder Woman) seems to be the front-runner to direct, but not a lot of details have been announced yet.
Seeing as the film will be a spinoff, it is a safe bet that Spider-Gwen and Peni Parker will return. Beyond that, it could be any number of possibilities seeing as how Spider-Man: Into the Spider-Verse will be its own universe and could take any number of directions.
The fact that they even have Peni Parker, who is not that common, shows that they are willing to go beyond the norm and not afraid to branch out with characters. The story for this could be something equally out of the box. Maybe doing something with the spider slayers or even female symbiote. The fact that Spider-Man: Into the Spider-Verse is bringing in Spider-Ham means that nothing is out of the realm of possibilities which I'm excited about.
With six Spider-Man movies out since the '90s with a seventh on the way, most of them have dealt with Spider-Man's most famous villains like Venom, Green Goblin, and Doc Ock to name a few. In the 90's Spider-Man cartoon, I loved all the obscure villains and their stories, like The Spot, or Hydro-Man. Even some more well-known but lesser used villains like Kraven the Hunter, Morbius, Chameleon, or Scorpion would be great for the movie.
This film only came into being as a spinoff, but it is sorely needed for representation of women on the big screen. This will hopefully show that there is not only a demand for more female representation but a need.