Ingrid Goes West
Starring: Aubrey Plaza, Elizabeth Olsen, O'Shae Jackson Jr, Wyatt Russell, Billy Magnussen, Pom Klementieff
Directed by: Matt Spicer
Written by: Matt Spicer & David Branson Smith
A review by Insha Fitzpatrick
First off, can we talk about how clever I made that title? No? Okay. Let's get on with the review!
Our technology age is a fickle thing. We either crave that sweet, sweet internet fame (or attention) or live underneath the radar, hoping someone gives us our big chance. Ingrid Goes West is a technologically disturbing, but hilarious adventure. Documenting the decent of a person who seeks friendship, companionship, and lets technology (and passions) drive their decision.
Ingrid Thorburn (Aubrey Plaza) is going through a difficult time. She lost her "best friend," went to a psych hospital after attacking her at her wedding, and after she comes out, she's alone. Left with her phone as the only way to attach to society. Ingrid tries her best to make it on her own until she sees Taylor Sloane (Elizabeth Olsen), a social media influencer. She's immediately attracted to her, deciding to pack up her life in Philadelphia and head for the west coast. Ingrid aims to befriend Taylor by any means necessary and keep the Instagrammer in her life. However, that also may become her downfall.
There's so much to say about this movie and so little time. The over-all spark note version is this movie is an impressive and remarkable look at obsessive friendships, technology and how much it plays a part in our everyday lives. Each moment of the film almost has you on edge, wondering whats going to happen next. I have a love for social media influencers, especially British YouTubers so this seemed like a movie I'd enjoy on an aesthetic level. Granted, I was not going to go as far as Ingrid, but I was not disappointed.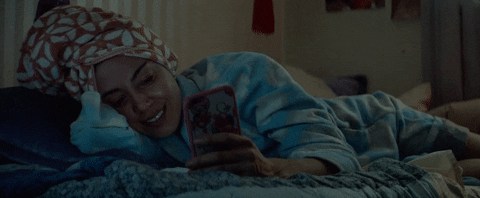 Matt Spicer directs this movie like a social media dream. He knows what to do and where he wants the story to lead. He lands dreamy shots with Bryce Fortner (cinematographer), fantastic dialogue, and a sense of fun and surprises with every turn.
I love when indie creators take the reins on a mental idea and just go for it. You can tell this was a passion project and a gamble. Spicer pulls it off, giving a voice to the stalker and the victim. Spicer and David Branson Smith write a film that allows you to cringe away from them but enabling you to sympathize with them. Even though you don't want to, you can feel the FOMO (fear of missing out) from Ingrid. You feel sad that she's alone without any friends or people to be around. You also want her to get her comeuppance for the way she goes about things and make sure that Taylor is going to be safe.
Ingrid Goes West also centers around some intensively emotional and great characters that make the film even more desirable on all fronts. Billy Magnussen, Wyatt Russell, Pom Klementieff all do an amazing job in portraying the lifestyles of the Instagram famous. However, the three most prominent stars give this film this film the crazy heart that shines.
O'Shae Jackson Jr. has only stared in a handful of films, but he's a breakout star in the making. Jackson is #charmingaf as Ingrid's love interest and landlord Dan Pinto. I almost wish we got to see more of him throughout the movie, but the bits we do get to see was so enjoyable, and with that smile, he set my heart on fire.
Elizabeth Olsen is an absolute #legitf*ckingprincess as Taylor Sloane. Olsen is one of my crushes because… have you seen her? The woman radiates sunshine and brightness. In Ingrid Goes West, she illuminates, even more, playing the social media influencer in an up and down marriage, but still doing her best to climb the ladder. I didn't know what to expect from Olsen's character the first time she is introduced in the trailers. She balances out Aubrey so perfectly where Aubrey is the moon where Olsen's the sun. It also balances perfectly for the movie as you see them both collide into this topsy friendship. Olsen keeps Taylor as light and breezy as possible with some skeletons underneath, and that's how you play a good social media influencer.
Last but not least, Aubrey Plaza as the titled character is f*cking #crazyqueenlove. Aubrey can do no wrong. If you think she can, look at her body of work. She's a chameleon in whatever she does, but ultimately never compromises and plays herself. Ingrid Goes West seemed so natural for it it was almost quite scary, especially within parts where you're legit watching her lose all control. Ingrid Goes West is another dominant role for Aubrey that catapults her to the star she deserves to be.
Verdict:
WATCH IT! I can't stress enough how fantastic this movie is. Not only is the writing, direction, and cinematography a California dream, but its a story of obsession, friendship, and technology mixing with reality. The cast of the movie makes it so much more enjoyable. Ingrid Goes West is a hilarious, cringe-worthy, disturbing and fitting movie for our age of technology. It's something that everyone should see so they can look up from their phones once in awhile and enjoy that sweet air. You'll feel #blessed if you do.
Ingrid Goes West is available now on Itunes, Amazon, and DVD/Blu-Ray.