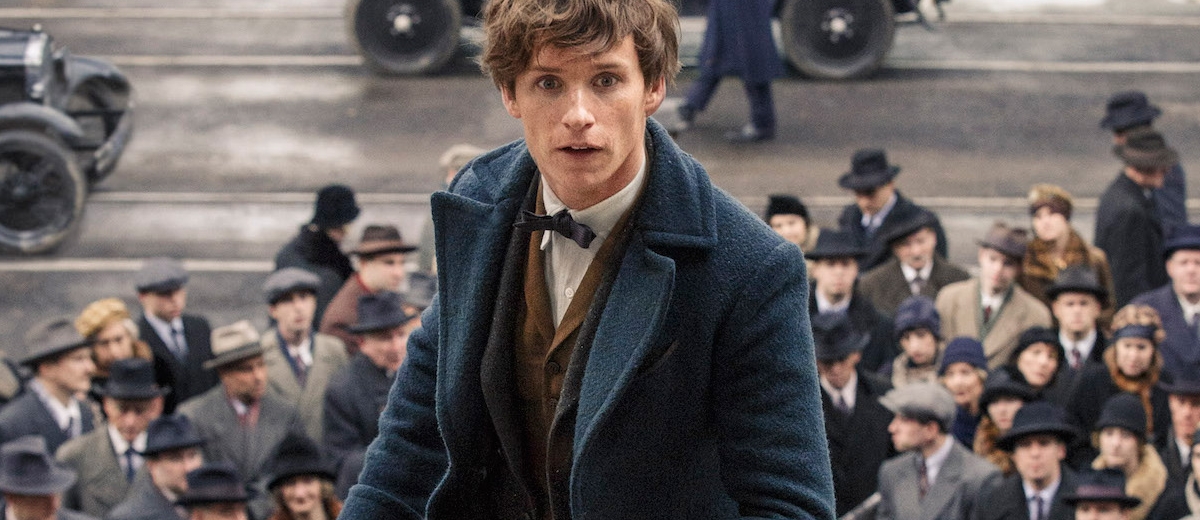 I've got to be honest. I was heavily skeptical about seeing Fantastic Beasts and Where To Find Them. I grew up with Harry Potter, but I found myself exhausted, I wanted to keep my memories with myself and keep that magical journey alive. When I heard about this movie and I just sighed and went, "Really?"
I asked three questions. Why this movie? Why not the Marauders? Wait… Isn't Fantastic Beasts and Where to Find Them a field guide? The first two questions I have yet to get answers for, but the third one is yes.
Fantastic Beasts and Where To Find Them originated as a field guide of fantastic beasts and how to care for them, written by Newt Scamander throughout his journeys around the world. For the movie, this book expands into a two hour and twelve minute magical journey of Newt, his journey to NY and you guessed it… some fantastic beasts.
Fantastic Beasts and Where to Find Them begins with Newt's (Eddie Redmayne) traveling to NY in the 1920s. We aren't sure why he's there, but we're sure that he's there carrying a very important suitcase of magical creatures. Newt is a magizoologist, meaning he's a magical zoologist. He's traveled across the world in order to write his book, but an incident lands him into deep trouble when a small magical creature lets itself loose, causes a little mayhem in a bank and Newt uses magic in the open and in front of a No-Maj (non-magical person or muggle), named Jacob Kowalski (Dan Fogler). After another incident (this kid just can't stay out of trouble), we figure out that the suitcases have been switched and what happens? Well… the Fantastic Beasts are let loose of course. The story starts to open up and meet our lively cast of characters including the person who will help (and hurt) Newt's quest to catch his animals, a ex-Auror named Porpentina "Tina" Goldstein (Katherine Waterston) and we meet her sister, Queenie Goldstein (Alison Sudol).
However, underneath the good, there has to be something sinister afoot. Gellert Grindelwald is on the loose. The newspapers are having a field day with that while something magical has not only destroyed some of New York, but plans to keep on destroying and almost expose wizards and witches to all No-Maj's. Percival Graves (Colin Farrell) is on the hunt, but also in search for something else. A child who may hold a certain type of magic that he seeks to control. In order to do this, he recruits a little help from Credence Barebone (Ezra Miller), a member of the New Salem Philanthropic Society (an anti-witchcraft group), to help him on his mission.
At first, knowing that Fantastic Beasts and Where to Find Them was a field guide leaves you with some questions of how they were going to present this movie. How do you make a field guide into a two hours movie? Easy, you start when he's just about to finish. One last journey he takes before actually finishing his book. This movie, written by J.K. Rowling herself, is build around and perfect in it's simplicity. You catch up with the action, even though there's so much going on. That's one thing I loved about the writing in this movie. It was predictable, you knew what was going to happen, but does it really matter? You're more or less hooked on diving into this story and getting to know these characters, almost similar to wanted to know them in Harry Potter. The simplistic writing gave the chance for the characters to make this story their own and the plot to really keep moving instead of standing still in one place.
Speaking of the characters, they're all just so lovely. It's not entirely rare that an entire cast charms you, but this cast does an amazing job bringing their characters to life.  You don't expect to fall in love with them as fast as you do, but they're so lively and lovely that you just melt. A character that you fall for easily is Newt. Once he gets his luggage checked and off to the streets of New York, his head cocked slightly as he looks up at the setting around him. You instantly want to grab him and kiss him. He's adorable and he's our protagonist. You immediately want to follow him on his journey no matter what. The other characters catch you too, Jacob, the No-Maj fits into this world like a glove and takes it all in like he's made to live in it. Sisters, Tina and Queenie, are great in this. The girls are so different, but play off one another with such a grace and charm that both of them capture. Queenie, you instantly fall in love with. She embodies the 1920s look to a tee. Tina is not so easy to fall in love with at first, but once you get to know her and understand where she's coming from, she starts to grow on you. 
The one character I personally and completely fell in love with was Credence Barebone. He has such a tragic backstory and has to deal with the ultimate manipulative figures of the story. It's not easy to write about abuse in this type of setting, but as unexpected as this was, it was brilliant and made the movie dark. You just want to give him all the love he deserves.
There's so many magical moments inside of the film. You never really feel stuck in this universe, they're literally always running around and doing something. Even inside of Newt's briefcase, there's another magical world. The plot felt like it just kept going and it took off on it's own. There's were some lovely parts, like the love story brewing between Queenie and Jacob, but it came with it's sad parts too, like Credence and his relationship with his "mum". There's a whole new magical world to explore. There were many nods to Harry Potter, keeping up with the fact that it's set pre-HP, but it really never draws back on that. There was even an acknowledgment to the American school, Ilvermorny School of Witchcraft and Wizardry. This world never looks back, only forward. The one thing I loved about it was it was it's own confined franchise. Easter eggs are put into place, but you it has it's own history, it has it's own place in the legacy and it shines on it's own.
VERDICT:
SEE IT! There's a simple and charming magic to Fantastic Beasts. The nostalgia of this world really makes it pop into something you've never seen before. I never thought that within the series we'd be traveling to America to learn what happens here, but we do. I found myself fasinated with the hidden wizarding world of NYC. I found myself relating to these characters, especially Newt's want to protect the magical creatures so dear to him. I found myself loving this world deeper and deeper, even though it was a bit darker and sinister than Harry Potter. It wasn't like the series that I grew up with and that's okay, because this story works within it's own magic. There are things within this story that are still left out, but it just proved to be more material that you could dive into within this world.
ALSO BY THE WAY: UM… THE WIZARDING WORLD HAD A BLACK PRESIDENT BEFORE WE DID? 1920'S GUYS! GOOD JOB WIZARDING WORLD. KUDOS TO YOU. WE'RE GONNA END THIS REVIEW WITNESSING THIS STRONG UPSTANDING WOMAN.